I am going to give you a look inside my travel journal.
When I travel I like to pick up momentos and keepsakes throughout my trip. I bring these things back home with me and I previously use to make Vacation Jars out of them. However, after making about four vacation jars. I soon realized that I was going to end up with a bunch of jars by the end of my lifetime.
With that said, I decided that I no longer wanted to make vacation jars. Right around the time that I made this decision. A friend of mine gifted me a beautiful journal that I decided to make my travel journal.
A Look Inside My Travel Journal
I am absolutely obsessed with my travel journal. I love the way that it looks from the front cover, to the inside pockets, and the pages inside. The front cover looks very vintage and worn as if its done some traveling of its own. It has metal decals on the corners that prevent the edges from getting smashed. There is also a clasp on the front cover that helps to ensure the journal stays closed. My favorite part of the front cover is that it has a unique pocket that houses a pencil thats wrapped in the same leather as the journal itself.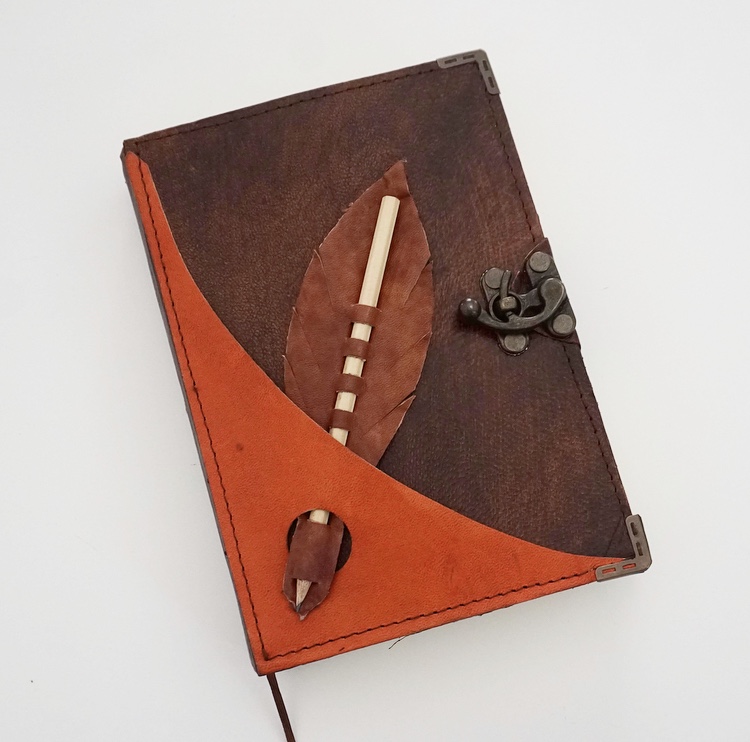 When you open my travel journal you will notice that the leather cover has two pockets on the inside. Inside one of the pockets is the front cover to my travel journal notebook, that can be removed and replaced. Once I'm done with my current travel journal notebook. I can remove it and replace it with a new one. The inside cover of my travel journal has a world atlas on it that is just so fitting for it to be a travel journal
The pages of my travel journal are vanilla color and are all blank. I left the first page of my travel journal blank with nothing on it. I would like to put something there, but I just don't know what. So I started my travel journal on the second page.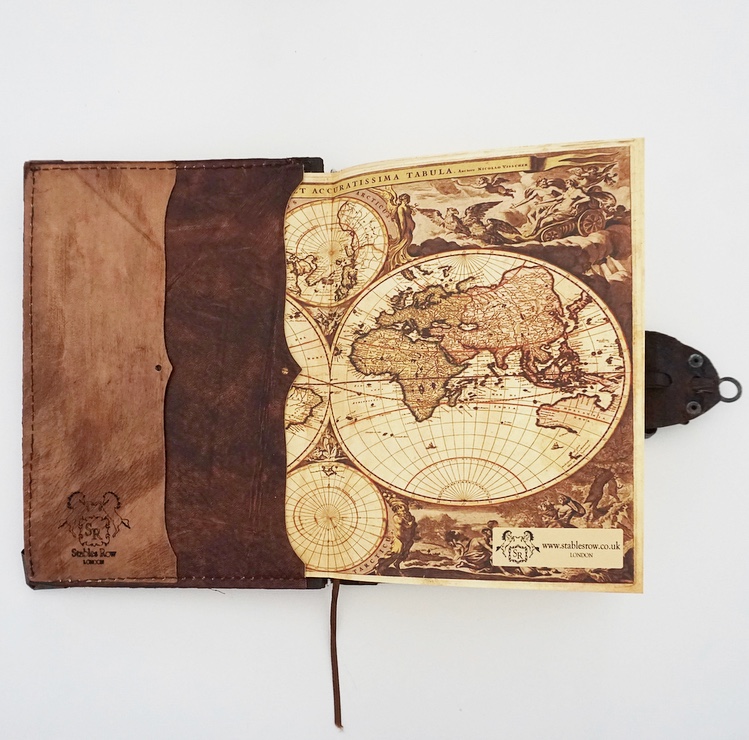 Travel Journal Spreads
Below are photos from some of my travel journal spreads. I go into detail explaining each spread far as where I went and what momentos and keepsakes I used for each.
St. Augustine
I spent the weekend in St. Augustine. While I was there, I went and toured the Castillo De San Marcos (photo on the top left). I also went and toured Flagler College. Where I was given a red sticker to wear on the tour with the school crest on it (red sticker in the middle). I walked thru the park where the fountain of youth was (entrance ticket top right). Right outside of the fountain of youth was Magnolia Mile, the most photographed street in the world (bottom left). I wrapped up the weekend by touring the St. Augustine Distillery (photo bottom right and business card).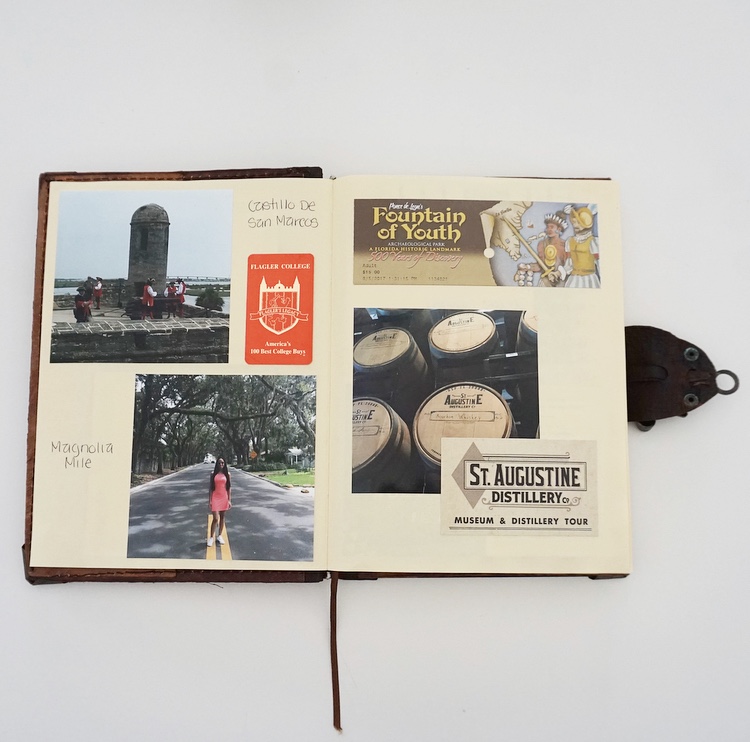 New York City
I went to New York City for a week and had an amazing time. The trip took two spreads but below you can see one. I visited the Statue of Liberty (photo top left and ticket stub), the 9/11 Memorial & Museum (cut out title from the brochure top right and photo), and I saw my first broadway show Wicked (cut out from the pamphlet bottom).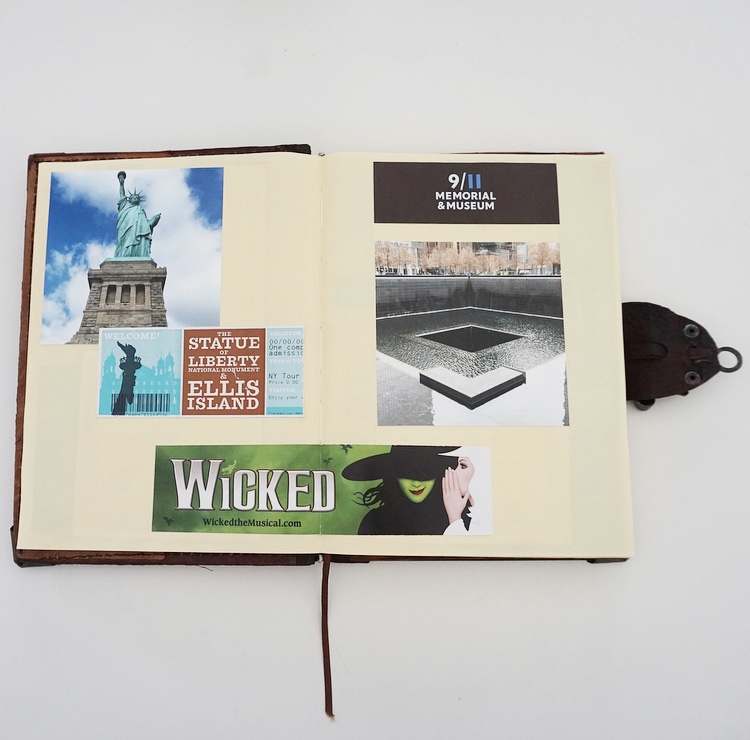 Providence Canyon
I visited Providence Canyon, which as also known was Georgia's Little Grand Canyon. I used stickers for the title (top left) and glued in a map of the trails that you can take while in Providence Canyon (the photo of me climbing a tree is on top of the map). The map actually folds out completely to where you can see all the trails. The photos on the right are of Providence Canyon (top right and bottom right).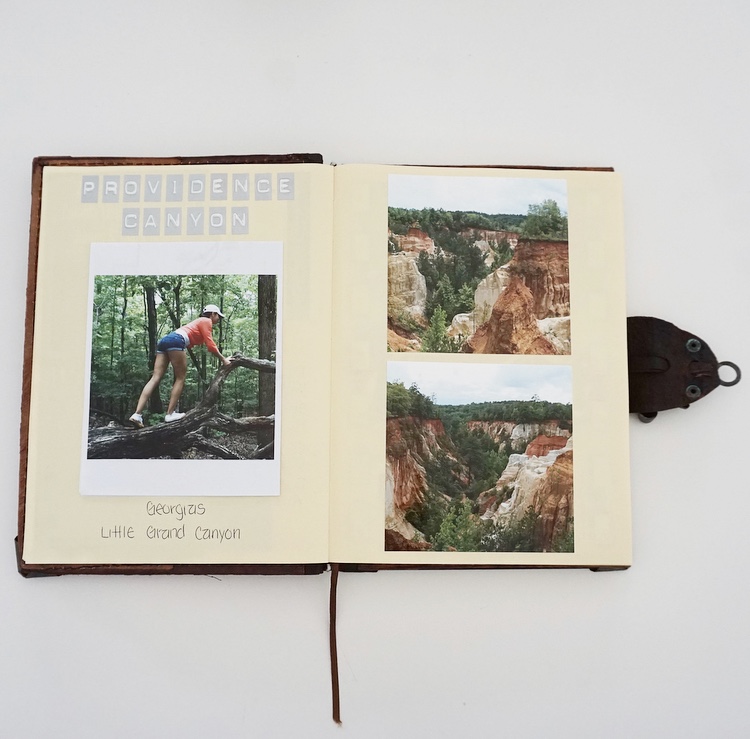 Bahamas
I took a cruise to the Bahamas with Bahamas Paradise Cruiseline (photo of the cruise ship (top left). I picked up a really cool ship profile brochure from the help desk on the cruise ship (bottom left). The ship profile opens up to a map of the cruise ship and has all sorts of stats and information on it. I took a picture of my cabin (bottom right) and kept my room key (top right). I also kept the luggage tag with my name and cabin number on it (center).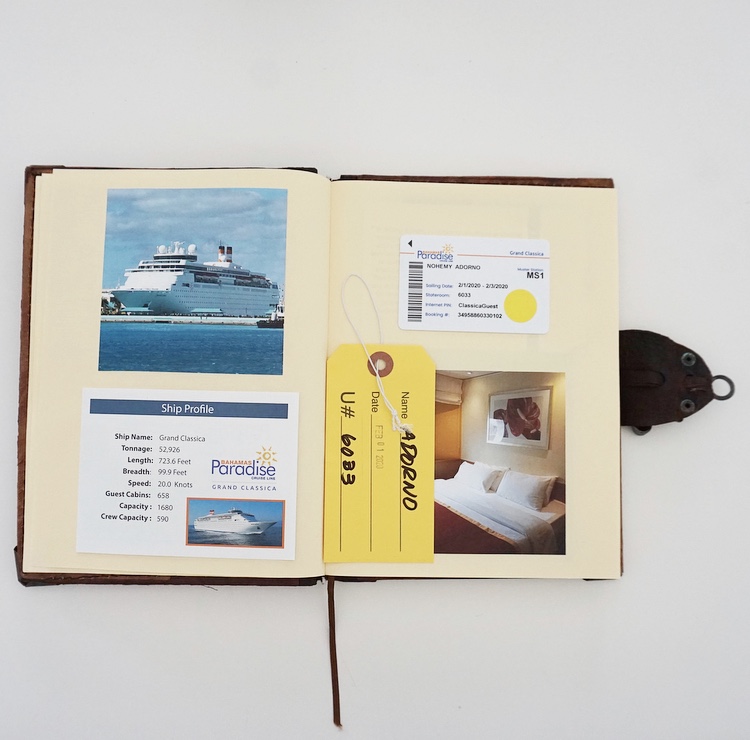 Momentos & Keepsakes
Below is a list of the momentos and keepsakes that I bring back home with me from when I travel. Just to give you a few ideas if you're interested in making a travel journal of your own.
Maps
Photos
Ticket Stubs
Business Cards
Stickers
Post Cards
Brochures
Pamphlets
Hotel Keys
Coasters
Luggage Tags
Flyers
Travel Journal Tips
I personally like to glue everything inside of my travel journal to ensure that nothing falls out. I know some people use tape. But to each their own, using glue is just my personal preference. It has worked great for me and I've never had a problem.
For the maps, brochures, and pamphlets that I end up using for my travel journal. I like to put them in my journal in a way where they can still be used. I'll glue them in to where they can still fold out into a map and or I can open up the brochure and still see and read what's inside.
Travel Journal Flip Through
I recorded a video for my YouTube channel of me flipping through my travel journal. If you're interested in getting a first hand look inside my travel journal. I've linked it down below for you to watch.
Don't forget to "Like" this video and "Subscribe" to my YouTube channel. So you can keep up with my latest videos. I upload new videos every Sunday & Thursday. I hope you enjoyed this blog post. If you have any questions feel free to comment down below
Related Posts:
For more DIY Travel see these other posts,
How To Make A Vacation Jar
The Best Travel Souvenirs
How To Plan A Staycation

Digiprove © 2020-2023