Guess who went to New York for the first time? I did! I can't wait to go back and explore more of the city. Below is a recap of my first day in New York, visiting The 9/11 Memorial And Museum.
I arrived at eight o'clock in the morning. I stayed in MWrffffanhattan. In the Tribeca area, at the Frederick Hotel.  It was too early to check into the hotel, check in is at 3pm. However, I was able to drop my bags off for the hotel to hold.
The reason for my visit was to attend the BlogHer18 Health conference. I extended my trip a few extra days to explore the city for the first time. I have so much content to share with you guys. I'm actually going to break up the week into multiple blog posts.
After I dropped off my luggage. I stopped at the coffee shop next door. It was called "Pret A Manager".
Pret A Manager
I bought an egg white Greek power omelette and a bottle of coconut water. After I finished the omelette, I gathered my things to leave and turned the corner towards the exit. As soon as I turned the corner I saw Casey Neistat!!! Casey freaking Neistat!!! For those of you that are not familiar with Casey Neistat, he is the Oprah Winfrey of YouTube. He was just standing there deciding what to get for breakfast. I stood there in disbelief wondering if he was who I thought he was.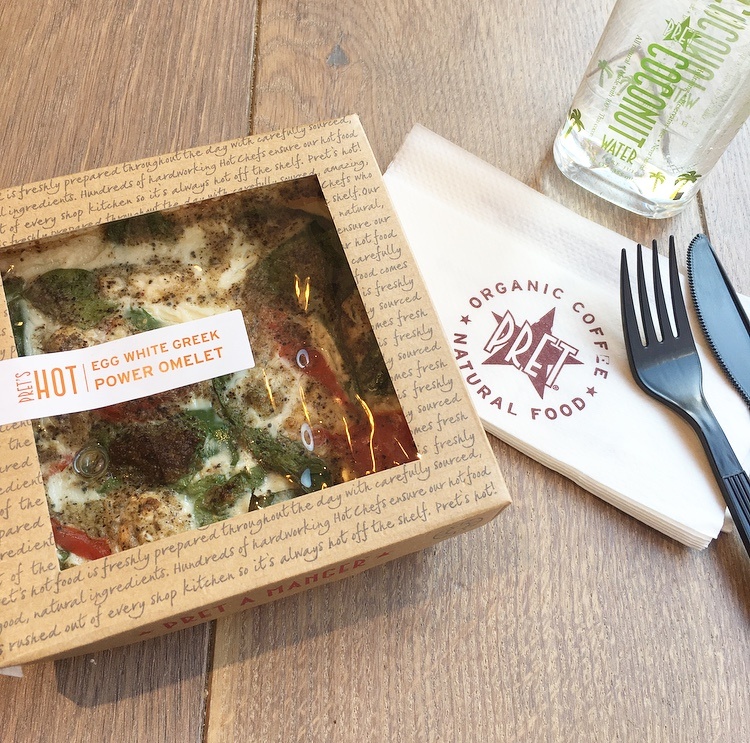 Quickly, I glanced around to see if anyone else had noticed him. I made eye contact with two girls standing in the corner. Then I pointed towards Casey and they nodded yes. All three of us approached Casey and asked if he would mind taking a photo with each of us. Casey was so nice. He grabbed each of our phones and snapped a quick photo. For the next hour, I was in total shock at what had just happened. I met Casey Neistat in New York.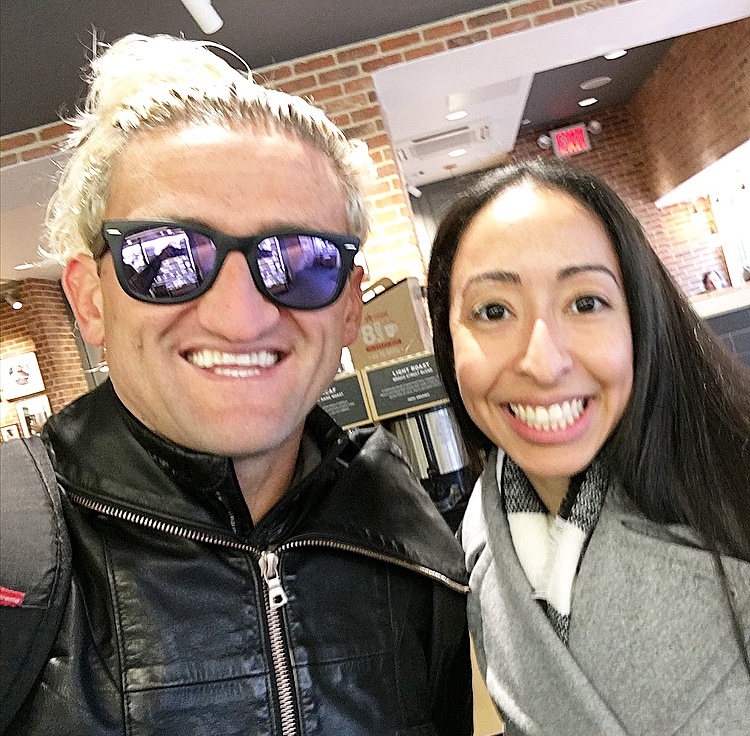 Brooklyn Bridge
Afterwards I made my way to the Brooklyn Bridge. The Brooklyn Bridge is one of the oldest roadway bridges in the United States. The bridge had a pedestrian walkway to walk across from Manhattan to Brooklyn. It was very chilly out but the weather was perfect as I began to walk across. The view was by far one of the most spectacular views of a skyline that I had ever seen. Totally worth the hike. I walked all the way across to Brooklyn and made my way back. Taking a ton of pictures and videos for you guys. I also asked a few pedestrians to take my photo and vice verse I retuned the favor. 

Visiting The 9/11 Memorial And Museum
9/11 Museum
On September 11th 2001, I was in eight grade. All of the teachers in my pod got together and tuned into the news. Everyone got silent as the news of the terrorist attack took hold. I didn't know what the world trade center was or what was happening to be honest. It was only the coming days after the attack that I realized how serious this was.
In the lobby of the 9/11 museum there were international flags on display. Representing the people from more than 90 nations that were killed in the 9/11 terrorist attack. A steel column from the world trade center was also on display in the lobby. The tour of the museum started with a short film describing the terrorist attack. Luckily I had my headphones with me. I was able to download the 9/11 Memorial Museum app on my phone. As I made my way through the museum I followed the guided tour on the app.
I don't know how to describe how I felt walking through the museum. I was angry, proud and sad all at once. Angry for what happened. Proud of our resilience in coping as a nation. Sad to see the lives that were lost. There were a few times where I teared up, watching live videos from the day of  9/11. It was heartbreaking to read the stories behind some of the artifacts on display. I took my time exploring the museum. Before I knew it I had spent three hours in the museum. I hadn't even toured the memorial outside.
9/11 Memorial
The 9/11 memorial is a tribute of remembrance and honor for those that were killed in the terrorist attacks. There are two twin reflecting pools that sit where the twin towers once stood. Each pool features a large manmade waterfall inside. Inscribed on the edging of the pools are the names of the deceased.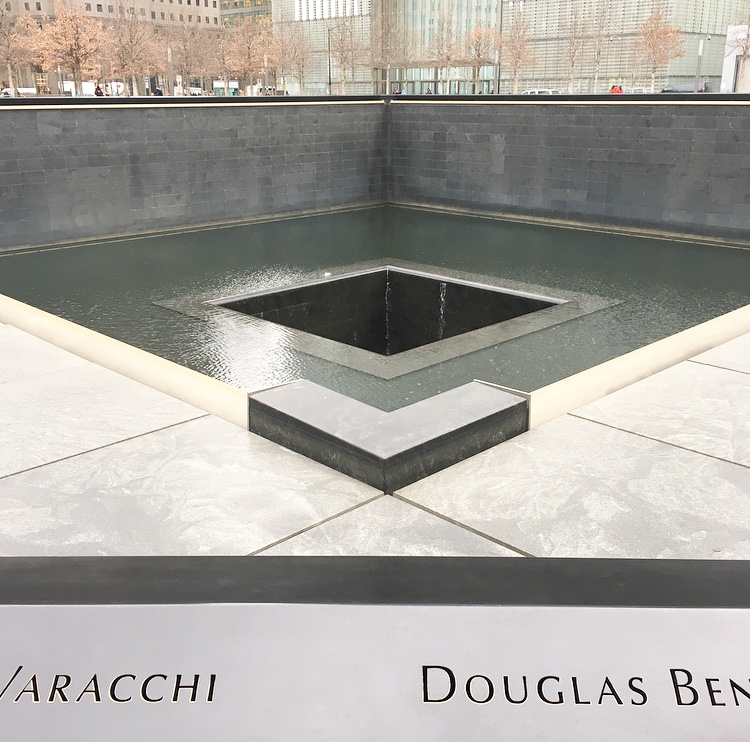 North Pool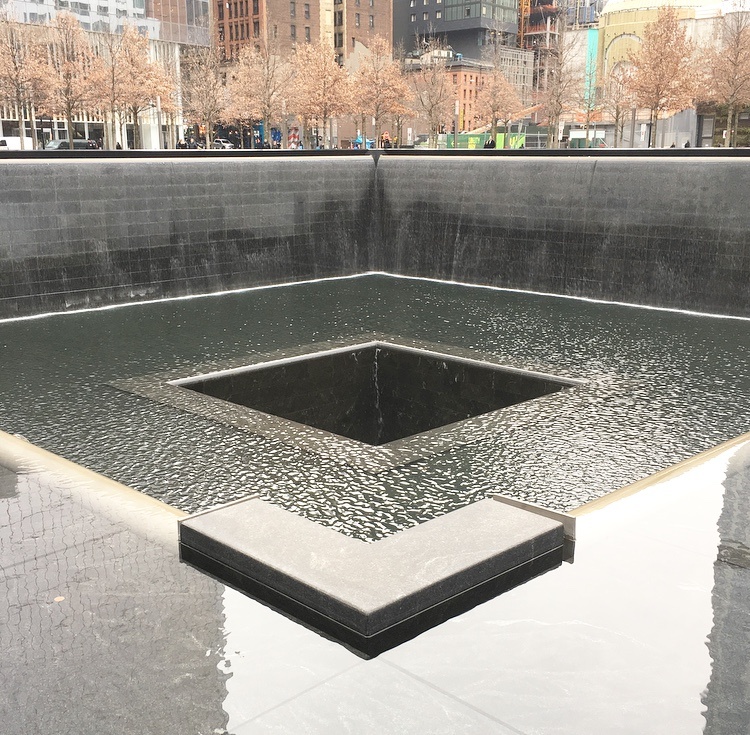 South Pool
The Survivor Tree
A tree was discovered among the wreckage of the 9/11 attacks. Its bark was charred from fires at the site, however it still showed signs of life. Recovery workers transported the tree to a nursery in the Bronx. In December 2010, the tree was replanted at the 9/11 memorial and named the "Survivor Tree" it blossoms each spring.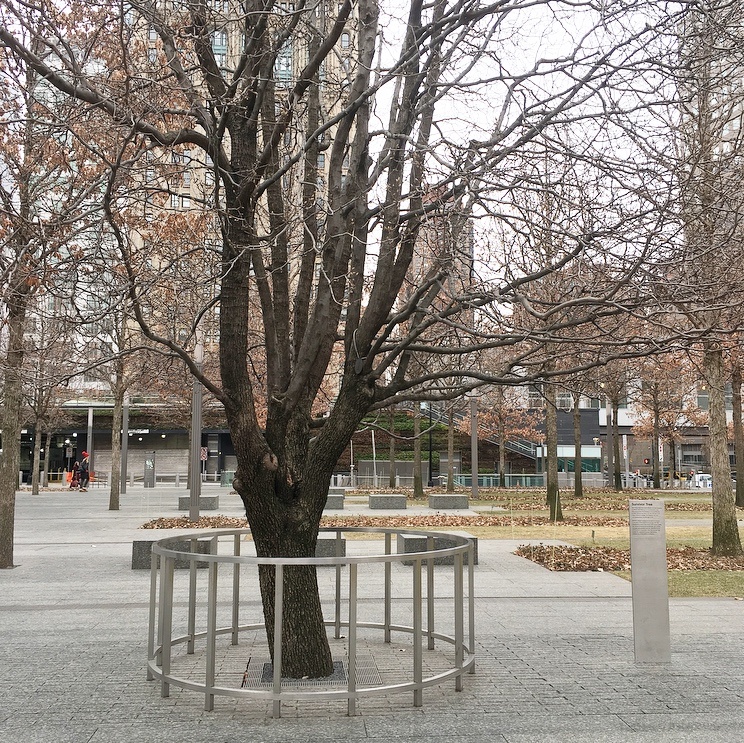 Oculus Westfield Mall
After leaving the 9/11 memorial I made my way back to the hotel and came across this really interesting building. I don't know how to describe it. I'll post a photo down below. Come to find out it was a mall, known as the Westfield World Trade Center and or the "Oculus". I peaked inside and it was absolutely beautiful. I took a quick stroll inside before I headed back to the hotel.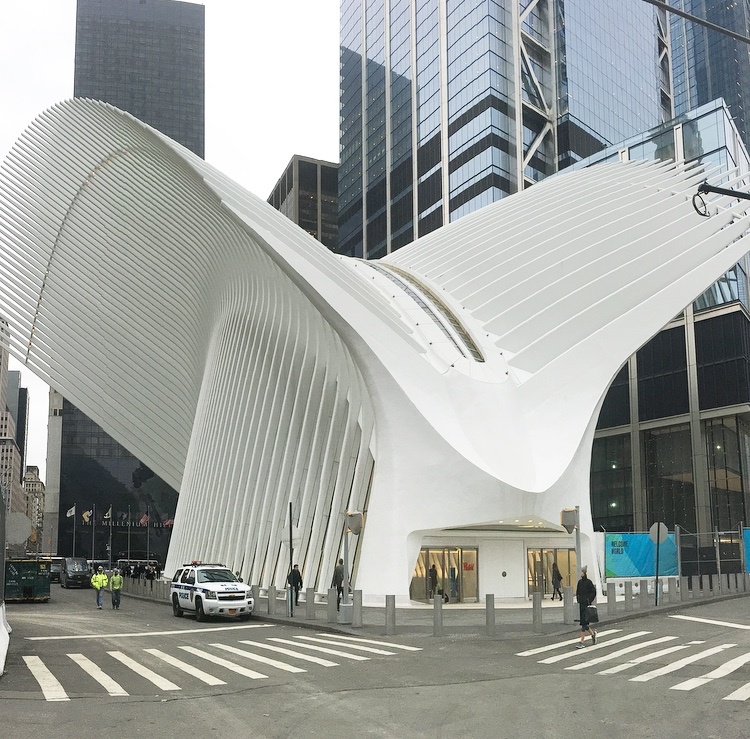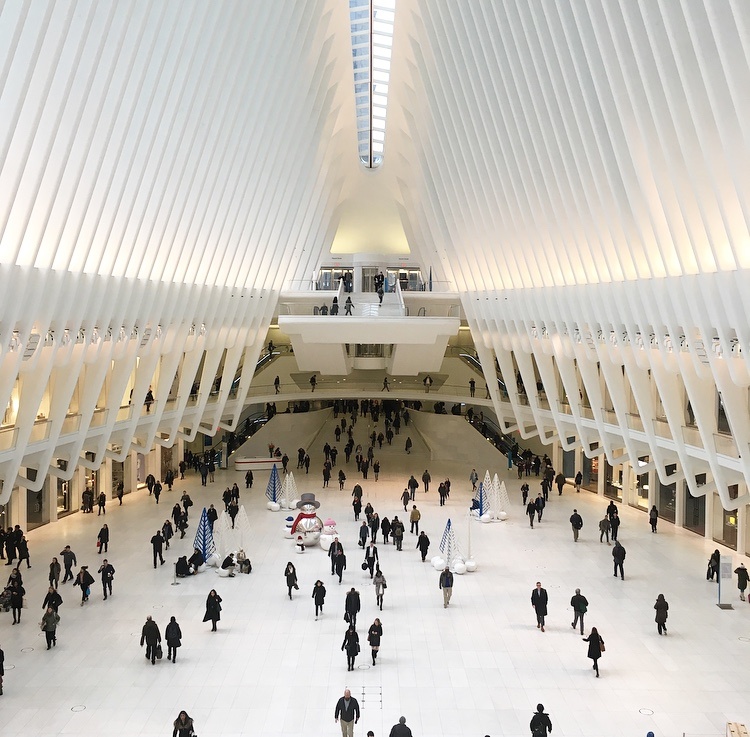 When I arrived at the hotel I was able to check in. The hotel room was just as I remembered it from the photo online. It was cute, intimate, and perfect for me. You can expect an upcoming hotel review soon. After I settled into the hotel room I realized that I was starving. I then made my way downstairs. In the hotel lobby, I asked the doorman where would be the best spot to have dinner. He recommended the restaurant next door.
Serafina
The Serafina was a cute and cozy Italian restaurant. I sat at the bar and ordered a glass of wine with a margarita pizza. It was delicious. It was a thin crust pizza that hit the spot. I ate most of it but ended up taking leftovers to my hotel room.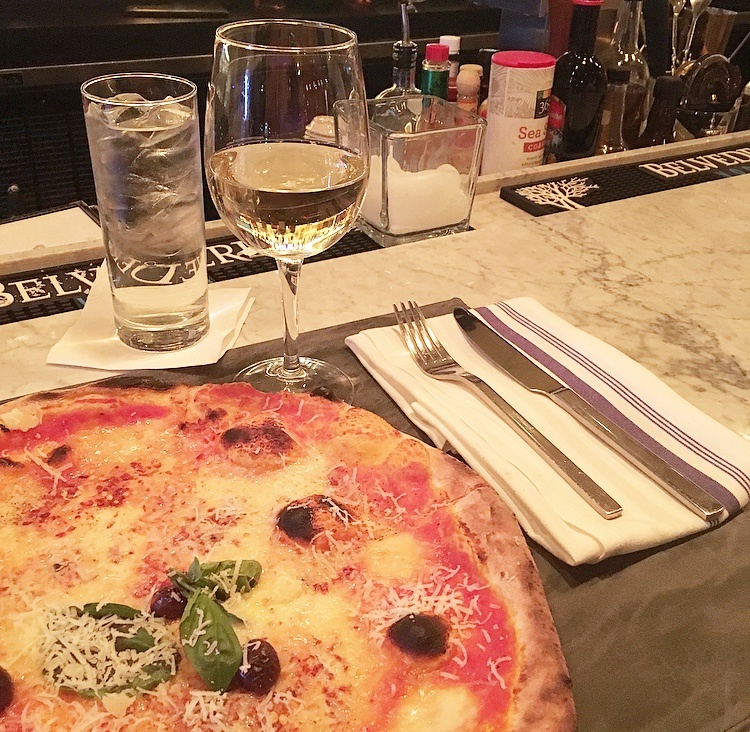 At the bar I befriended the gentleman next to me, Gerald who's a designer. The subject came up as to why I was in New York. I shared that I was a blogger and YouTuber in town for a conference. Daniel the bartender then mentioned that he had something for me to video tape later. I was immediately intrigued. While Gerald and I were in an intense conversation I noticed Daniel start to make a concoction. Gerald warned me to get my camera ready.
Liquid Foreplay
I watched Daniel balance three glasses and a shot glass on top of one another. I asked him what he was doing and he replied "I'm making you a drink". Daniel lit a wine glass filled with liquor with a lighter and then poured the elixir over the tower of glasses. Everything lit up in blue and purple. It was so cool and totally made my night. Thank you Danny!!! Apparently the drink was called "liquid foreplay". It was delectable, some what of a dessert cocktail.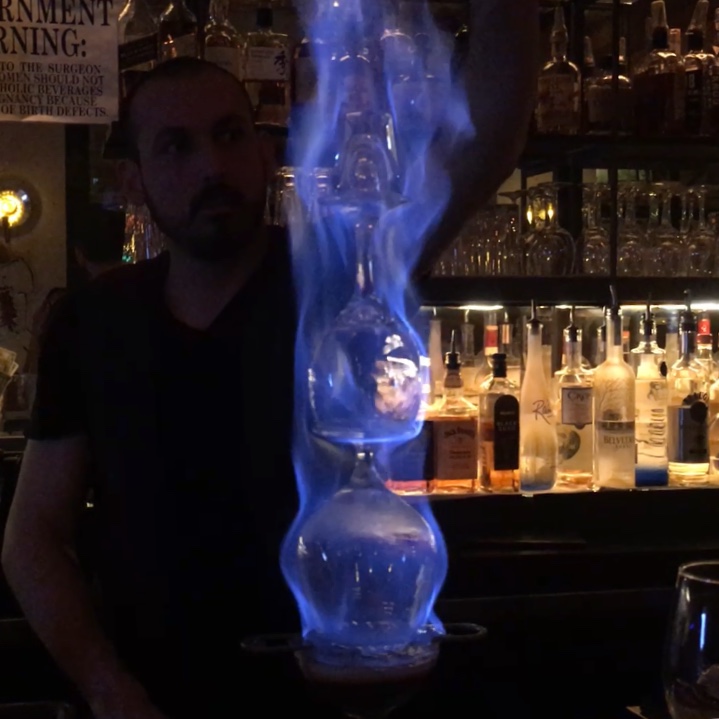 Speaking of dessert. I overheard Daniel offer the dessert menu to a guest and I stated that I wasn't offered dessert. Daniel kindly reminded me that I didnt finish my pizza. Shortly after, I was surprised with a plate of tiramisu. The tiramisu was exquisite. It was soft and moist and melted in my mouth. I practically licked the spoon clean.
I am so grateful for the hospitality I received while at the Serafina. If you are ever in the Tribeca area I highly suggest you visit, The Serafina. It was a great end to my first day in New York. When I made my way back to the hotel I thanked the doorman for his suggestion. That I had enjoyed myself.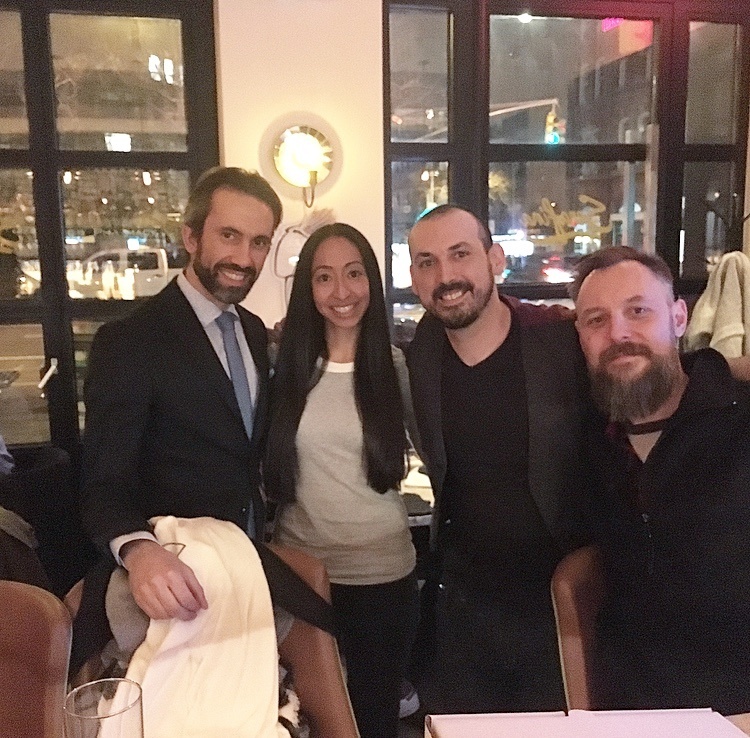 Chinatown
The following morning I made my way to Chinatown. It was a brisk twenty minute walk from my hotel. As I made my way there I knew I was getting close. I immediately noticed that the street signs began to change from to English to Chinese. The sidewalks were packed with souvenir stores, bubble tea shops, and restaurants. I was so excited to be there and soaked everything in. I also noticed that there were a lot of hair salons, like in every street corner. Weird.
Confucius Statue
As I was walking around I bumped into a security guard of an apartment building. I asked him what there was to see and do in chinatown. He directed me to the other side of the building to see Confucius Statue. I thanked him and made my way there. It was a really tall statue, very detailed, and had Chinese writing on the pedestal.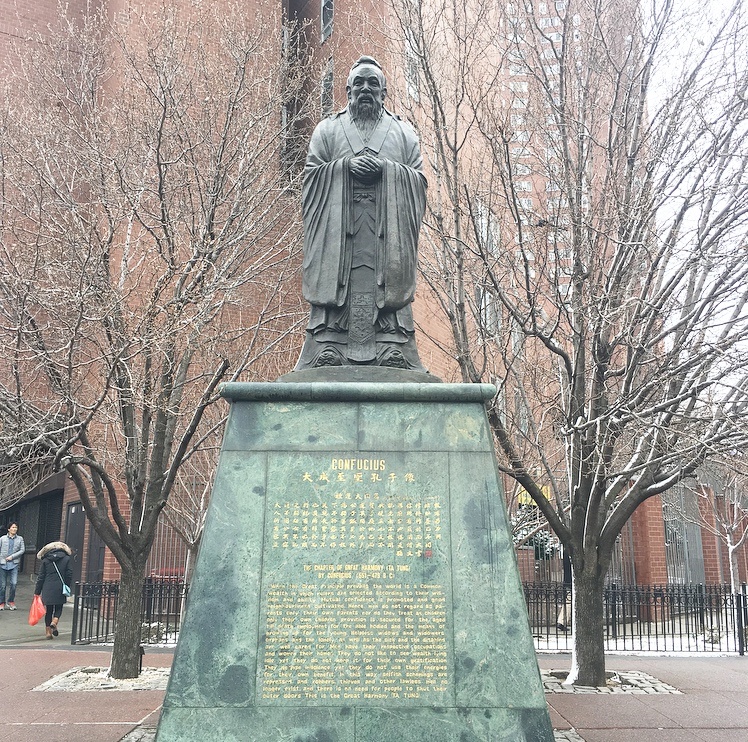 Wonton Noodle Garden
I started to get hungry and found this cute restaurant called "Wonton Noodle Garden". As the waiter handed me the menu he also served me warm water or what could of been tea. I ordered two vegetarian egg rolls with vegetable and noodle soup. I can't remember the last time I had an egg roll. They were mouthwatering. The vegetable and noodle soup was huge. I mean the serving was the size of my head. It was so good. I devoured that bowl. It was not cute to watch.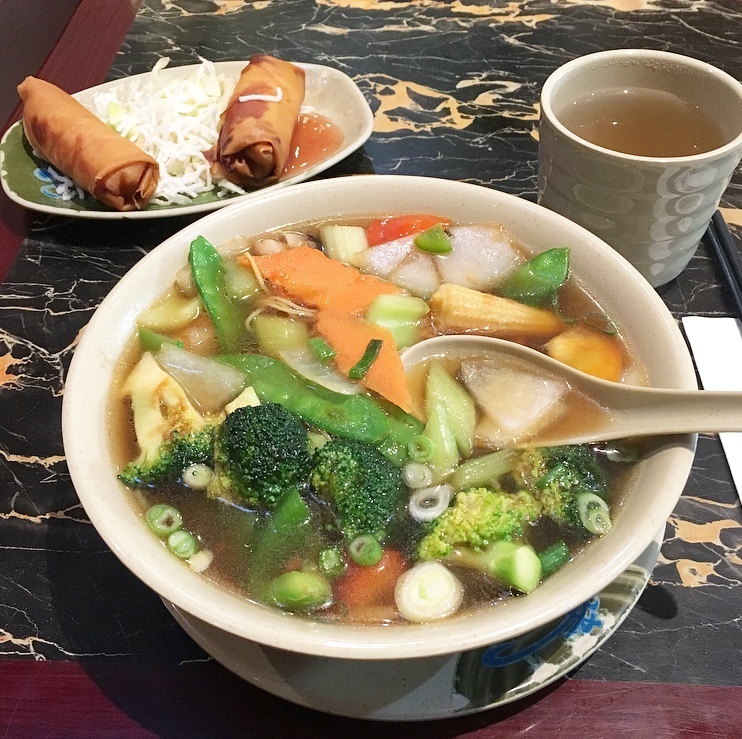 Little Italy
Little Italy was just how I had imagined. There were restaurants on everywhere.
For those of you that have been following me for a while, you know that I love to get an ornament where ever I travel, check out my post on The Best Travel Souvenirs. My eyes lit up the moment I turned the corner and saw "Christmas in New York". Ugh! I was a kid in a candy store. I picked up a cutest ornament to commemorate the trip. You're going to have to wait until Christmas to see it.
While in little Italy I stopped by this restaurant called "Cafe Roma" and ordered a Strawberry Gelato. It was tastyAfterwards, I made my way back to my hotel. I took a take a nap before going to BlogHer18 Health.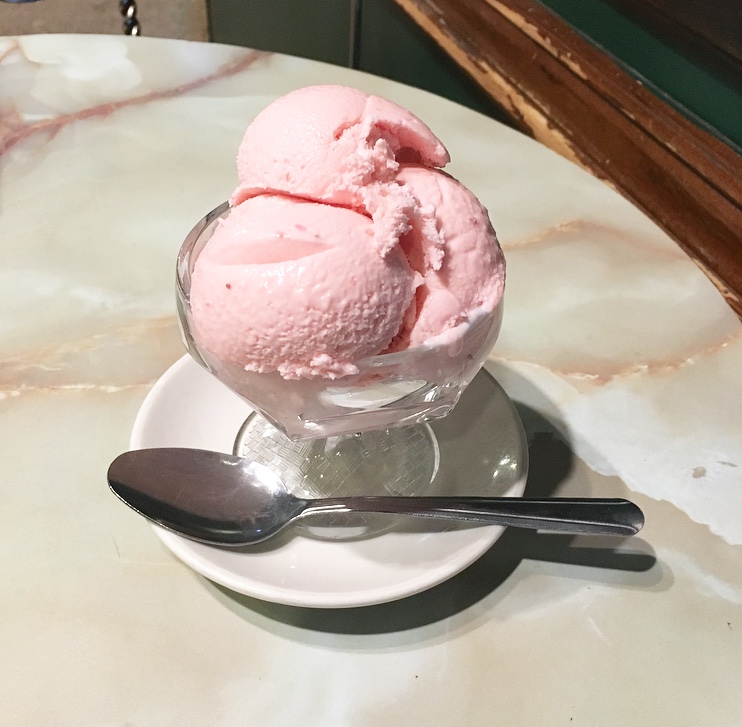 Check out the vlog down below from my YouTube channel. As I mentioned earlier, this was my first time in New York. If you want to see more from my trip to New York then see these other posts, BlogHer18, Empire State Building, and The Statue of Liberty.
Don't forget to "Like" this video and to "Subscribe" to my YouTube channel so you can keep up with my latest videos. I upload new videos every Sunday and Thursday. I hope you enjoyed reading this blog post about visiting The 9/11 Memorial and Museum. If you have any questions feel free to comment below.

Digiprove © 2018-2021