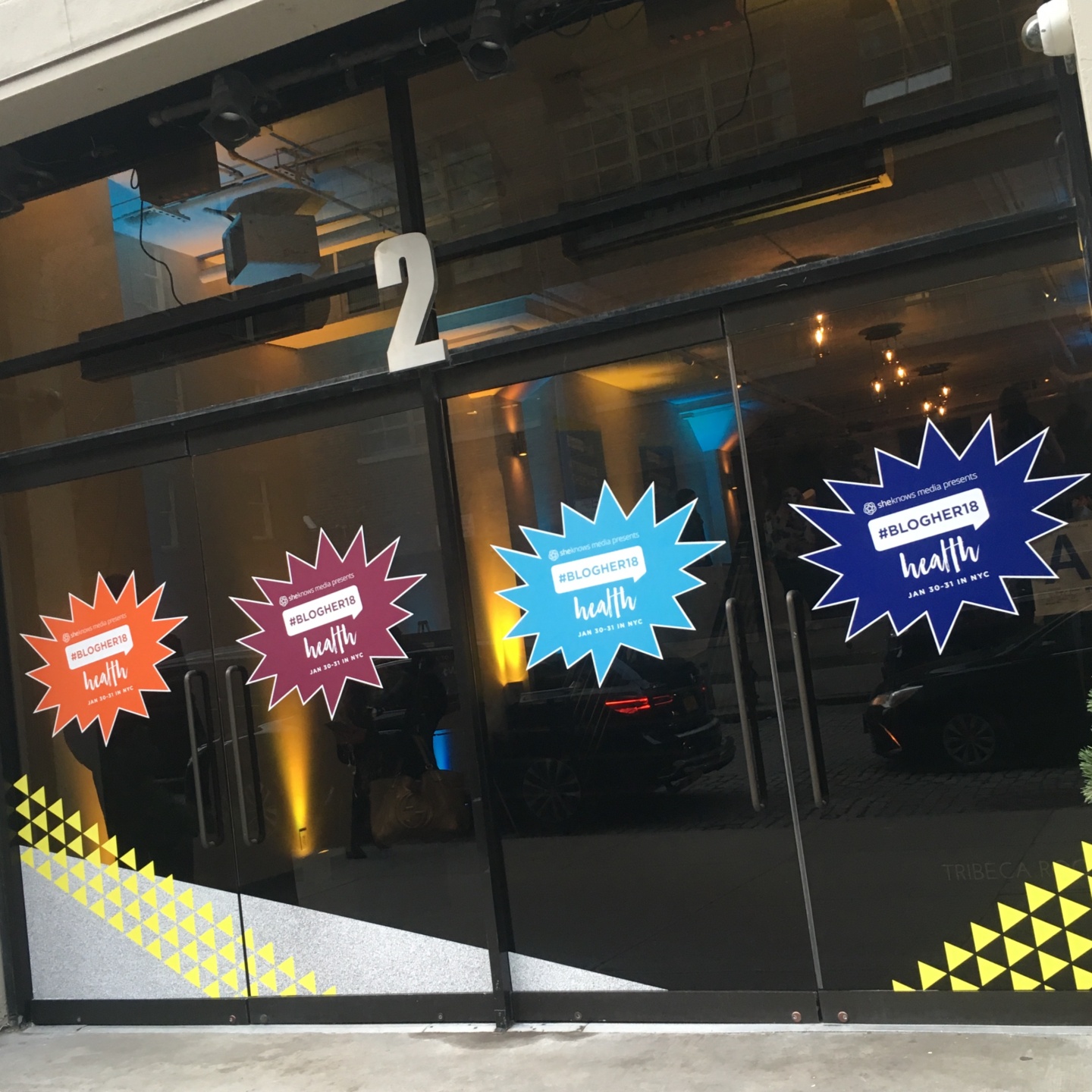 What better way to start off the new year then by attending the BlogHer18 Health Conference. I first came across BlogHer on the bottom of a newsletter that I was subscribed to. It mentioned the BlogHer conference coming up and I clicked on the link because I was curious. Come to found out that BlogHer was a conference for bloggers and that the next one would be in Orlando. I bought my ticket that same night. I had so much fun at the Orlando conference, you can read about it here.
BlogHer18 Health Conference
When I started planning my calendar year for 2018. I checked the BlogHer website to see when the next conference was. To my surprise the theme was "BlogHer18 Heath" and it would be in New York City. The BlogHer18 Health Conference fell right in line with everything that I promote and I've never been to New York before. I immediately bought my ticket, booked a hotel, and added some tourist attractions.
Keep reading as I share my experience at the BlogHer18 Health Conference.
Tuesday
When I arrived at the Tribecca 360 I was greeted by a doorman as I walked in. Followed by a woman who wanted to check my coat. Now, I live in Florida, never have I ever had to check a coat. I asked the woman how she would know which coat was mine? She said that she would give me a ticket. Embarrassed I said "You've don't this before, haven't you?" and the woman laughed. Next, I checked in with a woman who gave me my name badge. It had my first and last name listed on it along with my website URL.
Interactive Health & Wellness Activities
As I made my way upstairs. I encountered a line of waiters holding trays with a variety of beverages ready to be scooped up. I opted for a glass of champagne. Then began to peruse the interactive health and wellness vendors that had booths set up. I also took this time to take photos and mingle with the other bloggers.
Voices Of The Year
Shortly after arriving, the Voices of the Year award ceremony began. Each year content creators, influencers, and social advocates are selected to have their work recognized for their inspiration. This year there were 16 honorees. Among the honorees were Gwyneth Paltrow and Chelsea Clinton. Gwyneth Paltrow was not able to attend the conference and filmed a video accepting the award. They aired the video for us to watch. Chelsea Clinton made an appearance and gave a short speech.
Socialize & Network
After the award ceremony everyone networked while sipping cocktails and nibbling on healthy snacks. This was a great way to ease into the event. Even though this was my second BlogHer I was a little nervous, but after having arrived I was excited going forward.
Wednesday
Breakfast
The following day when I arrived at the Tribecca 360 I was greeted again by a doorman as I walked in. Then I proceeded to check my coat. Like a pro. Next, I checked in with a woman who gave me a BlogHer tote bag filled with all sorts of goodies.
I made my way upstairs where they were serving breakfast. They had a beautiful display ready and waiting. To my surprise there weren't a lot of attendees, at first. My guess is because they got caught up with the health and wellness booths set up as you walked into the breakfast area. I breezed passed them as I walked upstairs. I was hungry. Slowly but surely it started to get busy. Because I arrived early I was able to select from the breakfast buffet with ease and pick a seat right in front for the conference. For breakfast, I had a glass of orange juice, oatmeal, a blueberry Chobani yogurt, and fruit.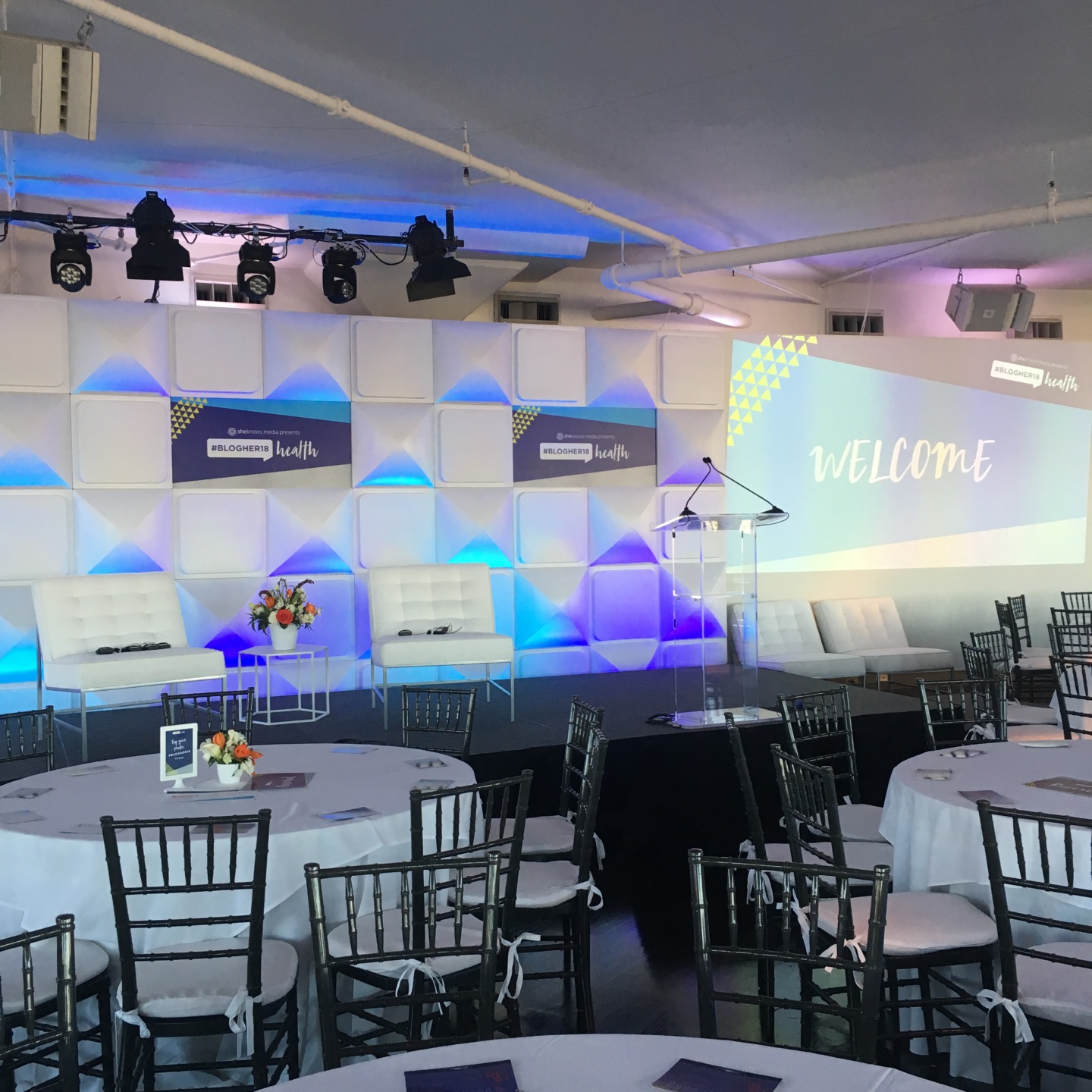 Julianne Hough
Latham Thomas interviewed Julianne Hough as she spoke about her journey with endometriosis. I have heard of endometriosis but did not know what it was. Endometriosis is a painful disease that affects about 1 in 10 women. It's where tissue that acts like the lining of a uterus, starts growing on the outside of the uterus. These growth are called lesions and can cause severe pain and inflammation. It was interesting to hear Julianne talk about her experience, symptoms, and how she manages to live with endometriosis. If you want to learn more about endometriosis then visit speakendo.com. Julianne's interview was followed by other keynote speakers and panel discussions on other health issues that affect women.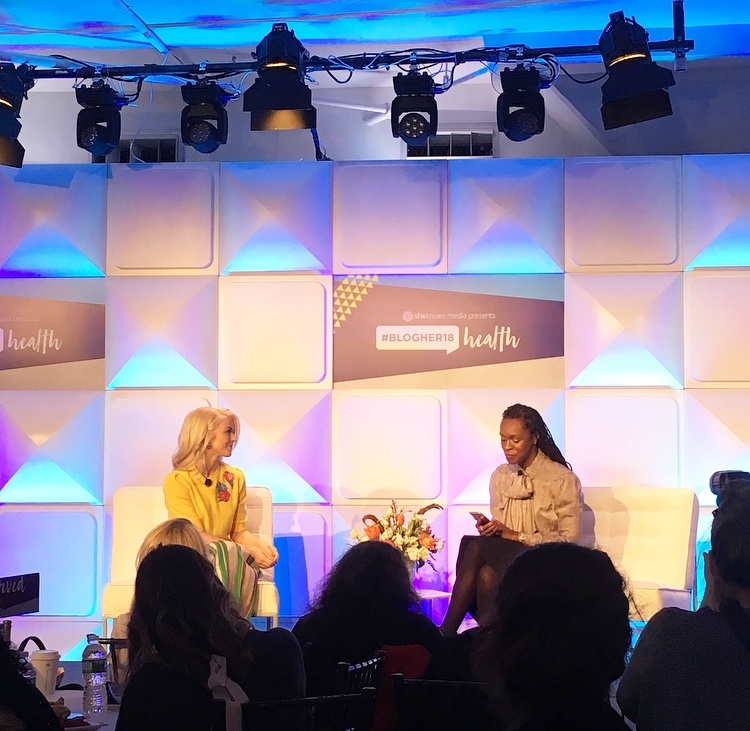 Networking Break
We were given a networking break where I took advantage of circling back to the health and wellness booths set up as you walked in. After I made my rounds and collected a ton of freebie and samples I made my way back to my seat and networked with the bloggers at my table.
Influencer Workshop
After the networking break you could pick between two workshops Visual Storytelling and a Media Master Class. Since I've been doing YouTube for over a year now I think I am well versed in Storytelling. I choose to go to the Media Master Class.
In the Media Master Class we learned how to pitch ourselves to the media. They gave great advice for presenting yourself as an expert and communicating your value to others. We got to see two influencers pitch and then they choose two attendees to pitch and gave construct feedback based on their efforts.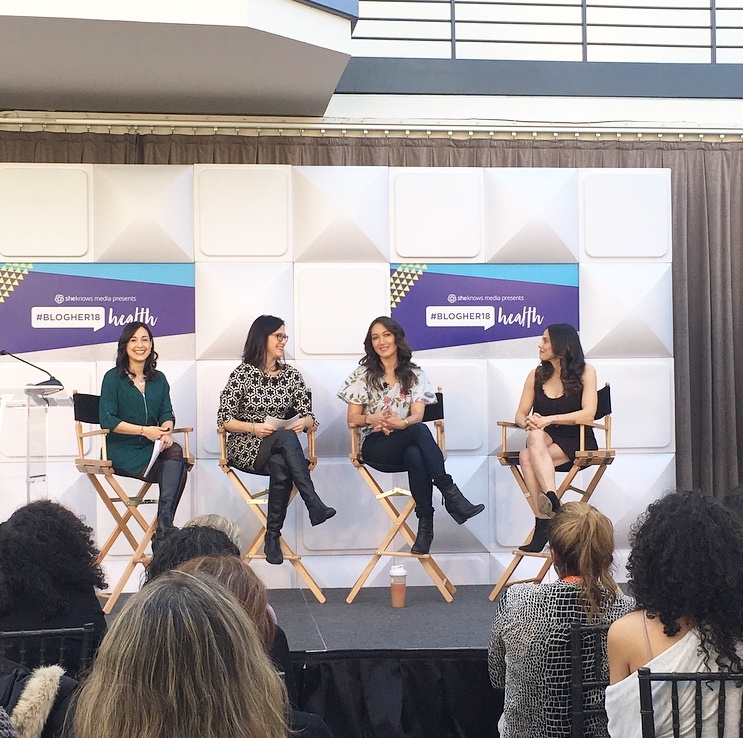 Lunch
For lunch, I had a vegetarian wrap with a kale salad and chocolate chip cookies. The keynote during lunch included a panel discussion on the ways media and mental health intersect. Then we heard from industry insiders on how television and film can be a catalyst for conversations around health. Among the speakers were Kate Walsh, Sara Vilkomerson, and Kaja Perina.
Jillian Michaels
The keynote speaker that I was most eager to see was Julian Michaels. We were able to witness a fireside chat where Julian shared her journey into the health and fitness industry. Julian discussed how her business, brand and personal life are intermingled. She gave helpful advice for those of us who are building a business. She also went into detail on how being a mother has changed the way she handles her business. That she is less wreckless and more thoughtful. Julian was charming and she cursed a lot. I loved every minute of her interview. I was a fan before but I am a fan more so now because of how authentic she was. Some take aways that I have are,
 "What breeds longevity is authenticity"
"If you engage in clickbait, and they click, make sure you deliver on whatever it is you just promised"
"Short cuts are like crack or in my business steroids"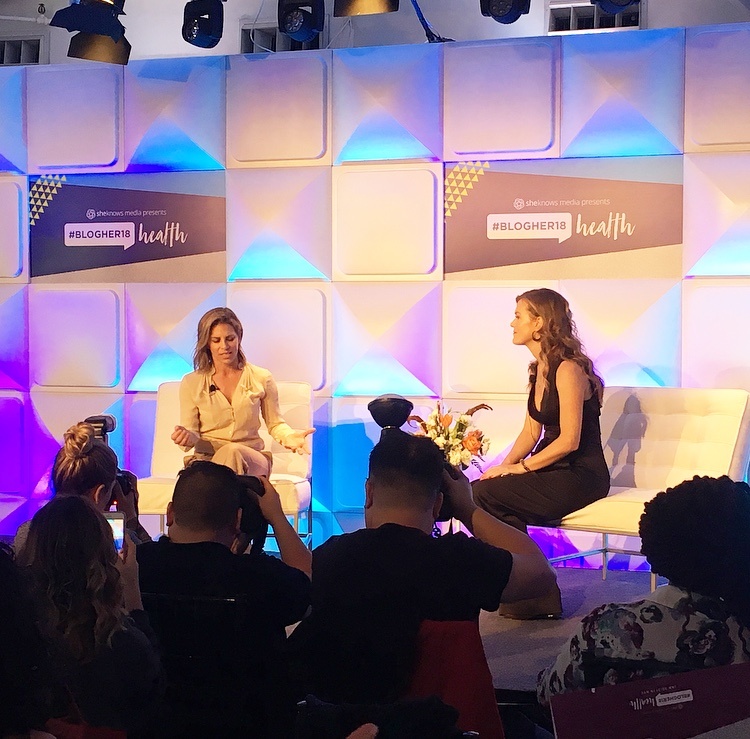 Influencer workshop
Afterwards there was a panel discussion about living with various health conditions.. Then again we broke into influenecer workshops where we could choose between the business of influence or find your sacred space in a mindful meditation. I choose the former. In the business of influence we learned how to work with brands and understand our value as a content creator. The featured speakers were Chinae Alexander, Christine Bibbo Herr, Colleen Wachob Dawn Ferguson and Reesa Lake.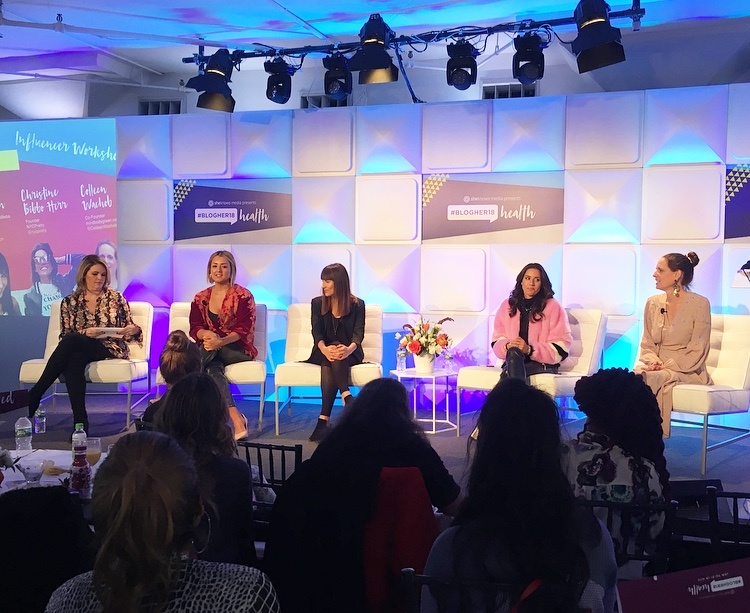 Networking Break
After the workshops we were given a networking break where I networked with other bloggers and influencers.
Camila Alves McConaughey
Next, we got to witness a fireside chat where Camila Alves McConaughey spoke on being a mom, lifestyle expert, and entrepreneur. To be honest I had no idea who Camila Alves McConaughey was until after the interview. One of the other bloggers told me she was married to Matthew McConaughey.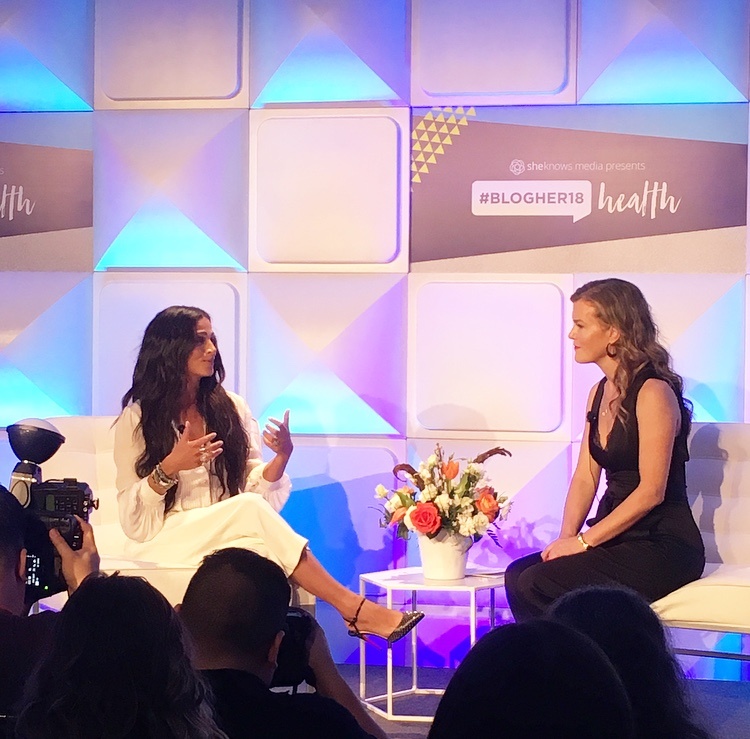 The Pitch
Camila Alves McConaughey was the emcee for The Pitch, where three entrepreneurs got to share their elevator pitch. Four judges gave them immediate feedback and we as attendees were able to vote on twitter as to whose pitch was our favorite. After The Pitch I was able to meet Camila and snag a picture with her. The Pitched was followed by a candid and entertaining chat about women's bodies and sex. I enjoyed the candid conversation and was unabashed by the topics.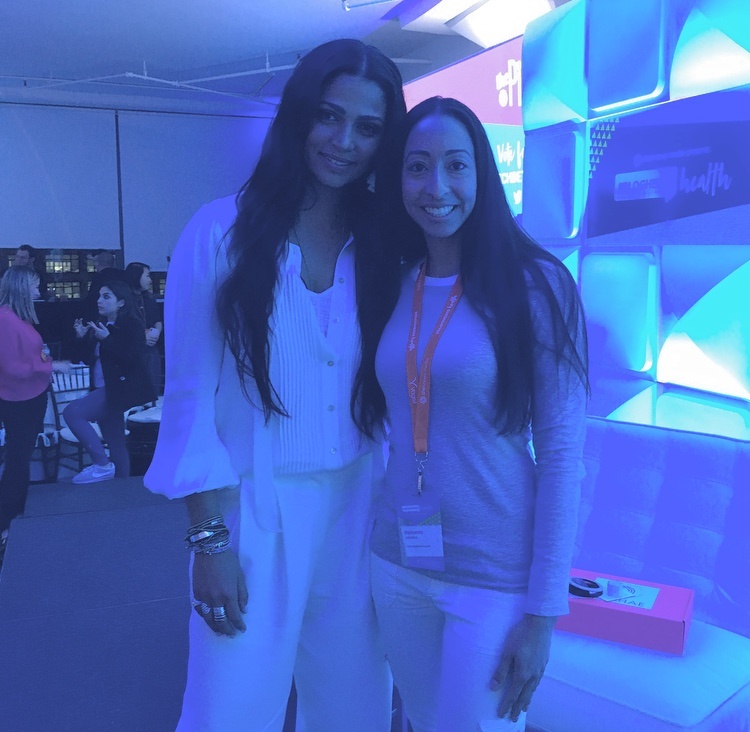 Arianna Huffington
The conference ended with an interview with media icon Arianna Huffington. She touched base on various obstacles in her own life she has overcome and how she influences women. After the closing remarks as we exited we were given lunchboxes packed with a meal to go. My hands were full as I made my way back to my hotel.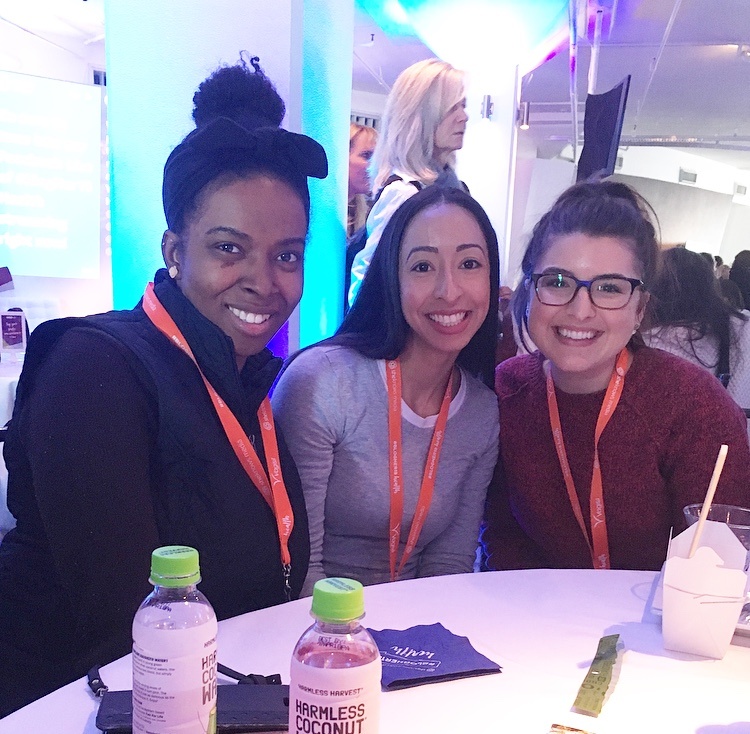 I enjoyed attending the BlogHer18 Health Conference. I learned that the word "health" embodies more than just physical fitness, made new friends, and opened myself up to new opportunities. This was not my first BlogHer conference but my 2nd and it won't be my last. I feel rejuvenated, inspired, and motivated to take my blog to the next level.
I uploaded vlogs to my YouTube channel. Check out the two vlogs of the conference down below. Also I extended my trip a few extra days to explore New York City for the first time. See these other posts, Visiting the 9/11 Memorial and Museum, Inside The Empire State Building, and Visiting The Statue of Liberty and Ellis Island.
Don't forget to "Like" these videos and to "Subscribe" to my YouTube channel so you can keep up with my latest videos. I upload new videos every Sunday and Thursday. I hope you enjoyed reading this blog post, attending the BlogHer18 Health Conference. If you have any questions feel free to comment below.

Digiprove © 2018