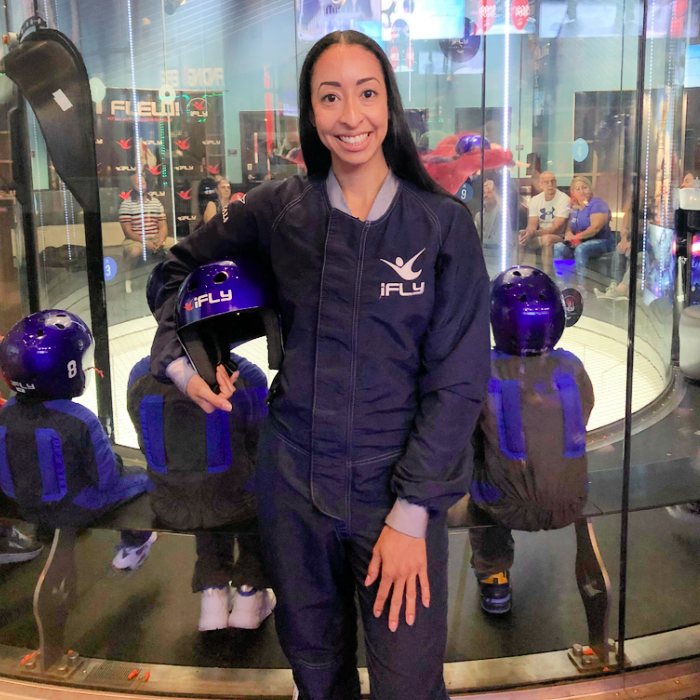 Indoor Skydiving In Fort Lauderdale
This past weekend I had the opportunity to go Indoor Skydiving. I went to the iFY Indoor Skydiving facility in Fort Lauderdale with a group of friends. It was such a fun experience that I can't wait to do it again. It is not scary or intimidating at all. Compared to real skydiving where you are jumping out of a plane.
For those of you that don't know, I have gone real skydiving before. If you would like to know more about that experience. I wrote about it in this blog post, My First Tandem Skydive Experience. Below I am going to share my indoor skydiving experience. For anyone who might be interested in indoor skydiving and would like to know what to expect.
Check In
When you first get to iFLY Indoor Skydiving. They are going to have you check in by stepping on a scale to get your weight and have you sigh a wavier online. They check your weight because there are weight restrictions and so that they can pair you with an instructor who can accommodate your weight for a safe experience when you fly. Tip: In order to save time checking in, I recommend that you fill out the online waiver beforehand. You can find the waiver on their website.
Waiting Area
After you check in, you can walk over to the waiting area. Where they have seats surrounding the vertical wind tunnel and you can actually see other people flying indoors. When I turned the corner, it was a bit of a surprise. I didn't expect the wind tunnel to be in the middle of a room on display for all to see. But being able to see other people fly right in front of you, answered a lot of questions that I had. As far as, how does this work, what's it going to be like, and where is the camera.
Flight Suits
After everyone checked in, they put a wrist band on each of our arms. That had our first and last names, the date, and the time our group was flying. After everyone had a wristband. We walked over to a counter where we each got a flight suit to put over the clothes that we were wearing. I felt like an astronaut when I put the flight suit on.
Tip: If you have long hair like I do. Wear your hair in a braid or in a low bun. I wore my hair in a braid and took it a step further. By tucking my braid into the collar of the flight suit. That way it wasn't loose flailing about while I was flying.
Orientation
After everyone was fitted for a flight suit. We all went into a small room for orientation. Our flight instructor had us watch a short two minute video. Then he showed us the basics of indoor skydiving. As far as how to position our body and hand signals to be aware of that he may give us while we are flying.
Our flight instructor stepped out briefly while we were watching the two minute video. When he returned, he burst through the door and scared everyone. We all jumped and screamed lightly. I think that was intentional. Not for the joy of scaring everyone, but to get everyone to relax before flying.
Flight Gear
Once we were done with orientation. Everyone was given additional flight gear. We were given ear plugs, a head wrap, googles and a helmet. Our flight instructor checked everyone, in order to ensure our flight suits, googles, and helmets were secure. Then we were ready to fly.
We had to wait a few minutes for the flight class before us to finishing flying. However, while we were waiting. Our flight instructor asked who wanted to fly first. Then a friend of mine pointed to me. So I was offered as tribute to be the guinea pig and go first.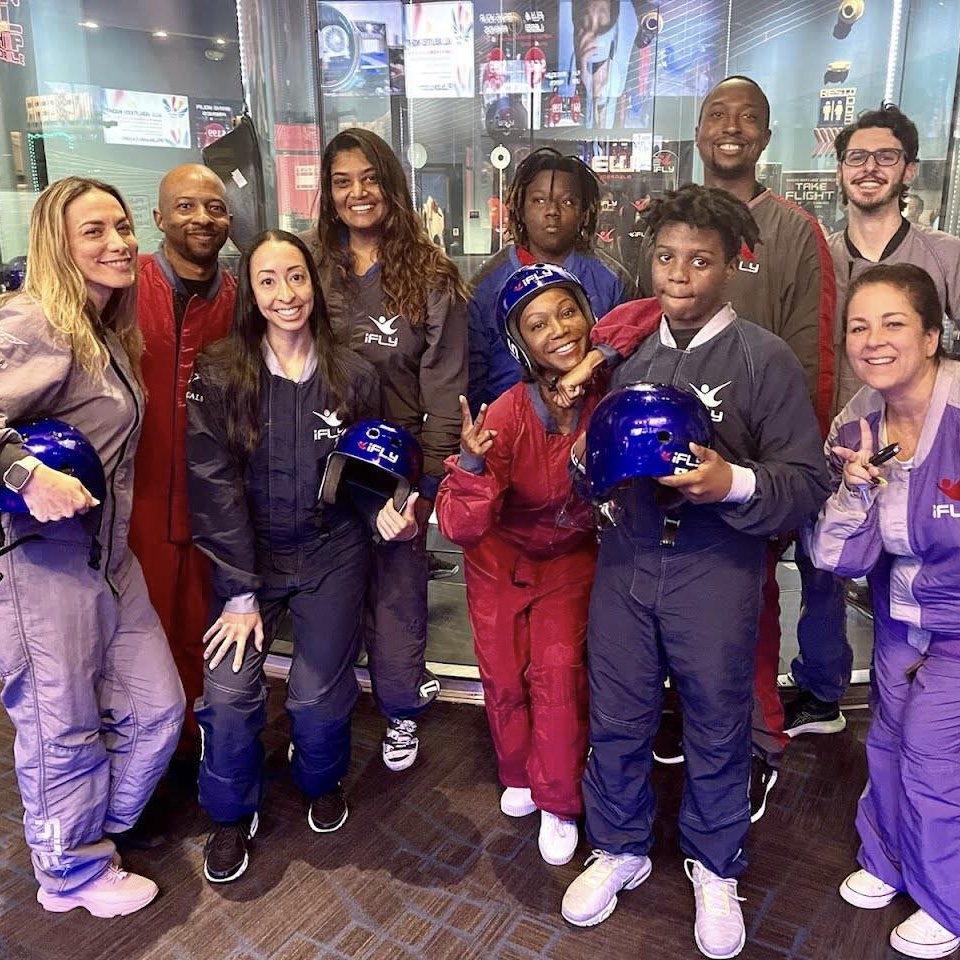 iFLY Experience
When it was our turn to fly. Our group lined up next to the entrance of the vertical wind tunnel. Our flight instructor was inside the wind tunnel and remained inside to guide us throughout our flight. The number of flights you get will depend on the package you chose. The package that we got included two flights per person. So I went in first and flew for one minute with our flight instructor guiding me.
After my first flight, I stepped out of the wind tunnel and everyone clapped as I walked to the end of the line. We all clapped for each other after each flight. After everyone completed their first flight. We each went again for our second flight. The second flight was much more easier than the first, since you already did it once and new what to expect.
You had the option to do a low flight and or to do a high flight. The low flight was where you remained low to the ground and the flight instructor would guide you. The high flight was where the flight instructor would fly with you and take you up to the top of the wind tunnel and circle you around for a bit before bringing you back down. The low flights were included in our packaging. But if we wanted to try a high flight we had to pay additional for that. I opted to have one low and one high flight.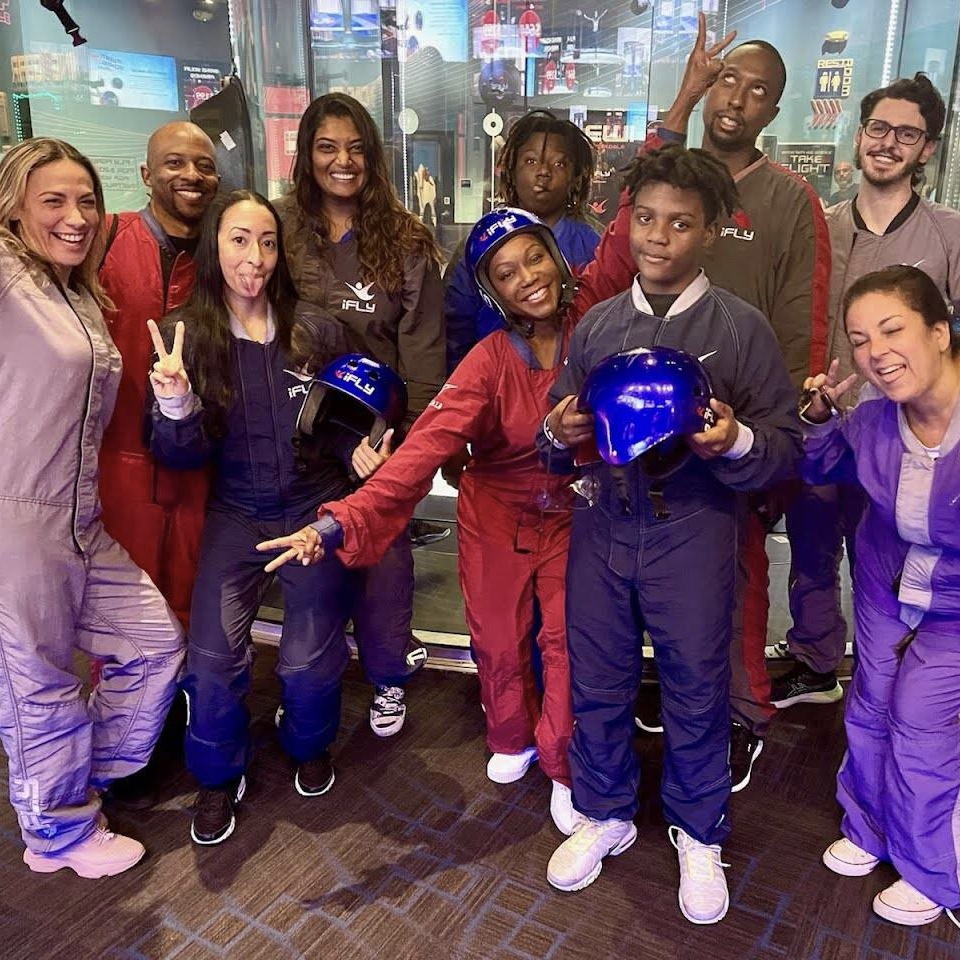 Check Out
After, we all completed our two flights. We returned the flight suit and gear to our flight instructor. Then we each received a flight certificate signed from our flight instructor. That said we had trained in a classroom, flew in the tunnel with minimal assistance, and flew in a stable body position. More advanced flyers can fly up and down, left to right, and can do a variety of other movements.
As each of us checked out, we were given a voucher to use online. You can order photos and video online at their website. You just have to look up the day that you flew and search for your name. The photos and video are available for you to view before your purchase. The voucher that we were given, discounted the video for our group.
iFLY Indoor Skydiving
iFly Indoor Skydiving has locations all across the United States. I went to the Fort Lauderdale location which is located at 11690 West State Road 84 Davie, FL 33325. Their hours vary throughout the week. You can contact them at (954) 280-4359.
If you have never been indoor skydiving, then I high recommend that you do it. I had such a great experience. I hope you enjoyed reading this blog post, indoor skydiving in Fort Lauderdale. If you have any questions feel free to comment down below.

Digiprove © 2022-2023