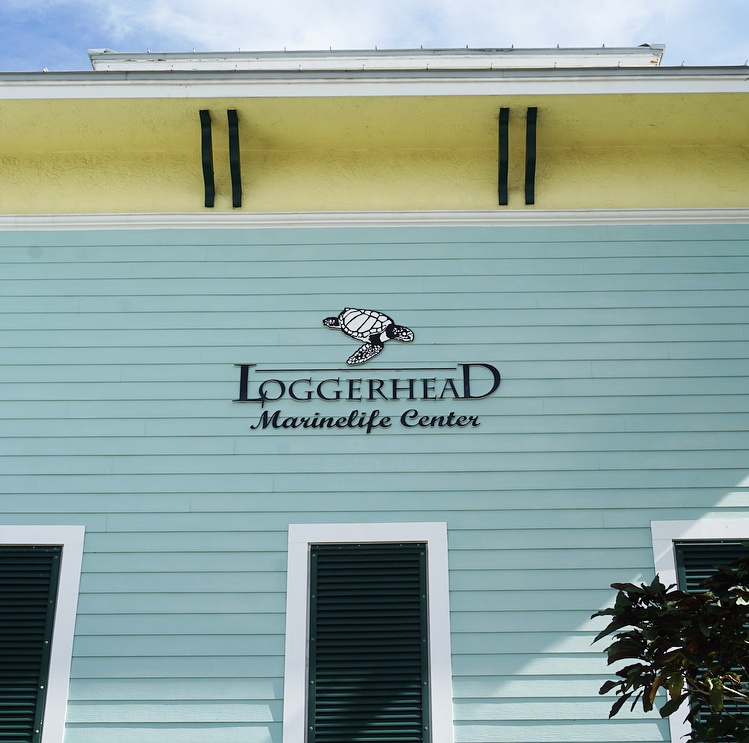 The Loggerhead Marinelife Center (LMC) is one of the worlds premier non-profit
sea turtle research, rehabilitation, and educational institutions.
I recently visited the Loggerhead Marinelife Center in Juno Beach. I went with my nephews as they were on a break from school. They had never been there before so it was a real treat for them.
Welcome To Loggerhead Marinelife Center 
The Loggerhead Marine Center (LMC) is a nonprofit facility the promotes ocean and sea turtle conservation. The facility includes a state of the art full service veterinary hospital, exhibit hall, outdoor classroom, research lab, and resource center. They also have weekly programs that are free to the public, guided tours, workshops, and camps.
Loggerhead Marinelife Center Exhibit Hall
When you first walk in, you're greeted by the front desk. They ask that you sign in and make a donation if possible.
To the right of the front desk you will find the Exhibit Hall. The exhibits include a massive prehistoric Archelon sea turtle replica, salt water aquariums, and educational displays of local wildlife. My nephews and I enjoyed looking at the salt water aquariums. We saw a spotted moray eel in one of the aquariums along side a hermit crab.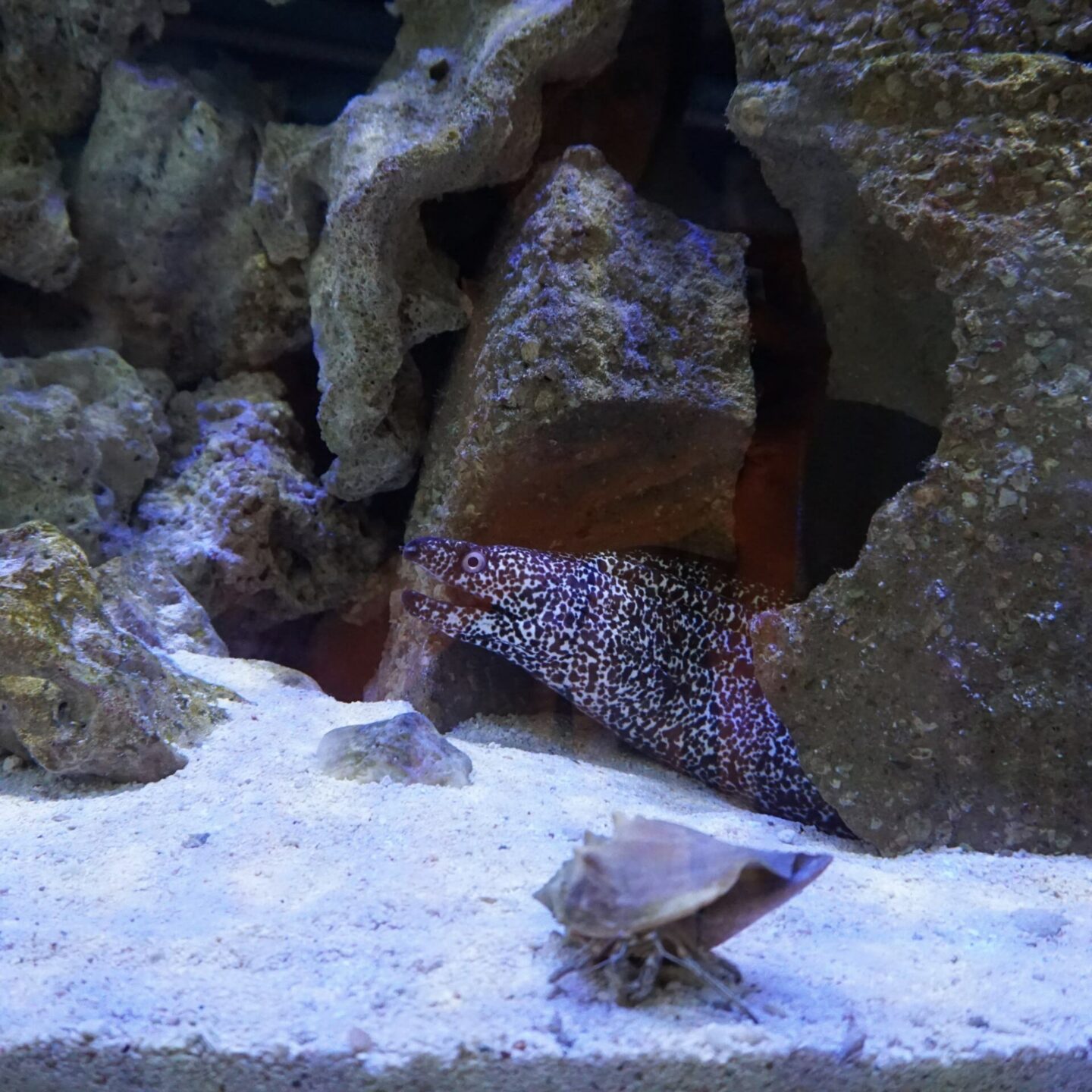 Loggerhead Sea Turtles
Outdoors, underneath an overhang is where they house the sea turtles. Each sea turtle is housed in a pod. The pod is open like a mini swimming pool, so you can see the sea turtle from above. There is also a window along the side of the pod where you can see the sea turtle up close.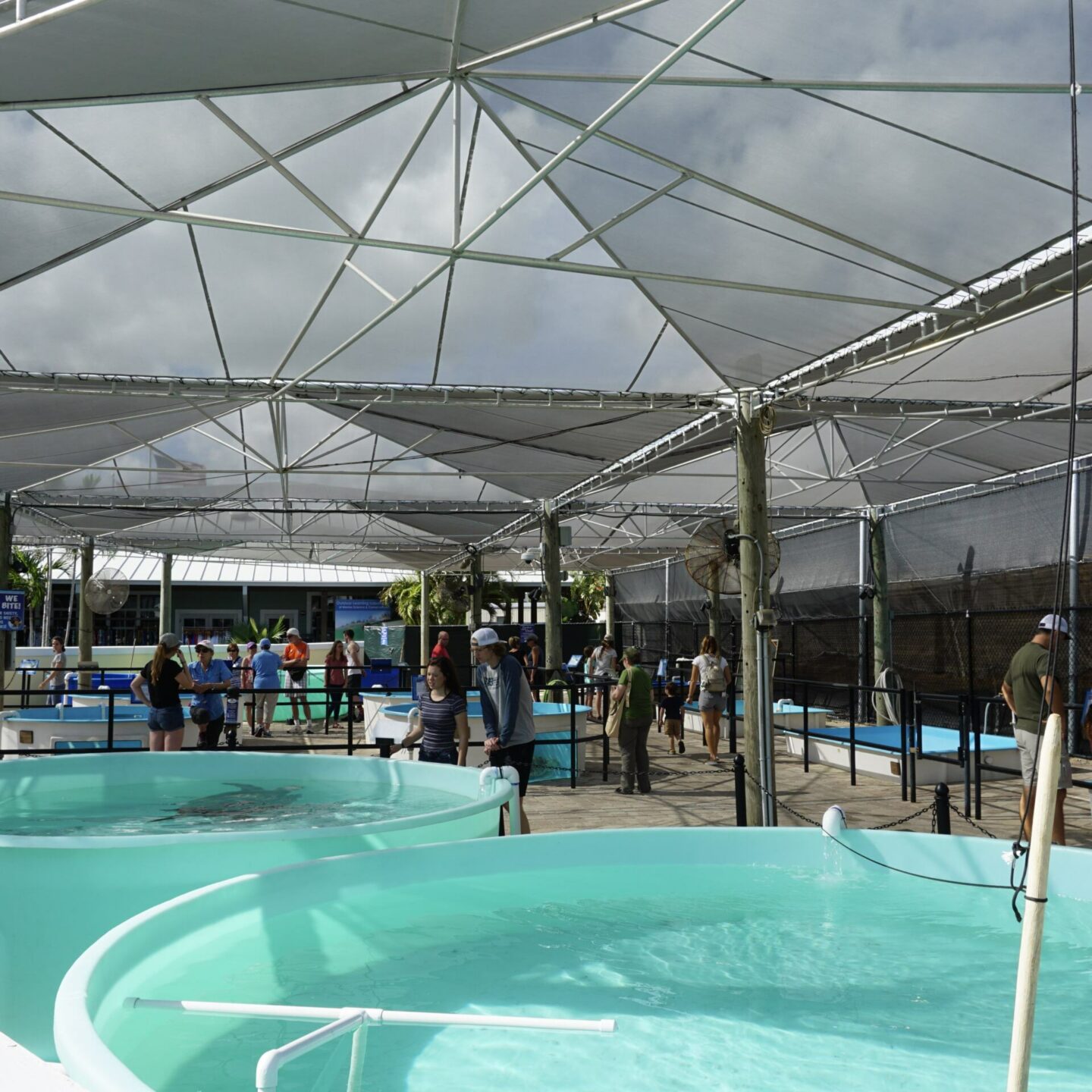 Next to each pod, is a short admission biography of the sea turtle. It has their name, arrival date, where they were found, and weight. It also described the sea turtles injuries when it arrived and how it is being treated for its injuries at the facility. Below are details from some of the sea turtles my nephews and I saw during our visit.
Hatchlings
We saw two sea turtle hatchlings. Hatchlings are baby sea turtles that where not successful in making the journey out to the ocean. They make have been too weak, there could of been a predator on the beach at the time, and or they were disoriented from artificial lights on the beach. The hatchlings will be released when they are strong enough to make the journey. The hatchings were absolutely adorable to witness. They were very active swimming in their pod as if they were trying to escape.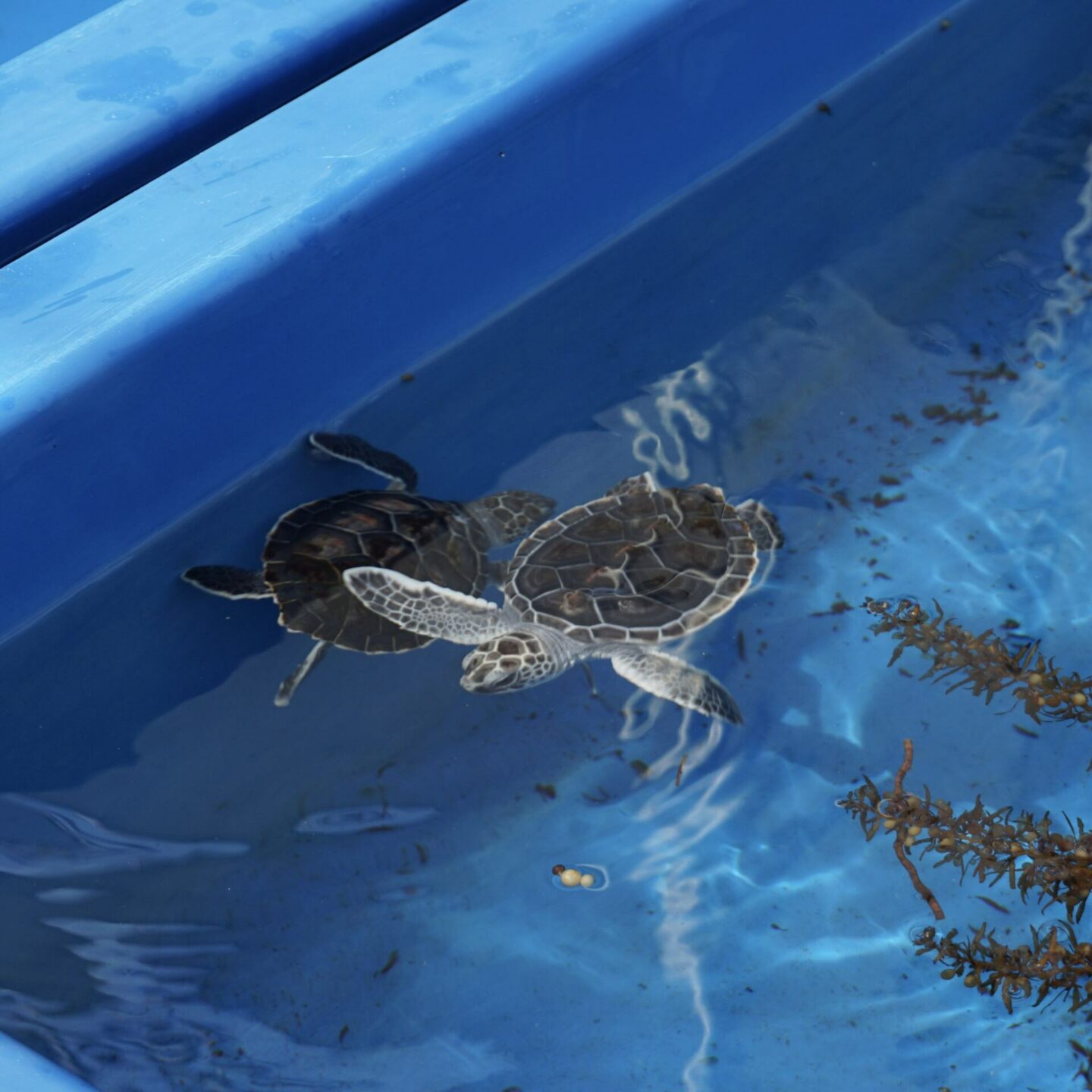 Jane
Jane is a sea turtle that was found in Port St. Lucie. She is recovering from shark bite injuries to her left front flipper, head, and plastron (bottom of shell). It broke my heart to see the shark bite injuries on Jane. She wasn't moving at all in her pod. She was nestled by the window along the side.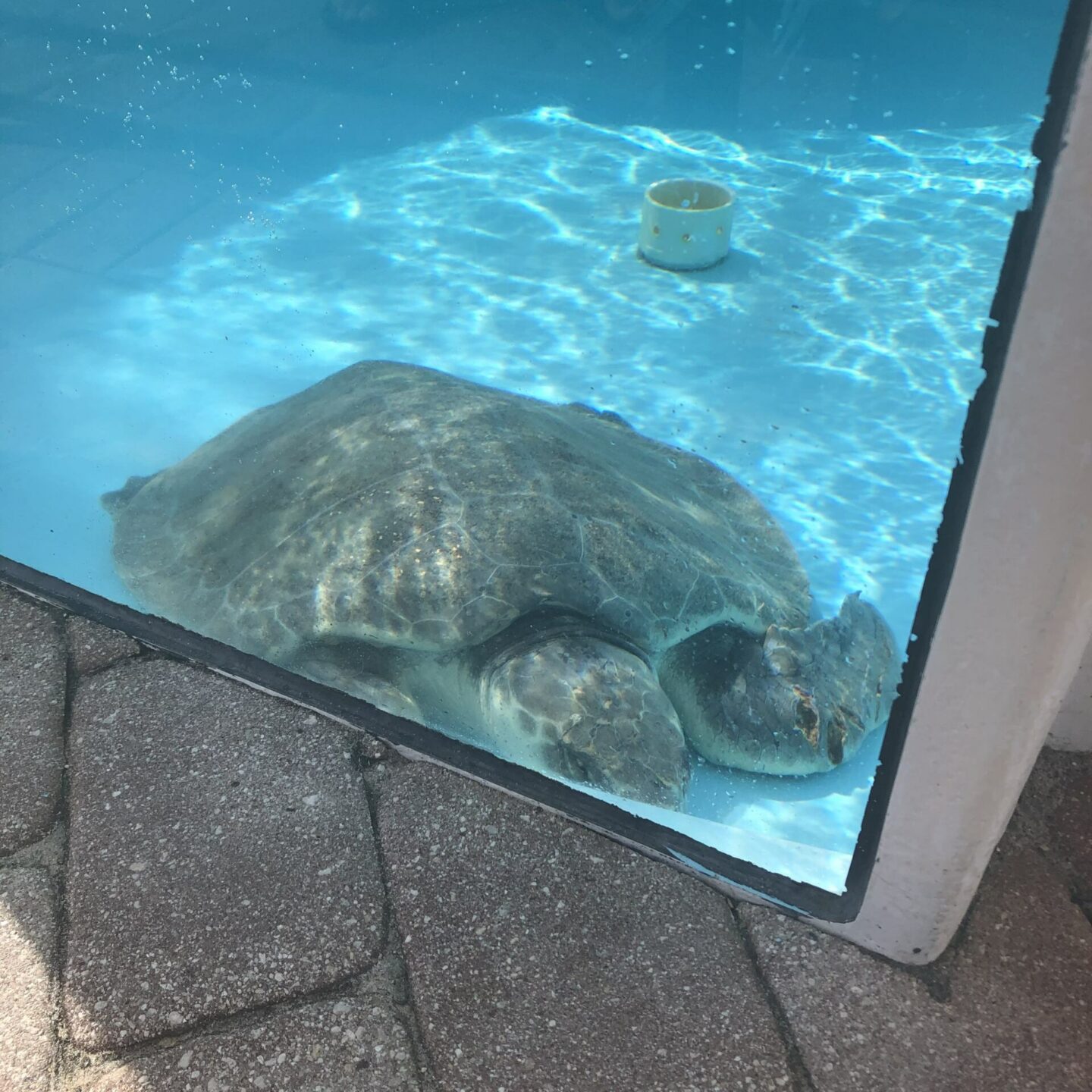 Topsy
Topsy is a sea turtle that was rescued offshore by the Coast Guard. He was not able to stay under water when he was found. He is recovering from boat strike injuries to his carapace (top of shell). The belt that you see at the bottom of his shell is actually a weight that has been added to help resolve his buoyancy issues. My nephews were pleased to see that Topsy can now stay under water.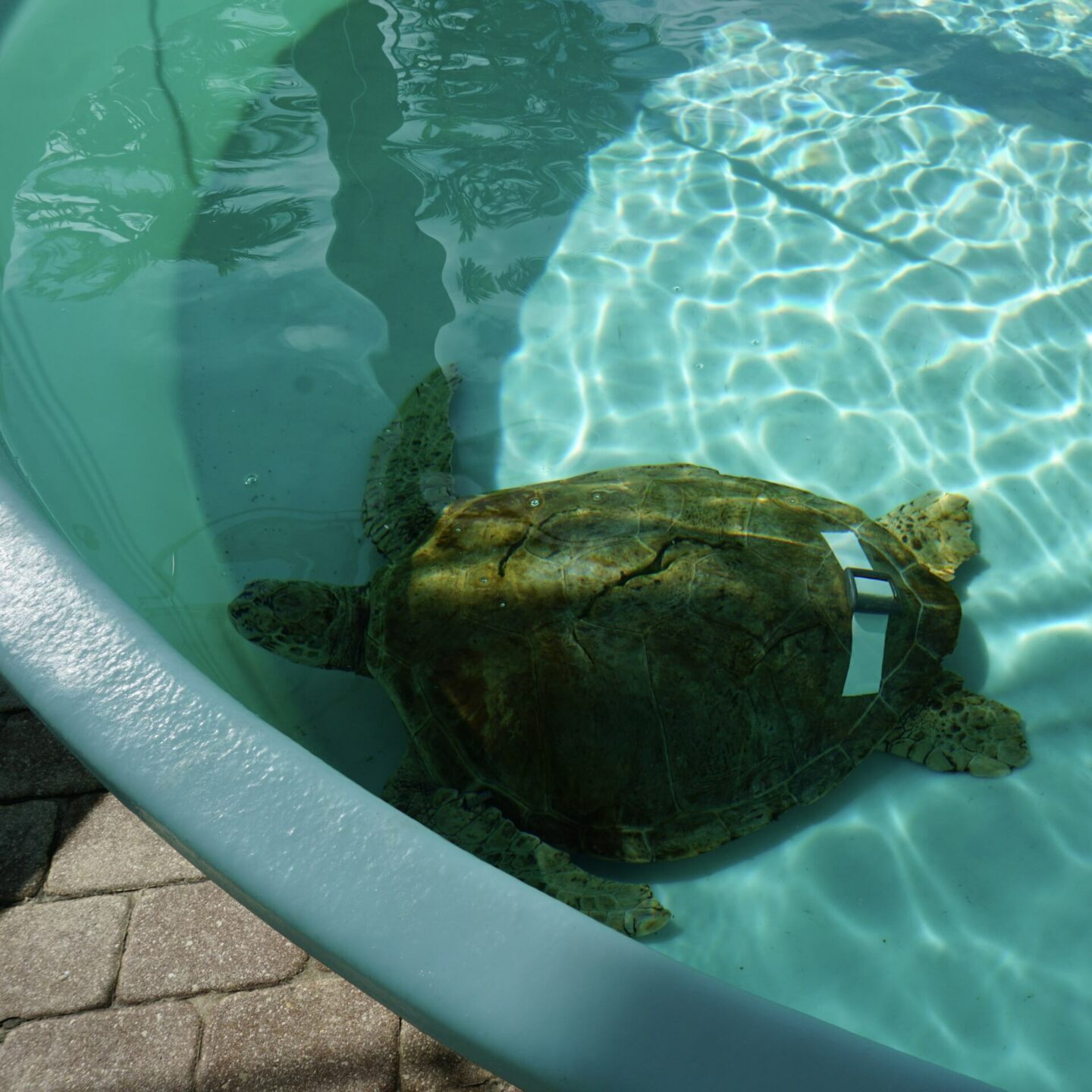 Loggerhead Marinelife Center Gift Shop
There is a marine themed gift shop by the exit. They have a bunch of educational books, unique gifts, and craft items for sale. As most of you know I like to shop for ornaments when I travel. If you haven't already then read my blog post on The Best Travel Souvenirs. As I was walking through the gift shop, I found this beautiful square glass ornament. It had LMC etched at the top along with a picture of a sea turtle in the middle and June Beach, Florida etched on the bottom. I bought it and can't wait to hang it up on my Christmas tree later this year.
The Loggerhead Marinelife Center is located in Juno, Beach and open Monday-Sunday from 10am to 5pm.
I recorded clips from our visit and created a video for my YouTube channel to compliment this blog post. Click the link below to visit the Loggerhead Marinelife Center.
Don't forget to "Like" this video and "Subscribe" to my YouTube channel. So you can keep up with my latest videos. I upload new videos every Sunday and Thursday. I hope you enjoyed reading this blog post. If you have any questions feel free to comment down below.
Related Posts:
For more animal adventure see these other posts,
Go Wild At The Palm Beach Zoo
The Sea Lion Encounter At Blue Lagoon


Digiprove © 2020-2022