Inside The Museum Of Ice Cream
I have been wanting to go inside the Museum of Ice Cream ever since I saw it explode all over social media. I noticed that they had opened a museum in Miami and immediately bought my ticket. A month in advanced. I ended up spending the weekend in Miami. The Museum of Ice Cream is a pop up museum. It has staged exhibits that are specifically designed for taking photos. I went with my friends KT and Ron.
As we were waiting to enter the museum. An ice cream prophet greeted us. She told us what we could expect from the museum and gave use an ice cream reading.
Sprinkle Pool
The first room that we entered was the "Sprinkle Pool". Where we were able to jump into a pool filled with synthetic sprinkles. It came equipped with pink beach balls and a lifeguard. They had lockers off to the side where we could put our bags and shoes. I immediately jump in and threw sprinkles in the air like a child.
Pool Rules
No Running
No Diving
Don't Eat Sprinkles
Have Fun!
The only downside of visiting the "sprinkle pool" is that the sprinkles get EVERYWHERE!!! The little plastic sprinkles will randomly fall out of your outfit for the remainder of the day.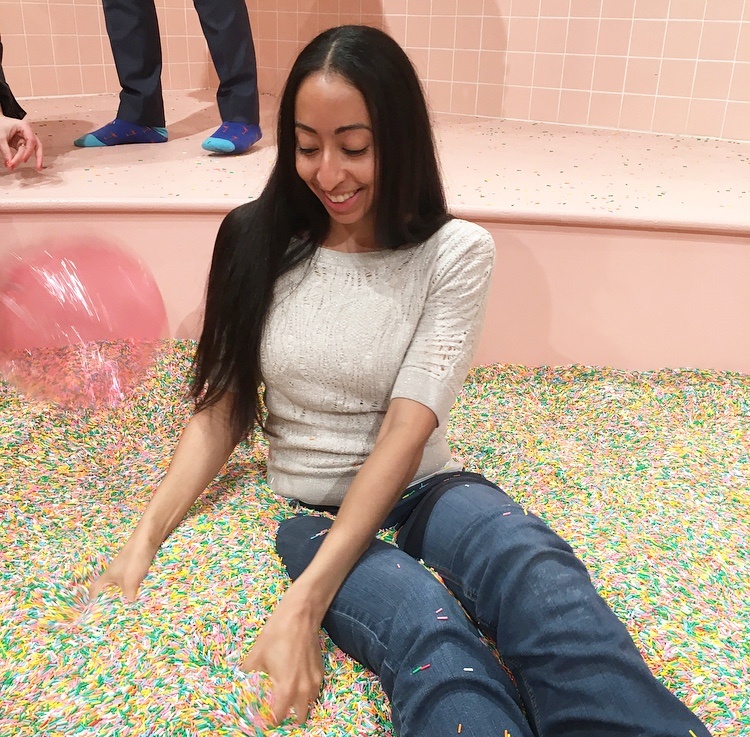 Buns Shake
The next stop, was a 1950s diner style ice cream shop called the "Buns Shake". There were stools lined up against the wall next to juke boxes. They even had a video arcade where Kt and I tried our luck and failed miserably. While we were there we were served chocolate ice cream with whipped cream and a cherry on top.
Mmmhhh!!!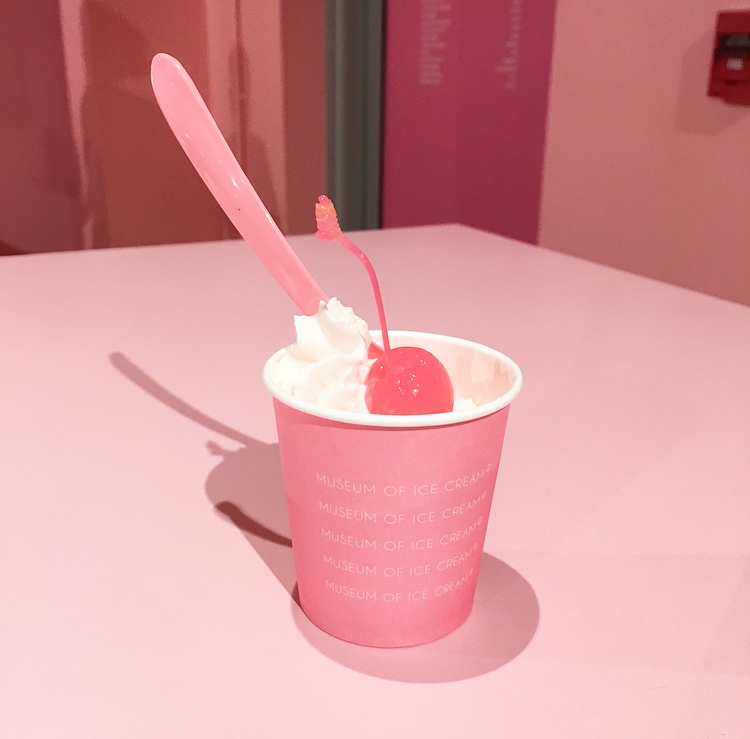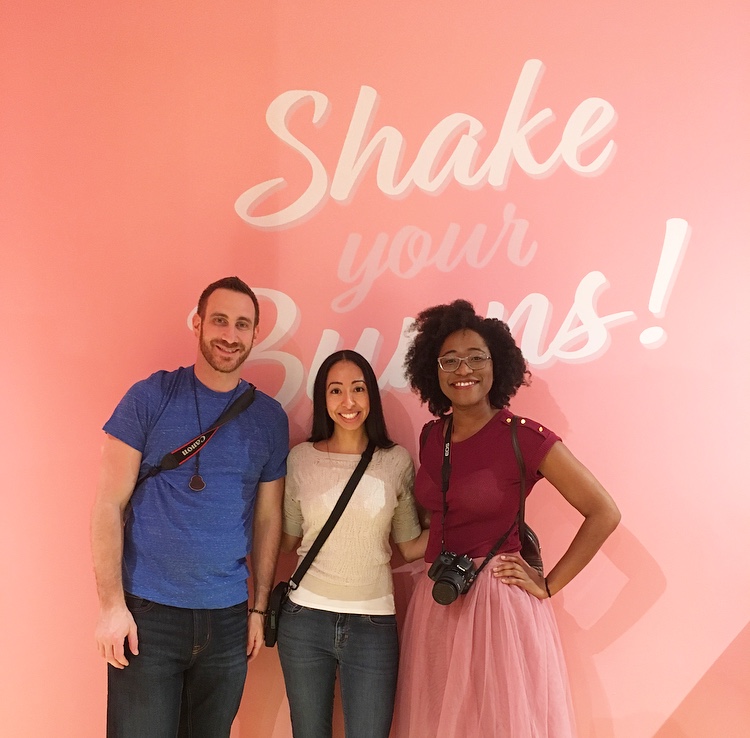 As we exited the "Buns Shake" there was a wall filled with framed photos of famous people. They each had their own personal flavor of ice cream listed on the bottom of each frame.
Dulce Despacito
Major Key Lime
Brrr-ell
Sorbet-Yonce
Grande Shake
Cardi Cream
The Grutmints
Sugar Rusher
"Fan-Tastic"
In the following room we were greeted by a staff member of the museum. He told us that we had just stepped into an ice cream themed dance studio. He asked for a volunteer to do a little dance, and I volunteered to dance with him. Afterwards we were able to walk around and explore the room. It was a colorful room filled with rows of ice cream cones with fans on them.
It was, Fan-Tastic!!!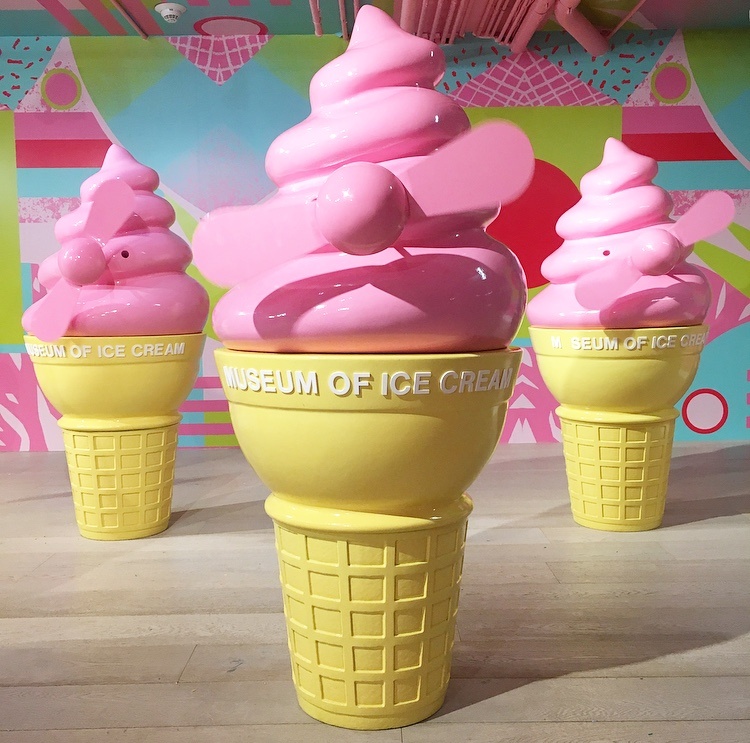 Jungle
The "Jungle" by far was my favorite room in the museum. It looked like you stepped into a safari with pink palm trees. A museum staff member was dressed up as a safari guide and greeted us as we walked in. She was standing next to an ice cream cooler and asked us to let her know if we encountered any monkeys. That they were everywhere…hint hint.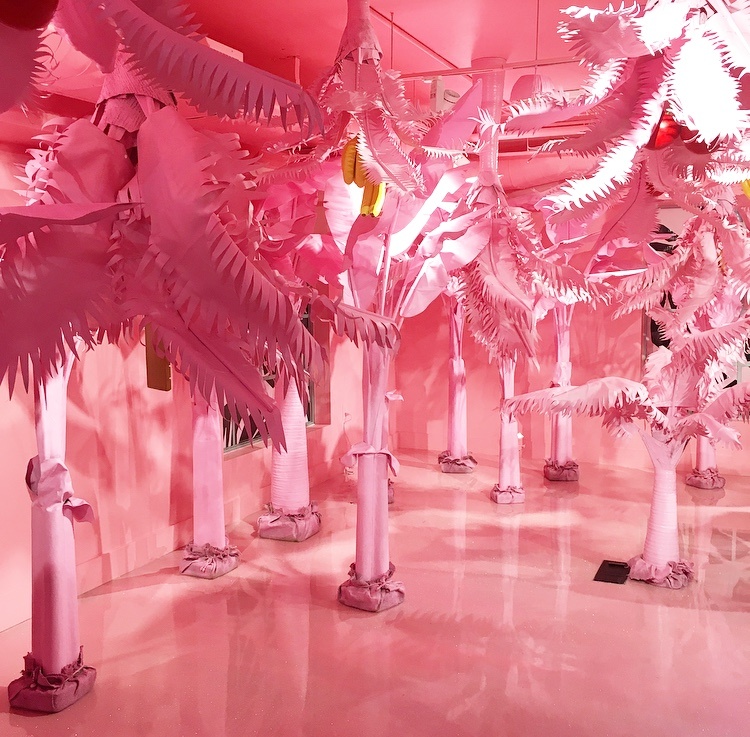 When you first walked in the room you could see a red ball strung up from the ceiling that you could swing on. It reminded me of Miley Cryrus's video "Wrecking Ball". In addition to the wrecking ball swing there was a cute banana swing you could take photos on.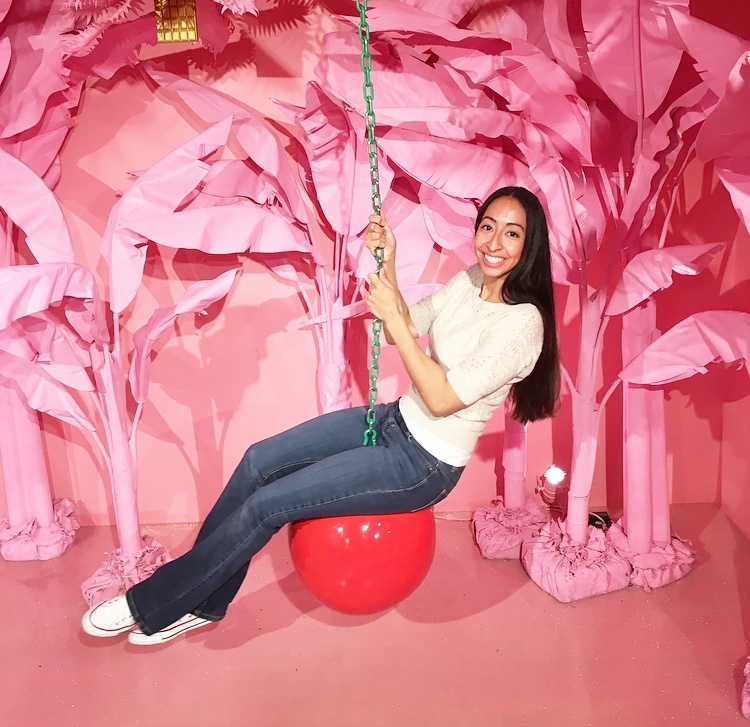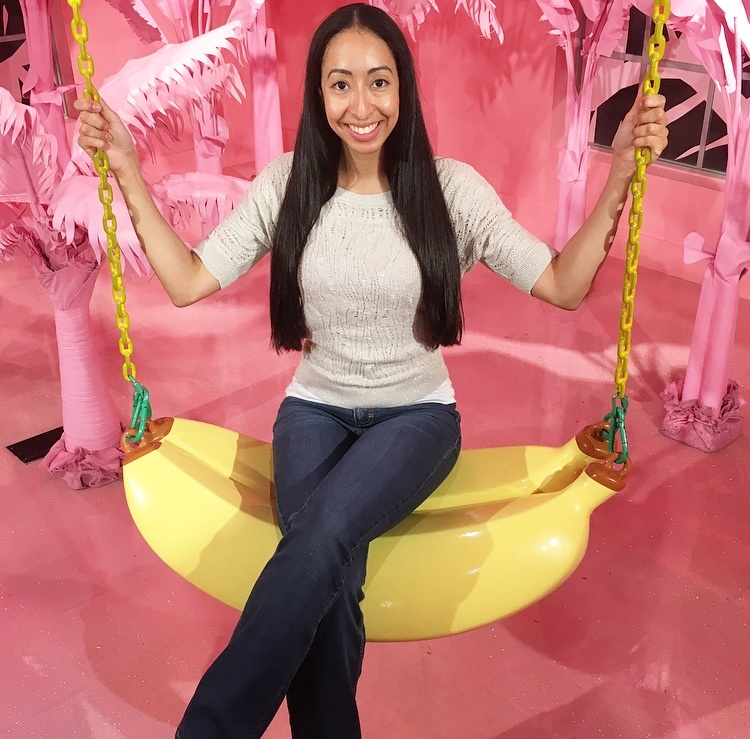 As we were taking pictures, we discovered a small room in the corner. You had to duck down and crawl into the room in order to see what was inside. It was the secret "Coconut Cave". The room was filled with pink coconut shells on the walls. It was so random but super cute. Before we moved on to the next room my friends and I acted like monkeys near the safari guide who we met at the entrance. The safari guide gave each of us a chocolate covered banana for our efforts.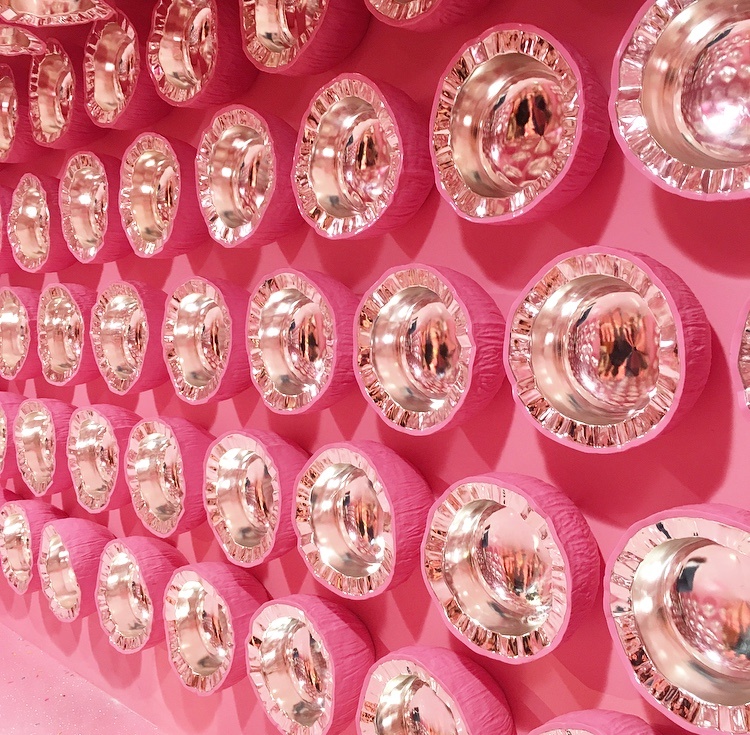 Melt This way
The next room had cute pink wall paper with pictures of cartons that said melted ice cream on them. As we made our way into the room, ice cream facts were listed on the walls. A museum staff member greeted us and gave each of us a carton of melted ice cream. It wasn't bad, it kind of tasted like almond milk to be honest.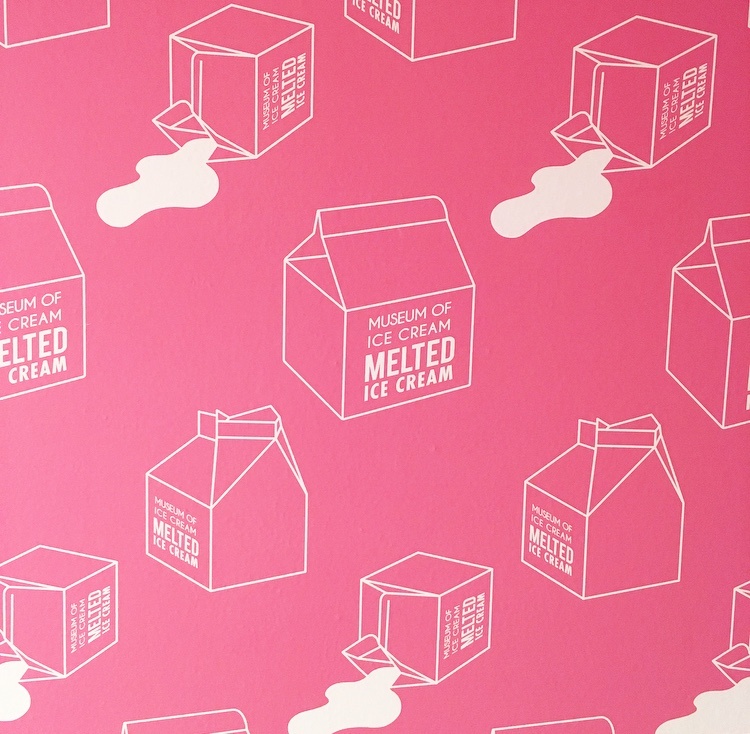 Sandcastle Dreams
The following room, "Sandcastle Dreams" had giant pink castles. There was also a sandbox where you could play with pink sand and make sculptures. This room was very hands-on.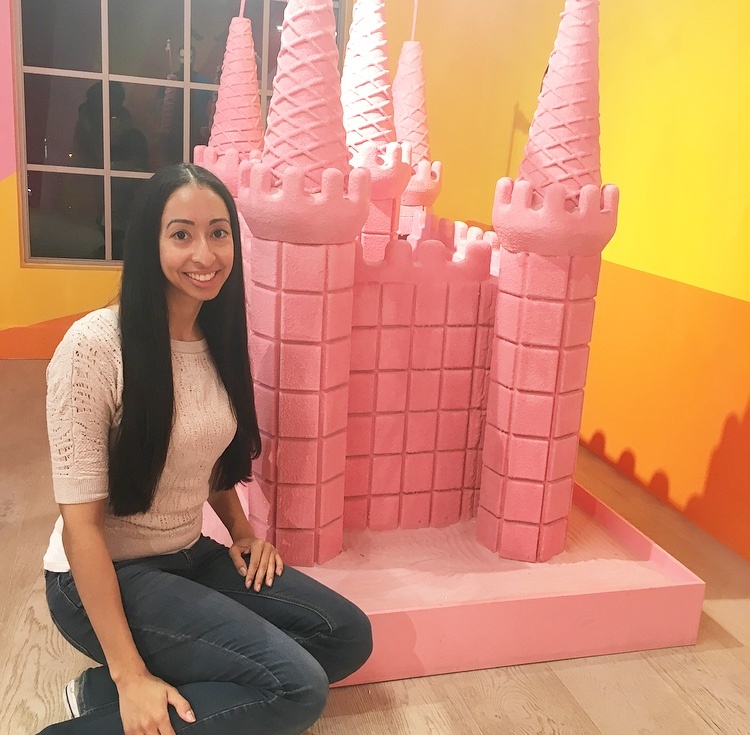 Sweet Sculpture Studio
In the Sweet Sculpture Studio we had the opportunity to build our own masterpiece. There were colorful blocks with difference patterns and shapes that you could put on a pole.
This room reminded me of the toys you would find in the waiting area at your doctors office when you were a child. Before we moved on to the next room. Another museum staff member handed us each a licorice string candy.
Pop
In the final room of the museum, Pop. A  museum staff member gave us key lime ice cream. You could choose to have it in a cup or a cone. I opted to have it in a cone. In this room there were a variety of games you could play. I played ping pong with the cutest little girl. There was an outside patio area were you could hoola hoop. Which we all attempted, I'll leave it at that. Kt and Ron played corn hole for a bit.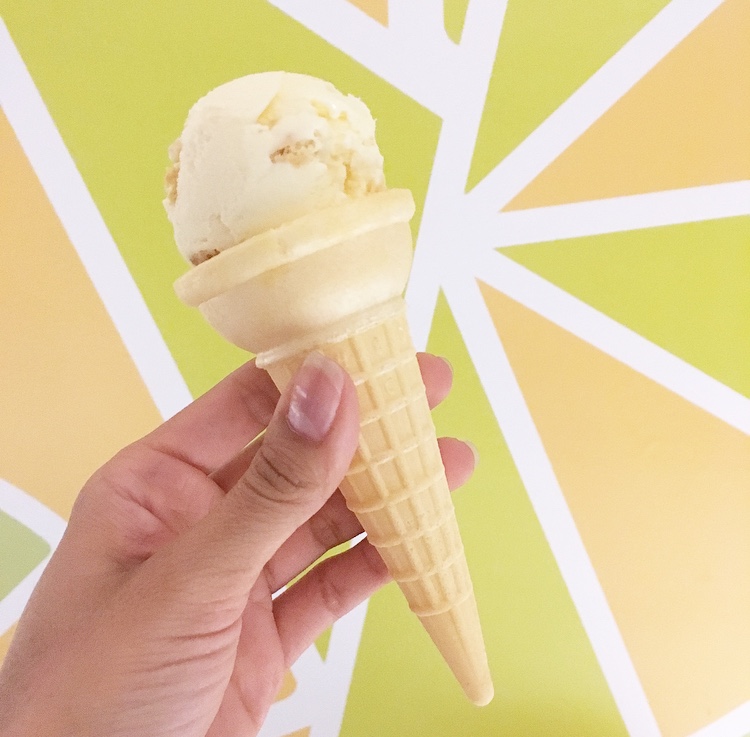 Life is like ice cream, enjoy it before it melts.
Before we ended our journey we took photos in front of this wall of hanging popsicles. It was a cascading wall of pink, red, blue, and yellow plastic popsicles.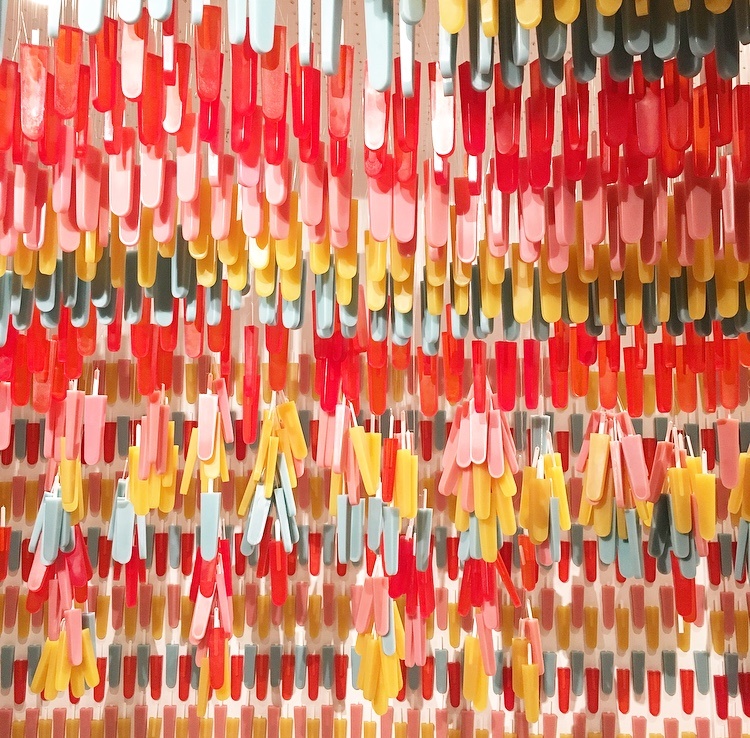 Giftshop
The gift shop had all sorts of ice cream memorabilia. I ended up buying a pink tote bag that said Museum of Ice Cream on it.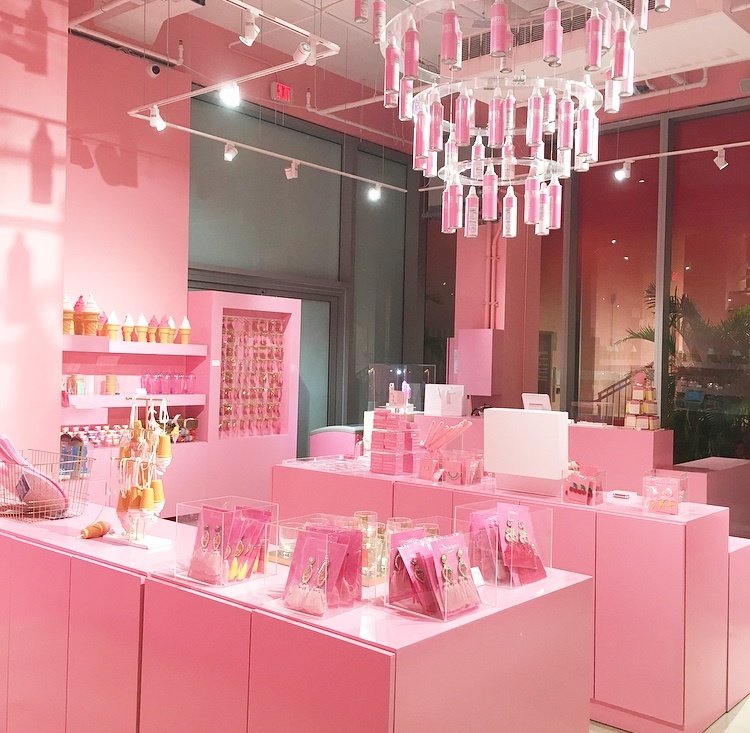 Based on the photos that I had seen on social media, I had an idea of what to expect. However, the museum itself went above and beyond my expectations. I had so much fun exploring each room and getting to sample treats along the way. If you ever get the chance definitely check out the Museum of Ice Cream. It's an experience like no other.
If you want a virtual tour inside of the museum of ice cream then click the video below.
As I mentioned earlier, I spent the weekend in Miami. Click here to see Wynwood Walls.
Don't forget to "Like" this video and to "Subscribe" to my YouTube channel. So you can keep up with my latest videos. I upload new videos every Sunday and Thursday. I hope you enjoyed reading this blog post. If you have any questions feel free to comment down below.

Digiprove © 2018-2022