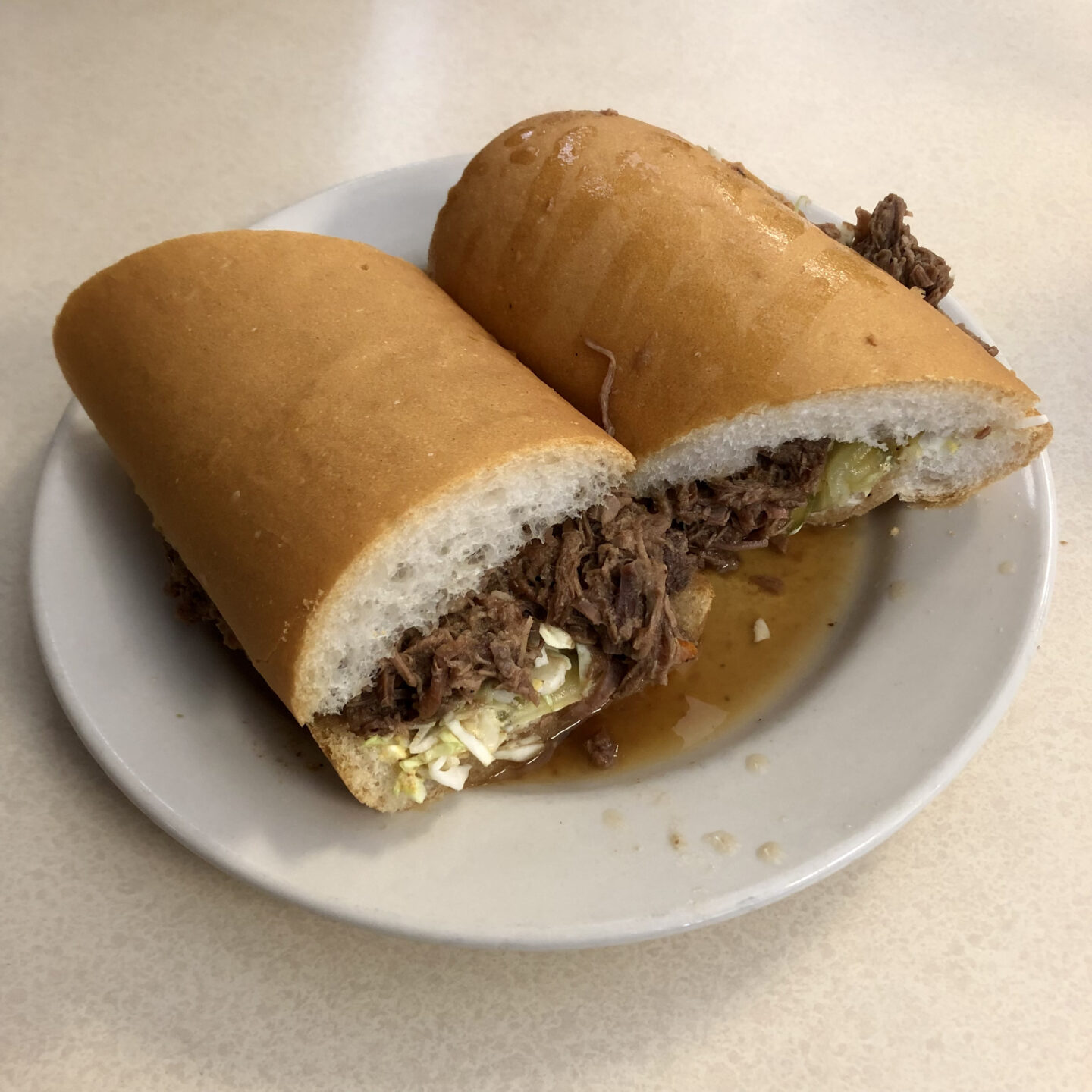 Debris Poboy
I spent a week in New Orleans, Louisiana. While I was there I took advantage of sampling all of their creole cuisine. Along with the iconic dishes that New Orleans is known for. Such as Po'boys, jambalaya, gumbo, and beignets just to name a few. If you want to know where the best places to eat in New Orleans are then keep reading.
The Best Places To Eat In New Orleans
Cafe Du Monde
I can't not start this blog post with Cafe Du Monde. Cafe Du Monde is a New Orleans tradition, it is known for its café au lait and beignets. If you don't know what a beignet is, beignets are square French style doughnuts, covered with powdered sugar. They are served in orders of three. I must of went to Cafe Du Monde at least three times over the course of the week that I was in New Orleans. The cafe au lait and beignets are that good.
Cafe Du Monde is open 24 hours a day, seven days a week. Cash only.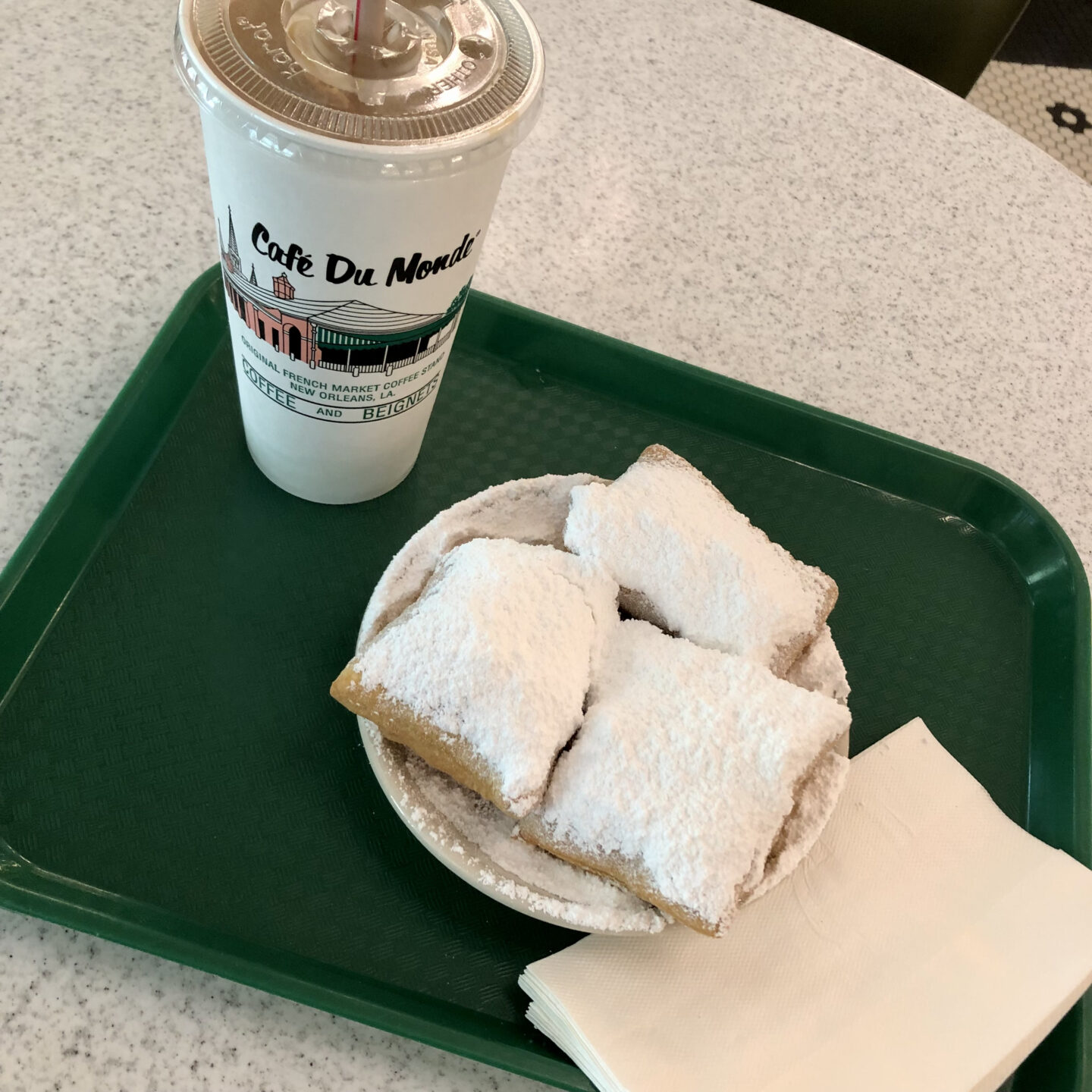 Cafe Au Lait & Beignets
Mother's Restaurant
Mother's Restaurant is a famous restaurant in New Orleans. It is known for its authentic N'Awlins home-style cooking, having the world's best baked ham, and for serving breakfast all day since 1938. It's not uncommon to see a line wrapped about Mother's Restaurant. Thankfully I visited New Orleans during the off season, so I didn't have to wait in line long. Mother's was a ten minute walk from my hotel. With that said, I went to mothers multiple times over the course of the week for both breakfast and lunch. I highly recommend the following;
Breakfast special (two eggs scrambled, baked ham, grits and a biscuit)
Seafood Gumbo (shrimp, crab, and oysters in a delicate crab stock with roux & pinch okra, mild)
Debris Poboy (debris with au jus and shredded cabbage, slices pickles, mayonnaise, creole and yellow mustard served on New Orleans French bread)
Sweet potato pie
Pecan pie
Napoleon House
The Napoleon House is a 200 year old landmark located in the French Quarter. It captures the essence of New Orleans. It was first occupied by the mayor of New Orleans Nicolas Girod back in 1812. After I checked into my hotel I walked over to the Napoleon House for lunch. I ordered the famous Muffuletta sandwich, which the Napoleon House is known for.
The Muffuletta sandwich came with ham, Genoa salami, pastrami, Swiss cheese, provolone cheese and a house made Italian olive salad. For dessert, I ordered a cannoli that was made with half-chocolate, half-vanilla sweetened ricotta filling inside a crispy pastry shell, dipped in crushed pistachios. To be honest I wasn't a fan of the muffuletta sandwich it was a little to heavy for me. However, the cannoli made up for it. It was delicious.
Fun Fact: If you are a fan of the vampire show 'The Originals'. It was filmed mostly in Georgia. However, they did film parts of the show in New Orleans. Rousseau's bar doesn't exist in real life. But fans speculate that the Napoleon House was the cover for Rousseau's. Having been there I think the rumors are true.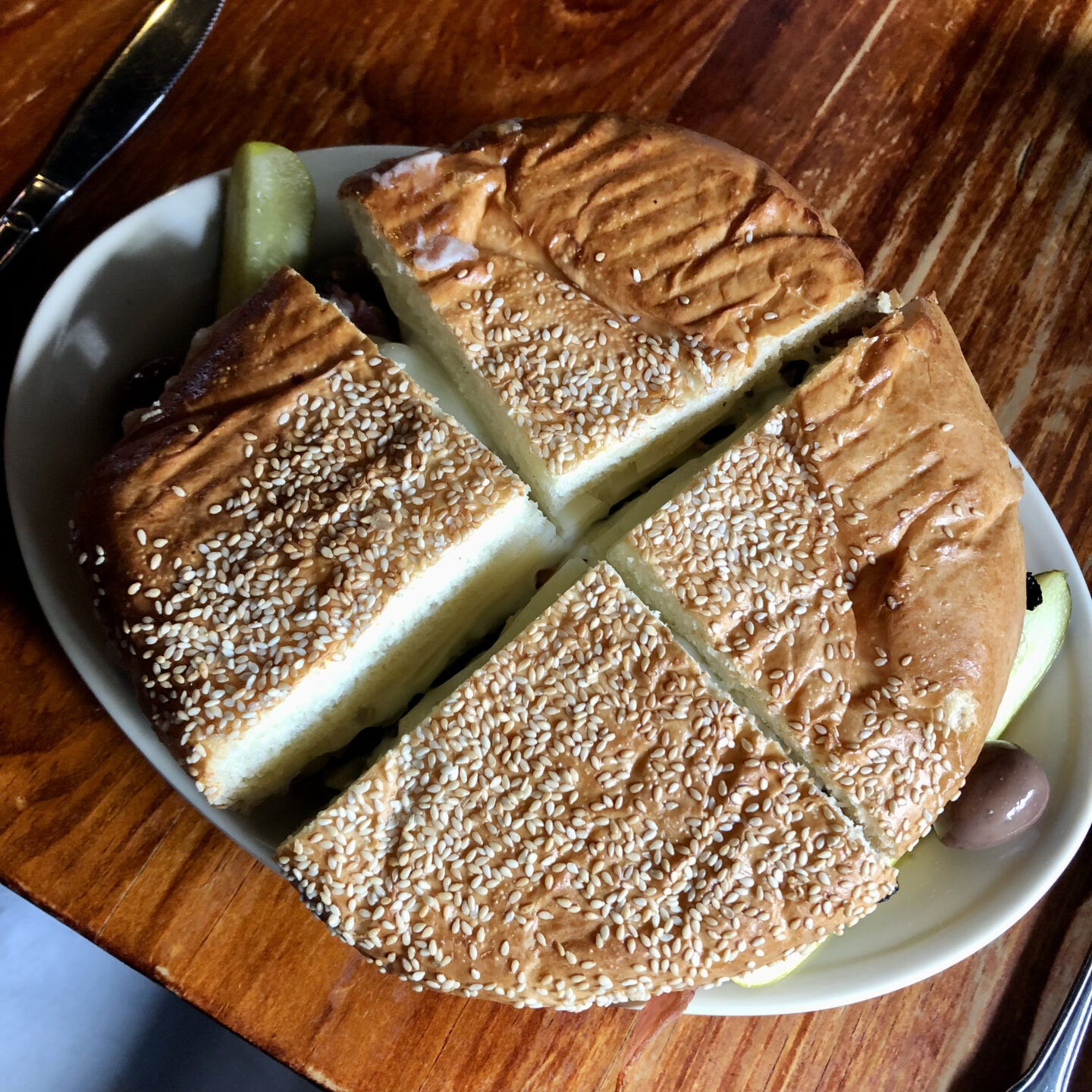 Muffuletta Sandwich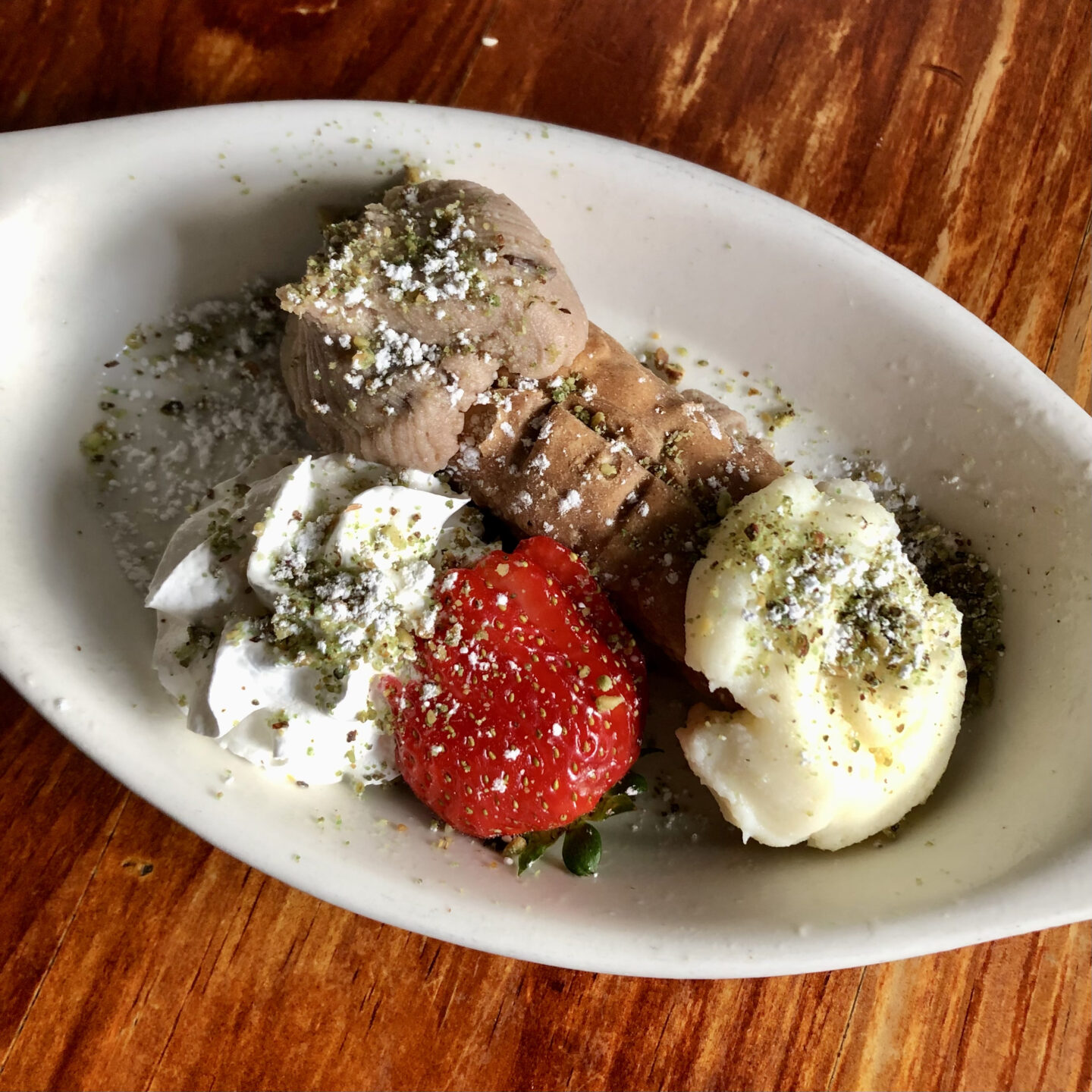 Cannoli
Joey K's Restaurant
Joey K's Restaurant is located in the heart of the Garden District. It's a neighborhood restaurant where locals and shop owners go to eat daily. I ordered a cup of red beans and rice as an appetizer and had the eggplant Napoleon pasta for lunch.
A lot of people recommended that I try the red beans and rice while I was in New Orleans. I didn't know this at the time, but read beans and rice is a traditional dish that people eat on Mondays in New Orleans. It became a traditional dish on Mondays because it was made of the ham bone left over from Sunday dinner.
I am not exaggerating when I say this but the cup of red beans and rice that I had was beyond scrumptious. It was so tasty and flavorful that I almost ordered another cup. I didn't because I had to save room for the lunch that I had ordered. The Napoleon pasta came with breaded & fried eggplant medallions, stacked with fried shrimp, topped with crawfish cream sauce, over angel hair pasta. It was delicious. However, I couldn't appreciate it because I was still savoring the red beans and rice that I had eaten before it.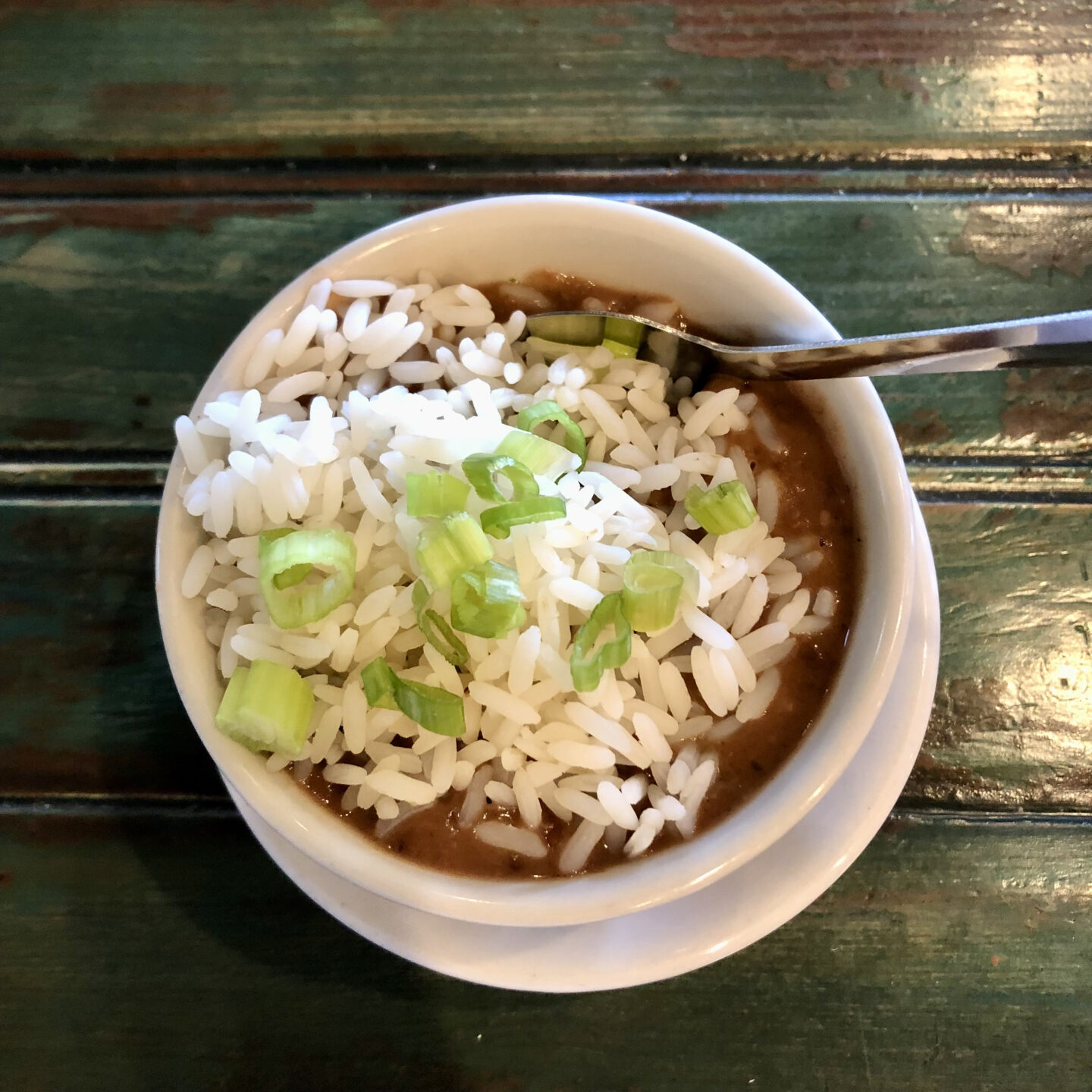 Red Bean & Rice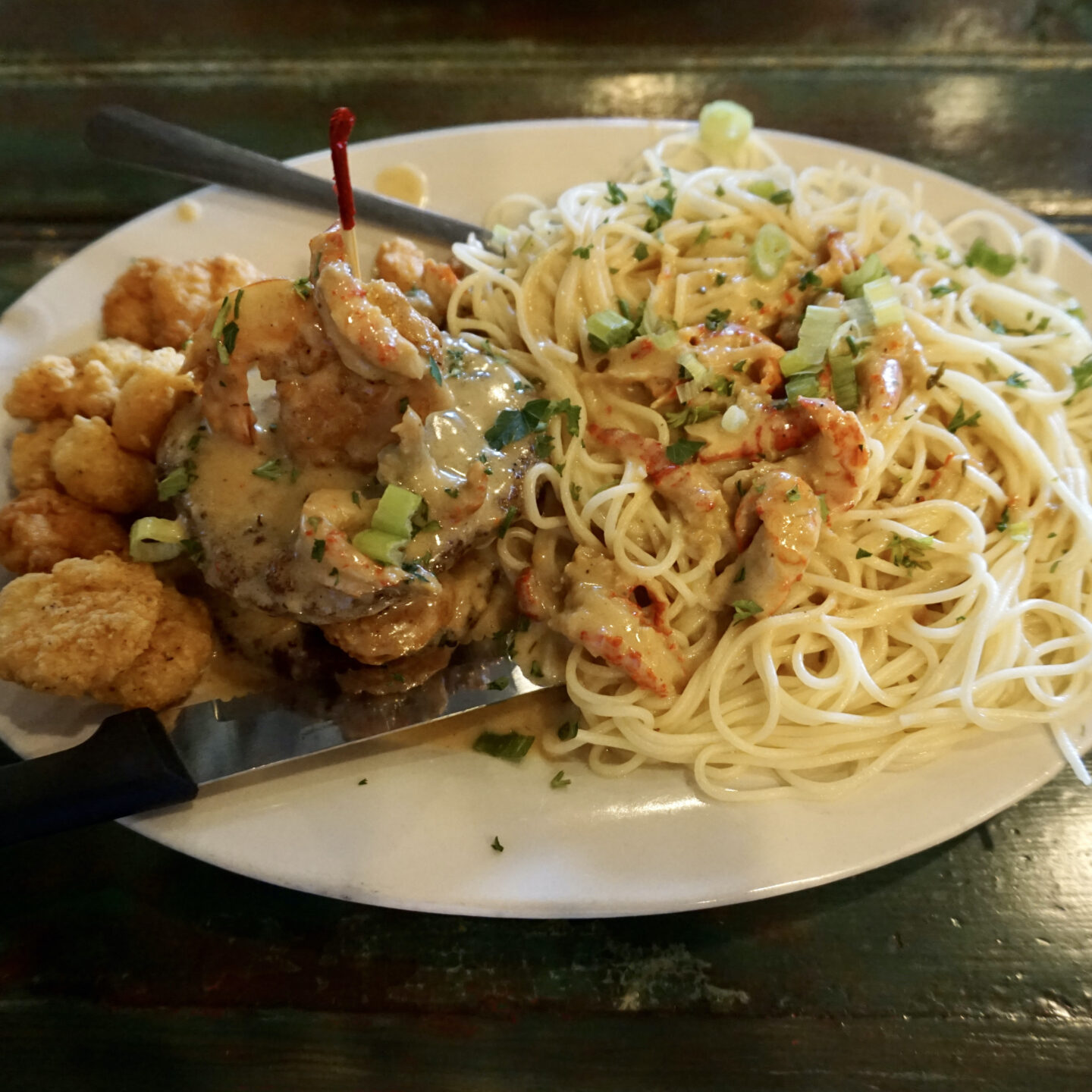 Eggplant Napoleon Pasta
Aunt Sally's Pralines
Aunt Sally's Pralines are hands down the world's best pralines. I tried both the original classic praline and the creamy classic praline. Although they both taste great. The creamy classic praline is my favorite. They do come in a variety of flavors but I chose to stick to the classics.
For those if you that don't know what a praline is. A praline is a piece of candy made out of sugar and nuts. Back in the 1600s and 1700s as French emigrants began to arrive in New Orleans. They brought a lot of their recipes with them. A French chef created the praline out of sugar and almonds.
The recipe changed over time in New Orleans as everyone started using local ingredients. Sugarcane replaced sugar and pecans replaced almonds. You can order Aunt Sally's Pralines from the website above. Or I found them listed on Amazon as I was writing this blog post. I may or may not have placed an ordered.
Acme Oyster House
I went to Acme Oyster House for dinner one night before heading out to Bourbon Street. Acme Oyster House is known for their delicious oysters. I ordered a dozen grilled oysters and they did not disappoint. One of the employees who was shucking oysters found a small pearl inside one and gave it to me. If you like seafood I highly recommend you go to Acme Oyster House.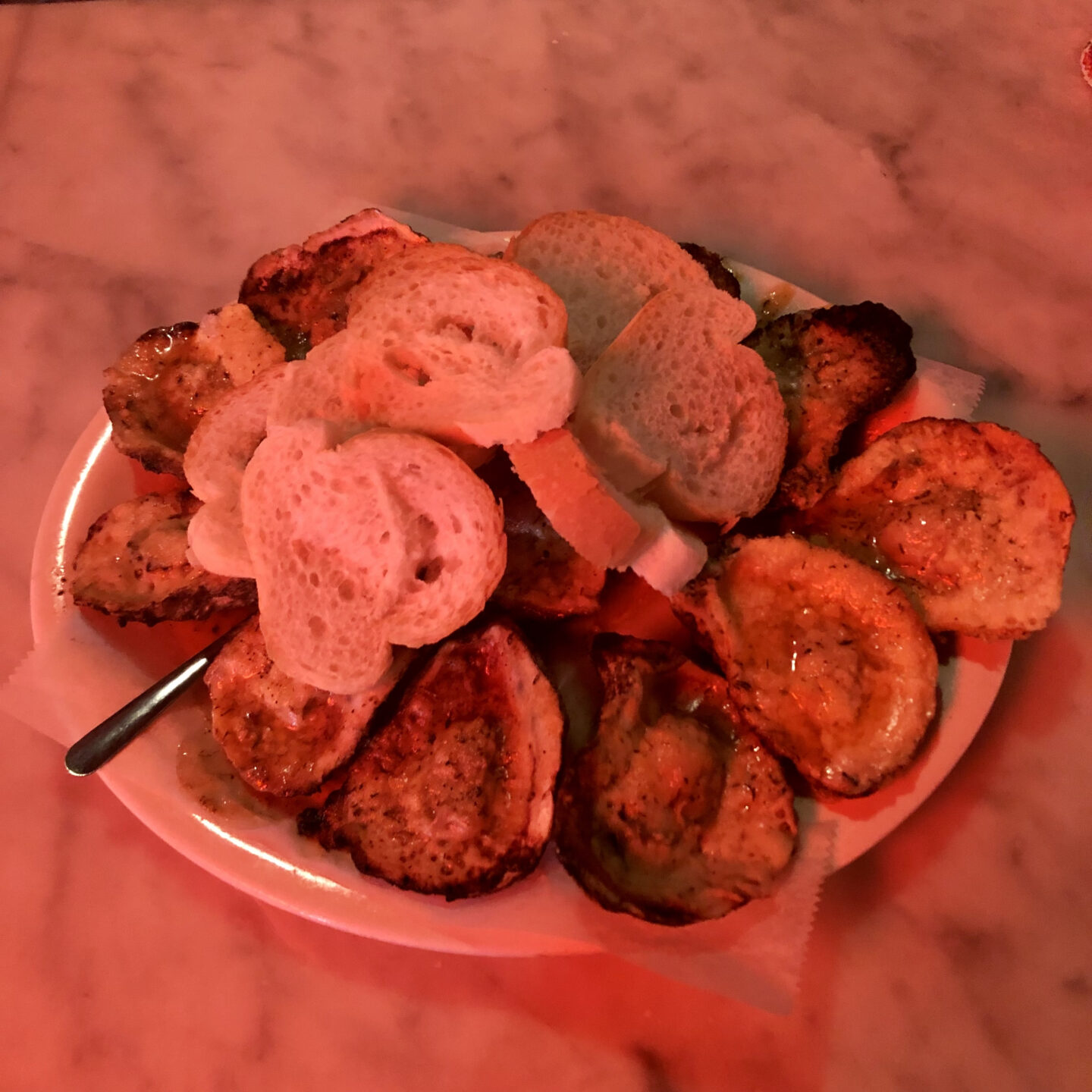 Grilled Oysters
Deanie's Seafood
Another great restaurant for seafood is Deanie's Seafood. I kept hearing about their crawfish étouffée and decided to stop by and see what all the fuss was about. The crawfish étouffée had Louisiana crawfish tails smothered in a buttery blend of onion, celery, bell pepper and garlic served over rice. The crawfish étouffée was good, it was very good.
Brennan's
Last but certainly not least Brennan's is where you go to for dessert. Brennan's was recommended to me a couple of times for their banana foster. I didn't know what the banana foster was until I got there. I just assumed it was a regular dessert. But boy was I wrong.
I ordered it from word of mouth, I didn't even look at the menu. Not only is it titled the 'world famous banana foster' on the menu. But it also states '2 people minimum per order'. Followed by a detailed description. Note to self look at the menu before ordering anything.
The banana foster is flambéed tableside. Which if you don't know what that mean flambeed tableside is a cooking technique in which alcohol is added to a hot pan to create a surge of flames. Bananas, butter, brown sugar, cinnamon, and rum were added to the hot pan alongside New Orleans Ice Cream Co. vanilla bean ice cream. The moment my waitress started cooking this dessert next me is when I realized that this wasnt a regular dessert.
This was the best dessert I have ever had. And you better believe I ate it all by myself. No 2 people minimum required.
If you're planning a trip to New Orleans, Louisiana then I highly recommend that you check out these restaurants. You won't regret it. If you are interested in reading more about my trip to New Orleans. Then see this other post, Inside The Lafayette Hotel.

Digiprove © 2023