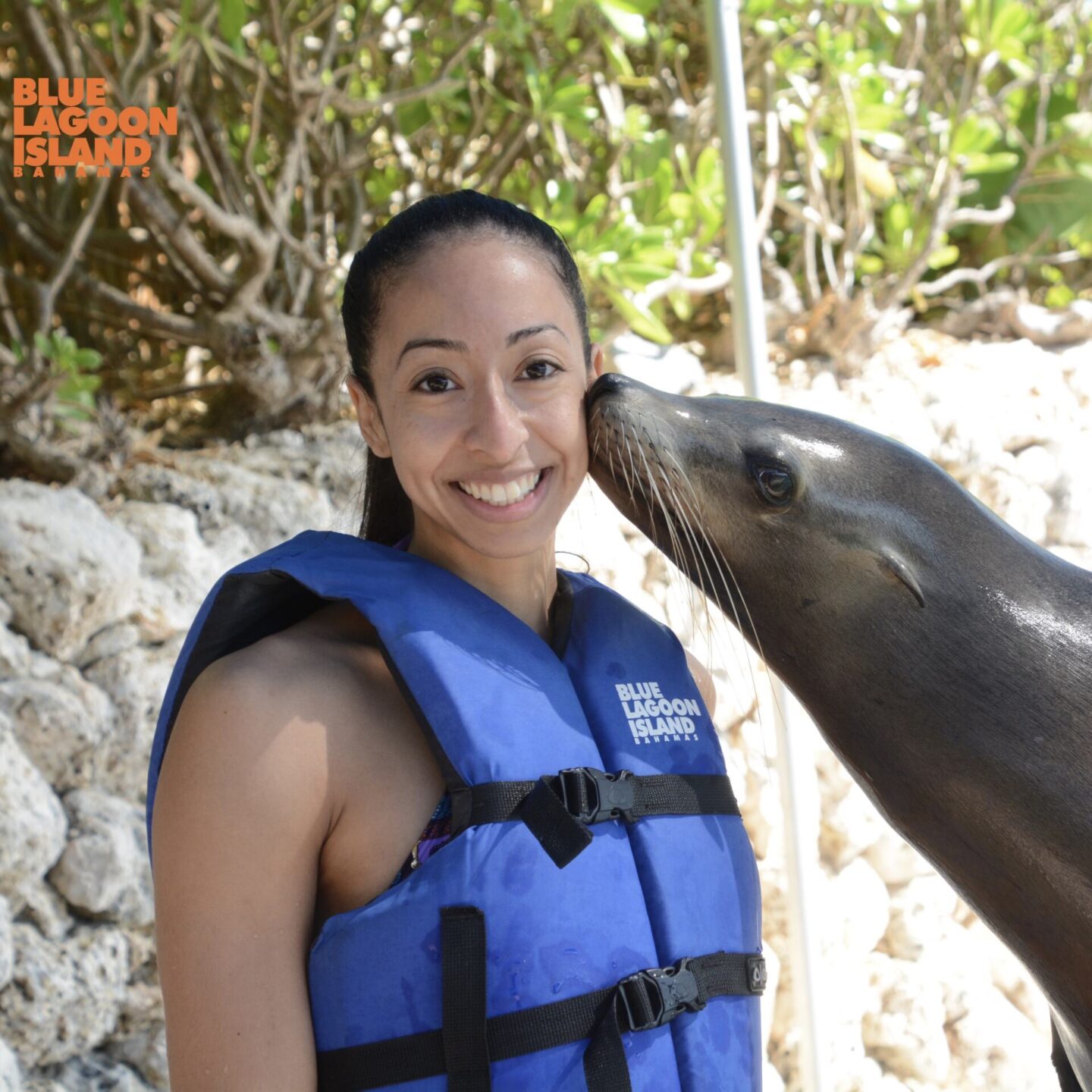 I recently went on a Bahamas Paradise Cruise, Onboard The Grand Classica Cruise Ship. While on the cruise, I booked and excursion with my friend Clarissa, the sea lion encounter at blue lagoon. We got to see a California Sea Lion up close and personal. Charlotte was the name of the sea lion that we encountered. We were able to kiss, hug, feed, and play with her. It was such a fun experience.
I did a similar excursion in the Dominican Republic, where I went swimming with dolphins.
The Sea Lion Encounter at Blue Lagoon
When we first arrived at the sea lion encounter, we changed into our bikinis, and secured our belongings in a locker. We were then given a life vests to wear. Then we were escorted into the sea lion habitat along with a group of others. We got into waist deep water and stood on a platform next to Charlotte. The water was freezing. It took a few minutes to get use to, but I finally adapted to the temperature.
The trainer gave hand signals to Charlotte and she responded to each hand signal by performing various acts. The trainer fed her a fish after she completed each act.
We were able to run our hands along Charlottes back as she swam in front of everyone. Her skin felt both slimy and smooth at the same time. Next we got a close up look at her teeth. To my surprise all of her teeth were black. Not only did we get to hold her flippers and hind legs. But we each got the opportunity to feed Charlotte a fish. Before we left the platform Charlotte gave everyone a kiss on the lips and cheek.
Towards the end of the encounter. We joined Charlotte on the dock, where everyone had the opportunity to take photos with her. She hugged some of us, gave others a kiss on the cheek, and stuck her tongue out in some photos. It was a real treat getting to interact with Charlotte. I learned so much about the California Sea Lion.
Some interesting facts about the California Sea Lion,
Pups weigh about 13 pounds
Average lifespan in the wild: 8 year (males) and 12 years (females)
Males weigh 2-4 times more than a female with a maximum of 850 pounds
Dive up to 900 feet
Dive up to 10 minutes
Swim up to 15 MPH
There was a woman standing nearby that documented the entire interaction via photo and video. Which you had the opportunity to review and purchase after the encounter. I found the prices to be a bit expensive at the photo lab. It cost $17.99 for one photo. However, given that it was somewhat of a once in a lifetime experience. I did purchase a photo of Charlotte kissing me on the cheek. Clarissa purchased a photo that we both took with Charlotte and she was kind enough to share it with me.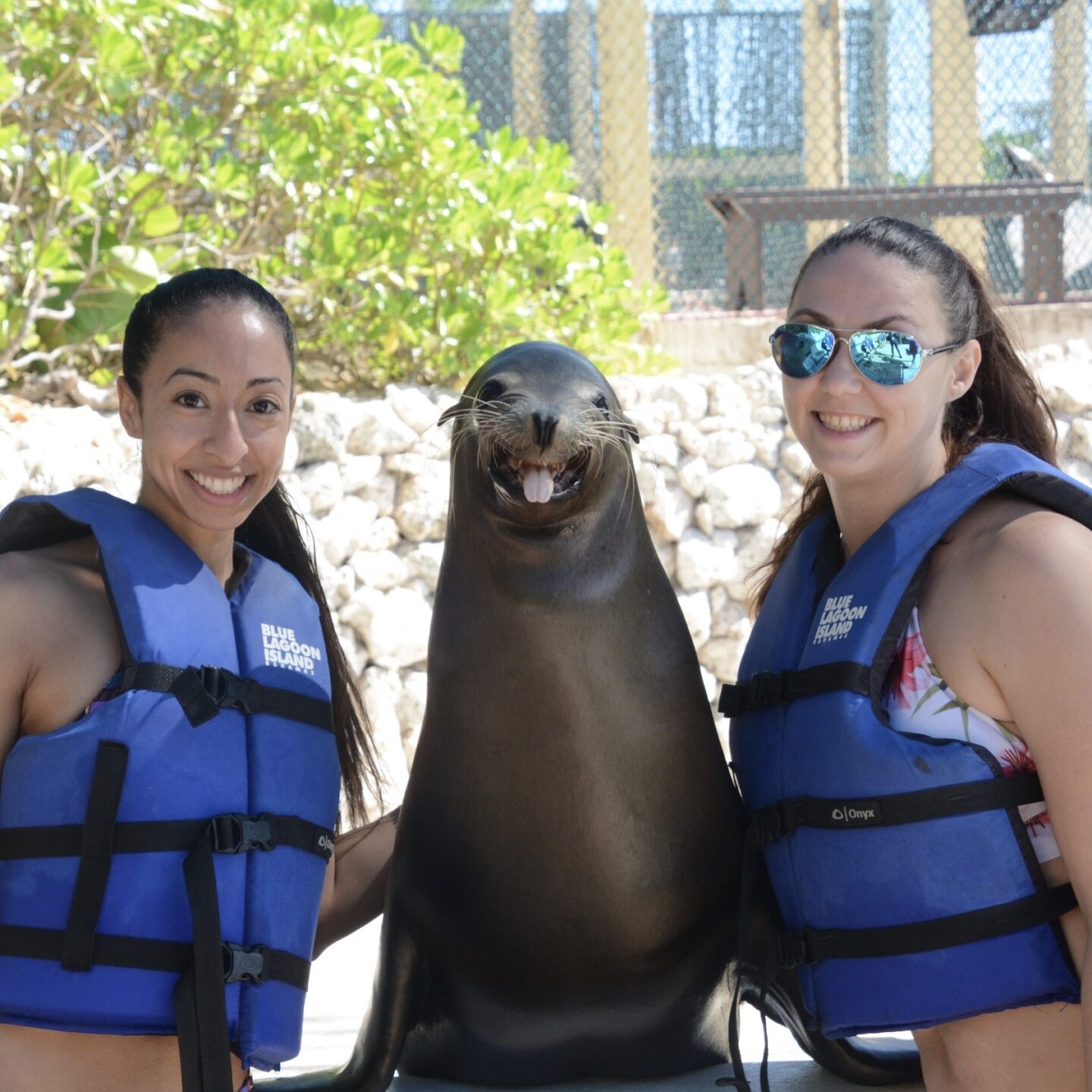 The Sea Lion Encounter lasted for about 20-25 minutes. It's limited to 10 guests in order to ensure that you get quality one on one time with the sea lion and the trainer. I liked the fact that our group was small because it made the encounter more intimate.
Blue Lagoon
After the Sea Lion Encounter. Clarissa and I grabbed a drink by the bar. We then joined a group of people that we recognized from our cruise and laid out by the lagoon. The sand along the shore was white and the water was bright turquoise. It was absolutely beautiful. The water was so cold that I just dipped my toes in at first. But eventually I jumped in and waded in the water just before we left to soak it all in.
I hope you enjoyed reading this blog post, the sea lion encounter at blue lagoon If you have any questions feel free to comment down below.
Related Posts:
For more animal adventures see these other blog posts,
Go Wild At The Palm Beach Zoo
Welcome To Loggerhead Marinelife Center

Digiprove © 2020-2022