The Morikami Museum & Japanese Gardens
I recently visited the Morikami Museum & Japanese Gardens in Delray Beach, FL. While I was there, I saw their current exhibition on enlightenment and strolled through the Japanese gardens.
The Morikami Museum
The museum showcases exhibitions of Japanese art and artifacts throughout the year. The exhibitions feature different aspects of Japanese culture. Most of the items featured are from the museums collection in addition to some items borrowed from private collectors and other institutions. They change exhibitions roughly every three to six months according to the front desk attendant that I spoke to when I arrived.
Enlightenment Exhibition
The current exhibition that they have on display in the museum is called "Enlightenment" it features works from Japanese scientist and artist Iwasaki Tsuneo. Iwasaki combines both images and texts using characters from the sacred Buddhist texts, the Heart Sutra.
There were quite a few pieces that I enjoyed viewing from his enlightenment collection. I was just in awe by how he was able to create these beautiful images out of sacred text. The amount of preparation, time, and energy that he devoted to these pieces is amazing. I definitely felt a calmness overcome me as I viewed each piece.
Below are some of my favorite pieces from this exhibition. The photos that I took below do not do justice to Iwasaki's work. You have to see his pieces in person to really get a sense of enlightenment.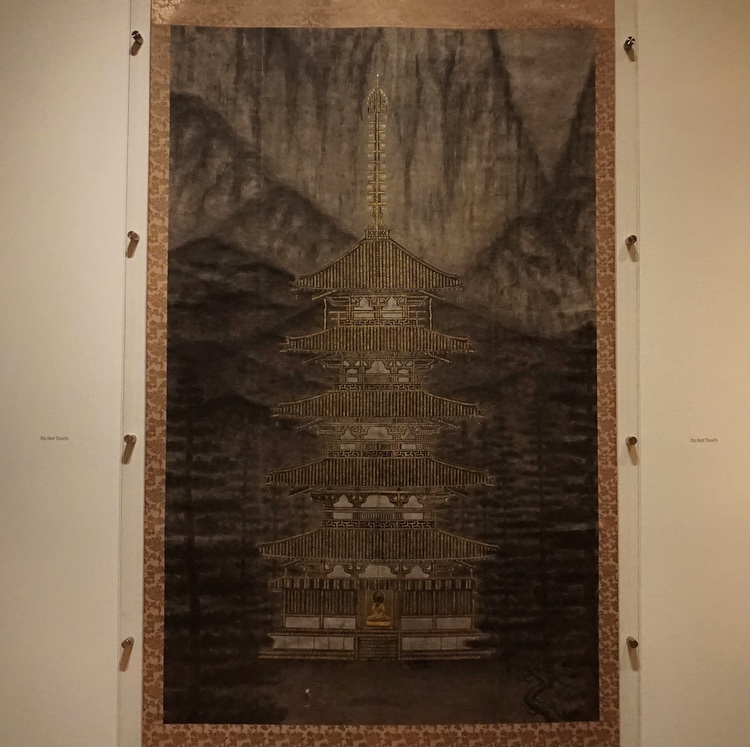 Pilgrimage To Pagoda
This five tiered temple is the oldest wooden building in Japan. Each tier is made with scripture from the Heart Sutra. It has a total of 8,280 characters. Iwasaki calculated each character to complete this image.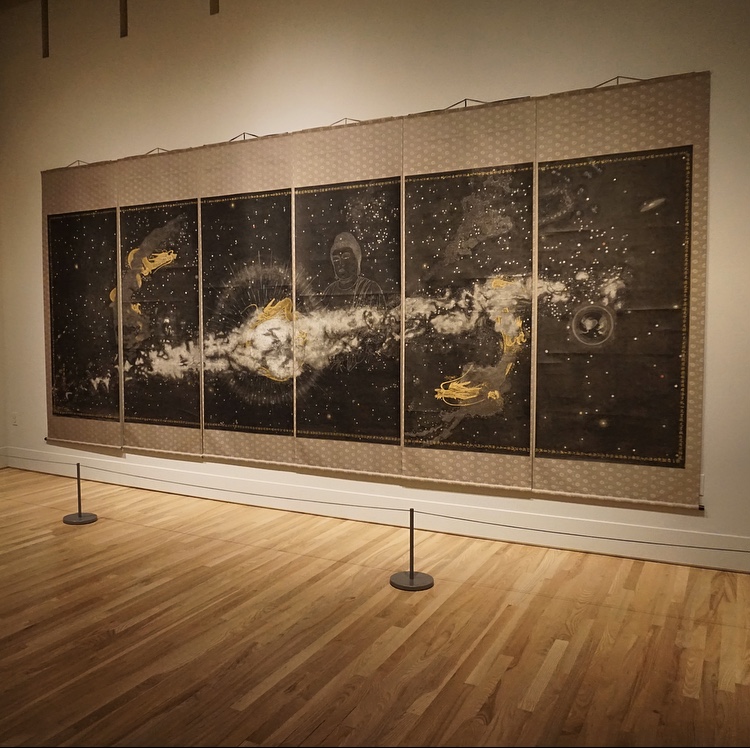 Universe
As Iwasaki painted he would pray, offer incense, and chant to infuse his artwork with healing energy. Iwasaki's paintings are said to be mediations on the Heart Sutra.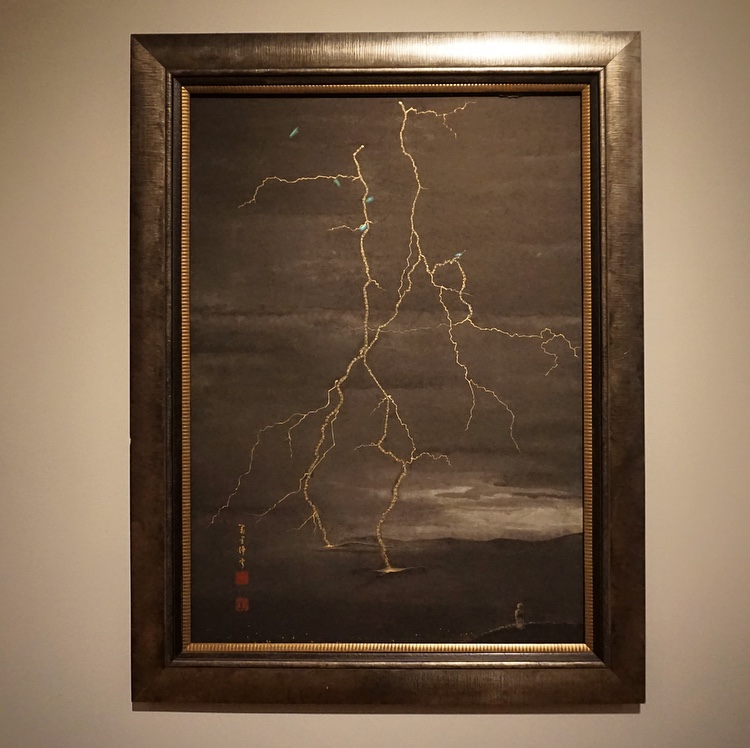 Lightning
There is a figure in the lower right corner that represents humans and how we experience changing conditions. The lightning that you see if made of characters from the Heart Sutra.
The Japanese Gardens
The Japanese gardens are an extension of the Morikami Museum. They are named Roji-en, which means the Garden of the Drops of Dew. There are six gardens in total the Shinden Garden, Paradise Garden, Early Rock Garden, Karesansui Late Garden, Hiraniwa Flat Garden, and the Modern Romantic Garden.
My favorite gardens were the Karesansui Late Rock Garden, and Hiraniwa Flat Garden. These were dry landscape gardens, where rocks are the primary focus instead of plants. I also enjoyed the Morikami Bonsai Collection.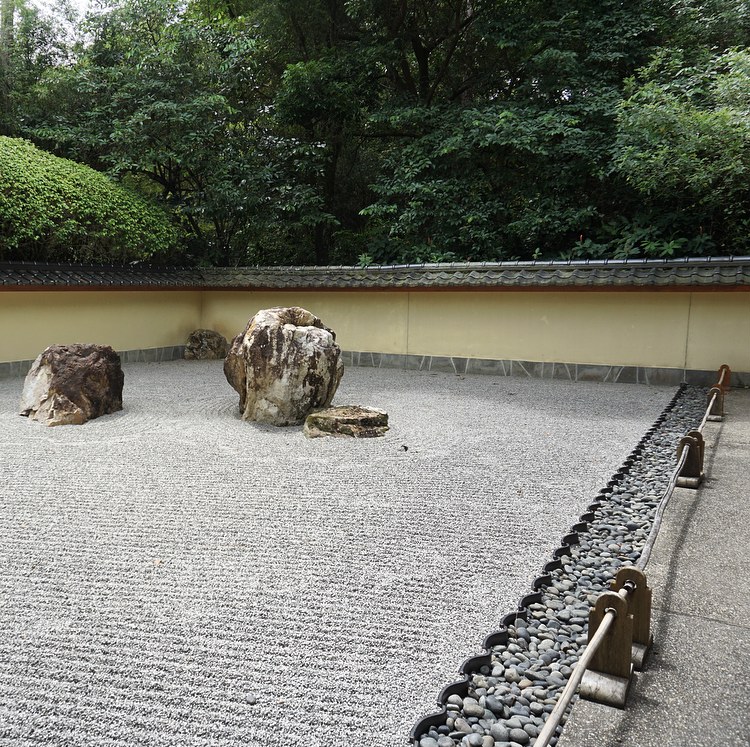 Karesansui Late Rock Garden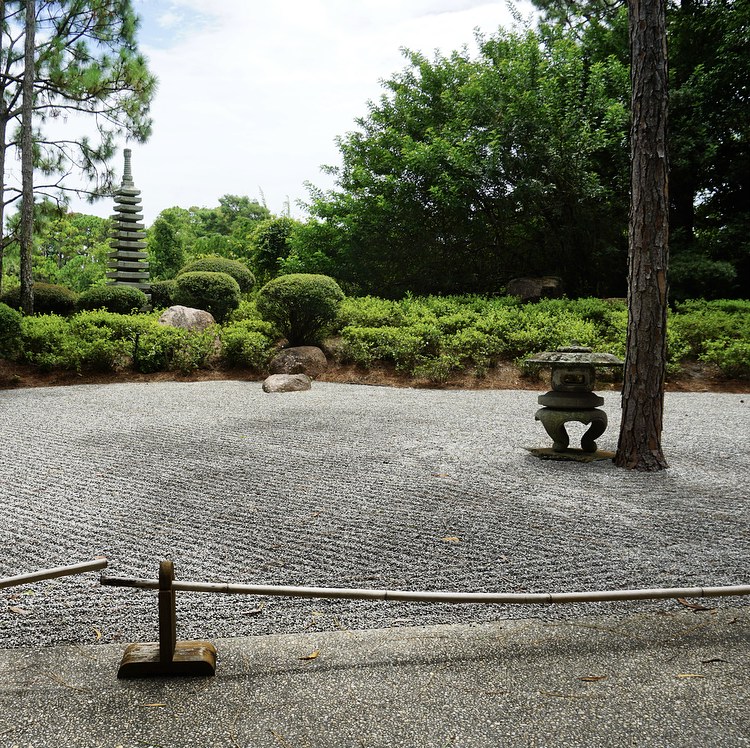 Hiraniwa Flat Garden
Museum Events
The museum hosts several events throughout the year. The events that they host include classes, workshops, cultural demonstrations, special programs, and festivals. I wouldn't mind returning to the museum and partaking in a class and or workshop.
Museum Store
At the museum store you can shop for Japanese souvenirs such as apparel, accessories, home decor, items for the garden, books and stationary. I walked through the museum store, but did not purchase anything.
Location, Hours & Ticket
The Morikami Museum is located at 4000 Morikami Park Road Delray Beach, FL 33446. It is open from 10AM to 5PM Tuesday – Sunday. Admission is $15 for adults and $9 for children.
Overall, I thoroughly enjoyed viewing the enlightenment exhibition at the Morikami Museum. I also enjoyed walking through the Japanese Gardens. I will visit the Morikami Museum again in the future. Perhaps to view a different exhibition and or to see a cultural demonstration. I hope you enjoyed reading this blog post. If you have any questions feel free to comment down below.

Digiprove © 2021