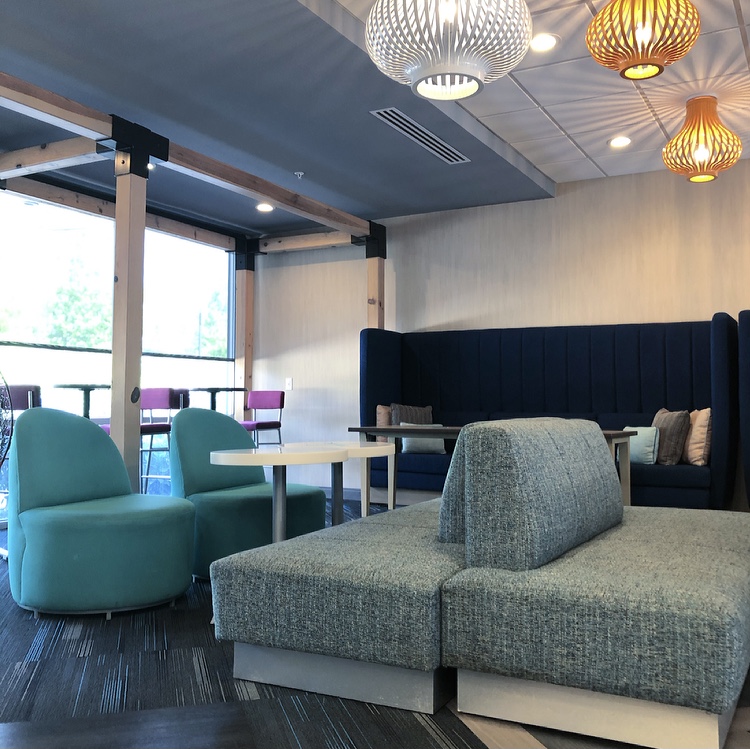 A couple of weeks ago, I traveled to McDonough, Georgia. If you want to read more about my trip to McDonough then read, A Post Card From McDonough. While I was there, I stayed at Tru by Hilton. A stylish hotel with a hipster vibe that is also affordable.
Introducing Tru By Hilton
Introducing Tru by Hilton, this hotel was like no other hotel that I have ever stayed at before. The lobby had a contemporary design with cool furniture and pops of color everywhere. It was decked out as a recreational hangout area with a pool table, flat screen TV's, and board games. There were also newspapers, magazines, and lockers available where you could store your phone to charge. The front desk was designed as a 24/7 market with all the snacks foods, sweet treats, and drinks you could think of. There was no need to leave and go to a convenience store. Because, they literally had everything you could possibly need. Even wine and beer.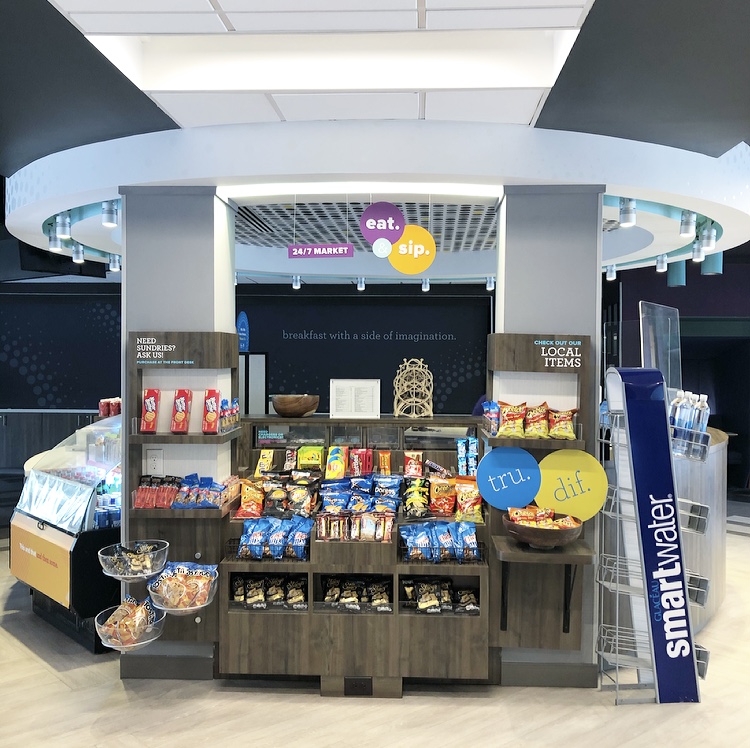 The Train Through McDonough Mural
On the back wall of the lobby, there was a huge mural of the town of McDonough. It was painted by a local artist, by the name of Jay Crum. The mural featured a train, the city of Atlanta, farm houses, town squares, the Georgia Southern Railway, and the Atlanta Motor Speedway. The mural was very colorful and vibrant. While in the lobby I took advantage of their free breakfast buffet, free wifi, and the fitness center.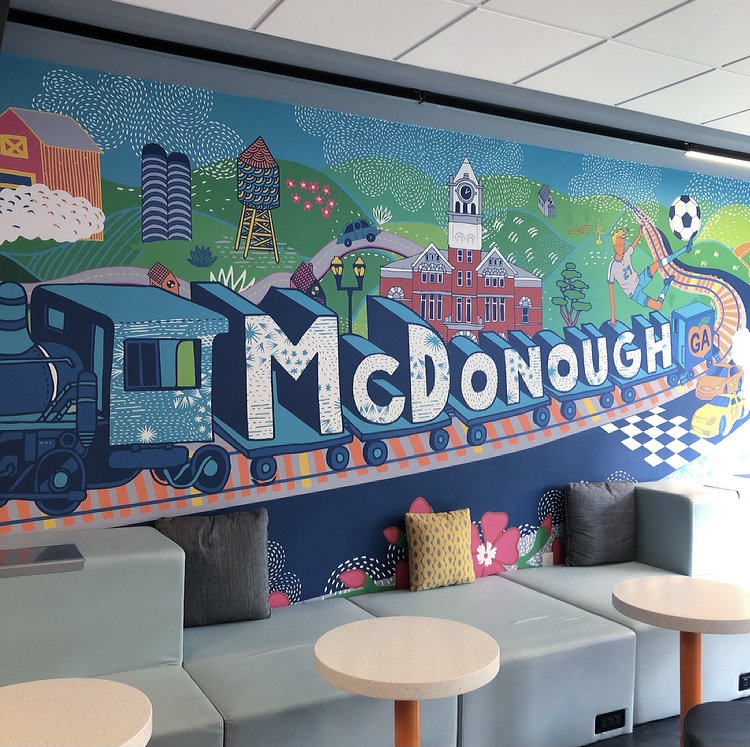 Fitness Center
With me being a Personal Trainer, I had to check out the fitness center. I was pleasantly surprised by the equipment and accessories that they had available. In most hotel gyms you will find your basic cardio equipment. But Tru by Hilton had a lot more to offer than just cardio equipment. The fitness center came equipped with stability balls, medicine balls, kettlebells, dumbbells, a ploybox, and a battle rope. I worked out every single day during my stay.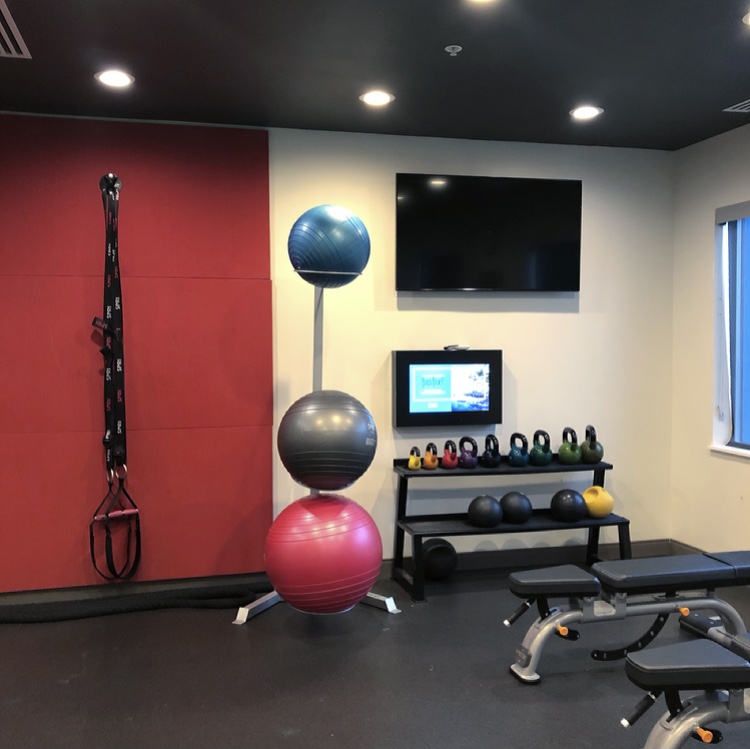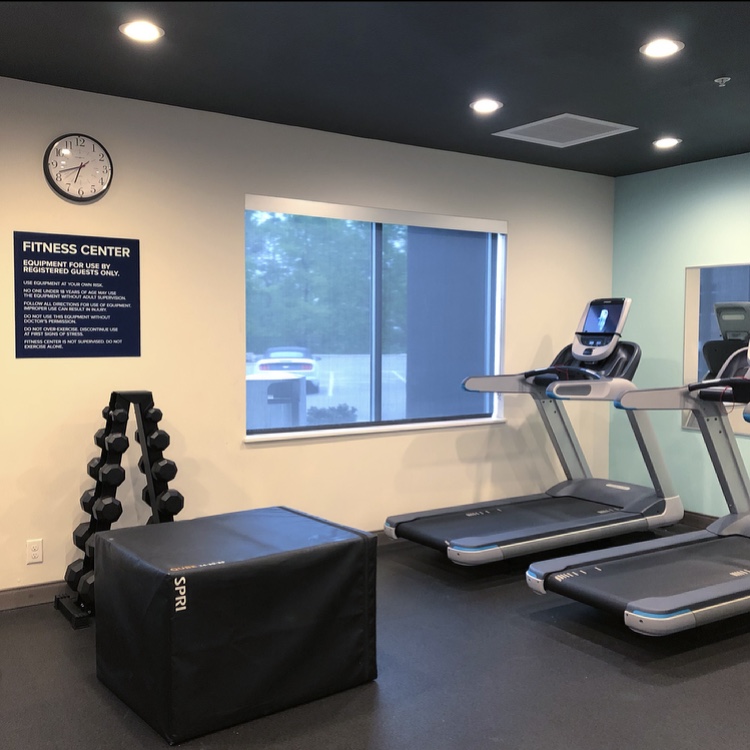 Hotel Suite
I stayed in a single suite with a king sized bed that was dressed in white. There was a rolling chair and desk next to the bed followed by a huge window that gave off a lot of natural light. I was able to get a lot of work done in that area. On the other side of the bed was an open closet. Designed with hooks where you could hang your clothes and see them visibly without a cabinet or doors to conceal them.
Underneath the open closet was a small refrigerator.  Next to the closet, was the bathroom. The bathroom was spacious with a lot of counter space and had a glass door shower inside. Overall, the hotel suite was simple yet relaxing. I did find it to be a bit small as far as not having a lot of walking space. But other then that it met all my needs.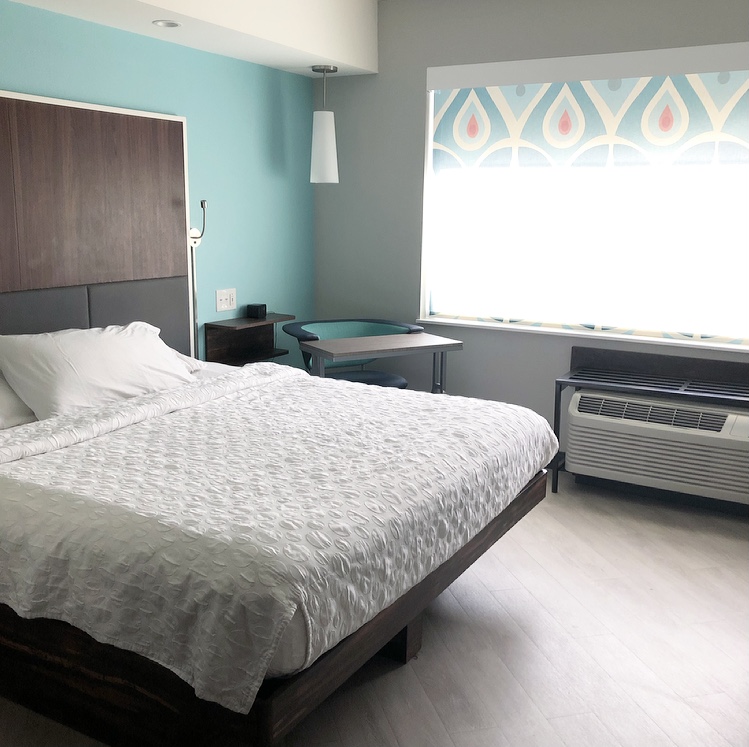 I enjoyed my stay at Tru by Hilton, I will definitely book a stay with them again in the future. I hope you enjoyed reading this blog post, introducing Tru by Hilton. If you have any questions feel free to comment down below.
Related Posts:
For other hotel reviews see these other posts,
Staying At The Hotel El Convento
The Frederick Hotel

Digiprove © 2021-2022