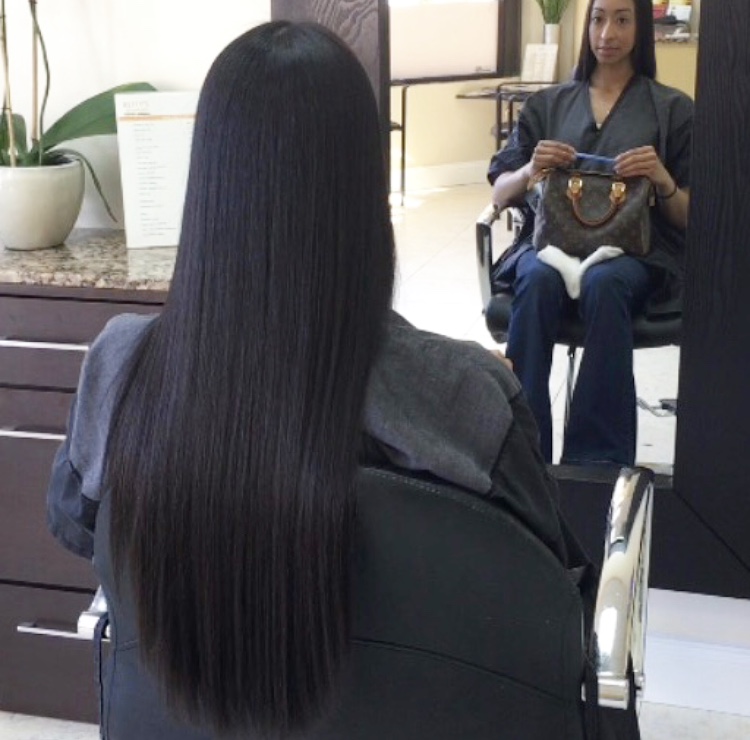 The Secret To Long Hair
The secret to long hair is my hair care routine. I always get compliments on my hair. I am constantly being asked what products do I use? How do I care for it? How often do I get it cut? So, on and so forth…if you are curious about my hair care routine then keep reading to learn the secret to long hair.
The Keratin Treatment
My hair is very thick, curly, and course. With that said, every four to six months, I get the keratin treatment done on my hair. The keratin treatment chemically straightens my hair and washes out over time. I get this treatment done because I like the way my hair looks straight, it's easy to style, and doesn't take as long for me to get ready. If you want to know more about the keratin treatment. I go more into detail about it in this previous Blog Post.
Wash Your Hair Less Often
I usually wash my hair once a week, sometimes twice a week. It depends on how sweaty I get at the gym. I've read that its better to wash your hair less often. Because the more you wash your hair, you strip your hair of the essential oils that it needs to stay healthy and moisturized.
Use The Right Products
Due to the fact that I get the keratin treatment done on my hair. I have to use a paraben free and sulfate free hair products. I currently use Ouai Fine Shampoo and Ouai Fine Conditioner to wash my hair.
While in the shower, I wash my hair with shampoo twice and then I use the conditioner. I like to let the conditioner sit in my hair for a few minutes before rinsing it out. I'll lather my hair in the conditioner and then put it up in a clip, while I rinse my body off. When I am about to step out of the shower. I rinse the conditioner out of my hair along with any excess water. Then I wrap my hair up in a Hair Towel Wrap on the top of my head.
Avoid Heat Damage
I let my hair sit up in a towel for 10-15 minutes. After I've towel dried my hair. Next, I will use the "Wet Brush" to comb my hair. This by far has been the best brush that I've ever used when detangling my hair. After I've brushed and detangled my hair, I like to let my hair air dry before I style it.
I prefer to let me hair air dry rather than use a tool to dry it. In order to avoid heat damage. I try to limit how much heat I put to my hair as much as possible. Because too much heat can damage the keratin proteins that strengthen your hair. Not mention that heat damage exaggerates the appearance of split ends, making your hair look dry and brittle.
Apply Leave In Conditioner
When my hair is relatively dry. I like to put Ouai Leave-In Conditioner in my hair. It helps lock in moisture and keeps my hair feeling hydrated. I'll spray a generous amount throughout my hair. Starting with my scalp and then work my way down to the ends. Next, when my hair is completely dry. I use a Chi Straightener to straighten my hair. When I go to put the finishing touches on, I like to use a little bit of Ouai Hair Oil to tame those unruly baby hairs that tend to stick out near my forehead.
Get Regular Trims & Cuts
As I mentioned before, I get the keratin treatment done on my hair every four to six months. When I get the keratin treatment done on my hair. Towards the end of the treatment when my hair stylist has finished styling my hair. She will either trim the ends or give me a hair cut. We usually decide based on how my ends look. If a trim will suffice or a cut is needed.
Ditch Unhealthy Hairstyles
Stay away from unhealthy hairstyles. Unhealthy hairstyles can cause hair loss, breakage, and split ends. Some unhealthy hairstyles include any tight, teased, and close to the hairline. I am not the type of person to experiment with different hairstyles. I like to keep things pretty simple. There are four hairstyles that I rotate between depending on what I'm doing.
I like to wear a loose braid to bed. It help keeps my hair from knotting and from me getting hot in my sleep. Usually, I wear my hair down for my everyday hairstyle. When I go to workout, I will either wear my hair up in a bun or a ponytail. Depending on what my workout is for that day. For example, if I am moving around a lot I will wear my hair in a bun. However, if I am doing more stationary exercises where I am not moving around a lot then I will wear my hair up in a ponytail.
Stop Using Elastic Hair Ties
Almost all hair accessories cause hair damage of some sort. But I found elastic hair ties to be the most damaging. Stop using elastic hair ties. They can leave your hair dented, snagged and broken. Or worse cause headaches, balding and receding hairlines. I used fabric coated hair ties instead, which are also known as scrunchies.
One day, I just so happen to run out of elastic hair ties. When I went shopping for new ones, I came across these Goody Scrunches. That I ultimately ended up buying. I have been using them for a couple of  months now and I will never use an elastic hair tie on my hair ever again. I've notice a huge difference in how I handle my hair using the scrunchies versus the elastic hair ties.
When I used the elastic hair ties I was very careless and rough with my hair. I also noticed that I pulled out a lot of my hair with each use. However, with the scrunchies I am more mindful and gentle with my hair. Not only that but I noticed a significant decrease in the amount of hair I pull out with each use.
DISCLAIMER
Please note that some of the links above may be affiliate links, and at no additional cost to you, I earn a commission if you make a purchase. I only recommend products and companies that I use and the income goes to supporting this blog.
So there you have it, the secret to long hair. My hair care routine in a nutshell. I hope you enjoyed reading this blog post. If you have any questions feel free to comment down below.
Shop The Post:

Digiprove © 2016-2022