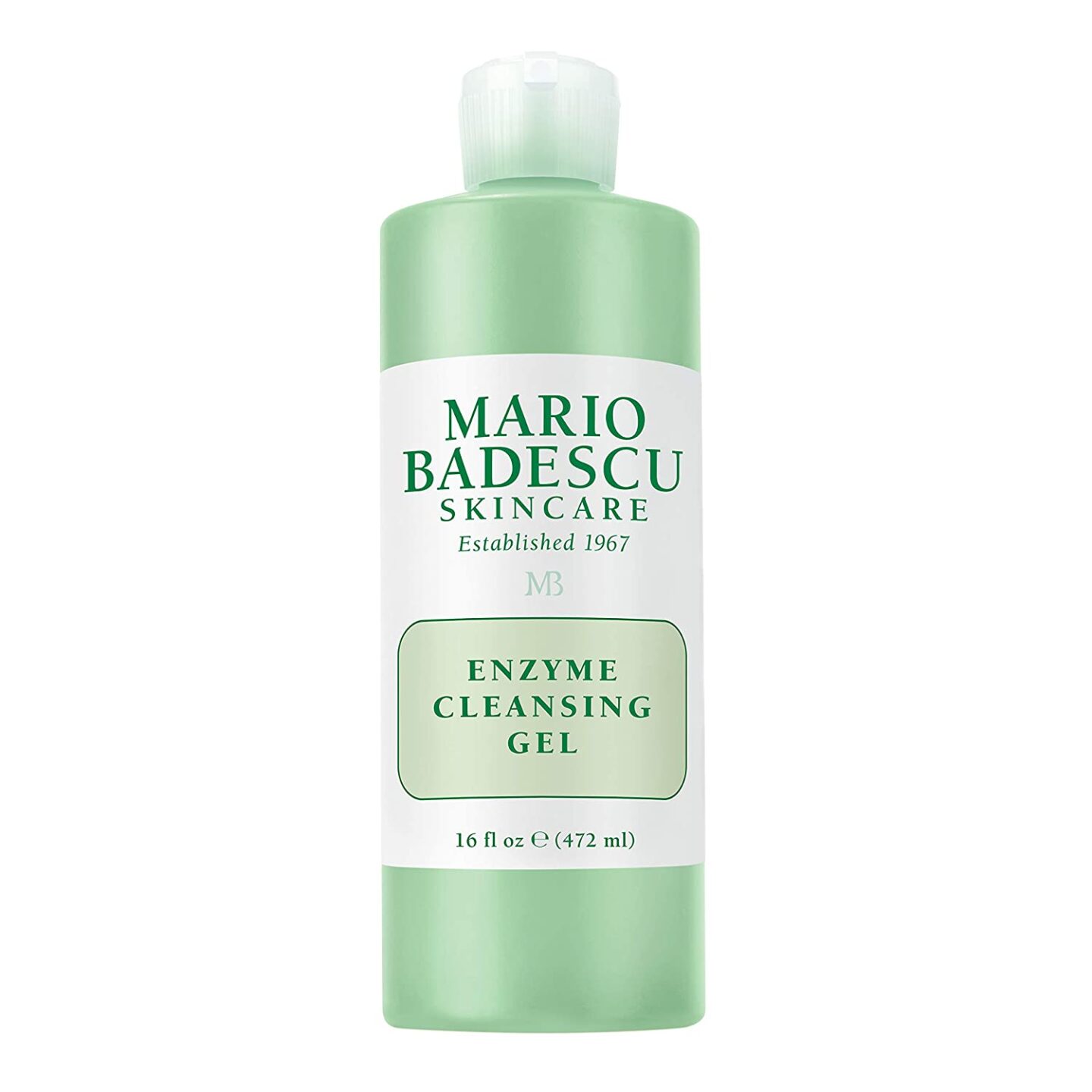 I recently filmed my daily skincare routine on my YouTube channel and I wanted to compliment it with a blog post. Your skin is the biggest organ on your body. It absorbs everything that you put on it, almost immediately. For that reason, I'm really mindful about what I put on my skin. Below I am going to share all of the tools and products that I use in my daily skincare routine. As well as what I do and don't do when it comes to skincare.
My Daily Skincare Routine
I wash my face daily with Mario Badescu Enzyme Cleansing Gel. It removes makeup, dirt, and oil without drying out your skin. I absolutely love this cleanser because the texture is smooth since its a gel and it smells amazing. I wash my face with this cleanser first thing in the morning when I wake up and also at night right before I go to bed.
After, I have washed my face with the cleansing gel. I use a tool called a Jade Roller on my face. A jade roller is an anti aging tool that can make your face look smoother and younger. I use the jade roller to roll out my cheeks, chin, jawline, and eyebrows. This feels absolutely amazing, I feel like I am giving my face a massage.
Next, after I have used the jade roller. I will use Mario Badescu Facial Spray with Aloe, Cucumber and Green Tea. The cleansing gel, cleanses my face. While the facial spray hydrates my face. I mist the spray on my face generously and then I use my hand to rub it in. It leaves my face feeling cool and refreshed.
Fun Fact: My mother was the one who introduced me to Mario Badescu. She gave me samples that she had of both the cleansing gel and the facial spray. I used the samples and loved the products so much that I bought the full sized version and have been using them ever since. 
Travel Tip: I kept the sample bottles that my mother gave me initially and I use them for when I travel. Instead of packing the full sized bottles. I just fill up the sample bottles and pack those instead.
Body Skincare Routine
So those are the tools and products that I use on my face. Now let me share the tools and products that I use on my body.
I like to use EcoTools Dry Brush on my body and EcoTools Facial Dry Brush on my face. I will lightly brush my arms, legs, and face with a dry brush before I take a shower. Dry brushing is known to promote circulation, exfoliate your skin, and help with relaxation.
After I take a shower, I will either put a lotion or an oil on my body. I like to use Aveeno Stress Relief Moisturizing Body Lotion with Lavender on my body. It moisturized my skin while at the same time keeps me calm and relaxed. There is just something about the smell of lavender that is so soothing. Sometimes when I am not in the mood for lotion. I like to use Johnson's Baby Oil on my body. I like how it feels like silk and creates this barrier on your skin that prevents dryness. 
Skincare Do's
There are a couple of things that I do and don't do when it comes to my skincare.
I DO my skincare routine daily. Once in the morning and again at night before bed. Your skin is shedding skin cells throughout the day. So it's important to have a skincare routine. To prevent acne, treat wrinkles, and keep your skin glowing.
I DO drink lots of water. As a Personal Trainer, I am not a fan of empty calories. With that said, I drink a lot of water. Water is extremely healthy for your skin. It keeps your body hydrated, refreshed, and helps maintain your skins elasticity.
I DO wear SPF when I go out in the sun. Using sunscreen on your face helps to keep your complexion even. Sun damage is one of the many causes of uneven skin tones. SPF also reduces your risk of developing skin cancer.
Skincare Dont's
I DON'T touch my face. After I have done my skincare routine I avoid touching my face. We do so many things with our hands throughout the day. That touching your face can spread oil, dirt, and bacteria that can contribute to poor skin and lead to acne.
I DON'T wear makeup everyday. I only wear makeup every once. There are a lot of issues that come with wearing makeup everyday. It doesn't let your skin breathe, clogged your pores, making it prone to acne, bumps, and other skin problems. I wrote about my Makeup Routine in a previous blog post.
I DON'T go out in the sun often. Although I live in Florida, which is known as the sunshine state. I don't get excess sun exposure. Excess sun exposure includes sunburns, dehydration, and hyponatremia. Sunburns can increase your risk of skin cancer and accelerates your skin aging. Dehydration can reduce the amount of blood in your body and put a strain on your heart. Hyponatremia, is a form of sun poisoning. Symptoms include nausea, headache, confusion, and fatigue.
DISCLAIMER
Please note that some of the links above may be affiliate links, and at no additional cost to you, I earn a commission if you make a purchase. I only recommend products and companies that I use and the income goes to supporting this blog.
Skincare Tutorial
Those are all of the tools and products that I use, that make up my daily skincare routine. As well as what I do and don't do when it comes to skincare. I filmed my daily skincare routine on my YouTube channel. I've link the video down below for you to watch. Don't forget to like this video and subscribe to my YouTube channel. So you can keep up with my latest videos. I upload new videos every Sunday and Thursday.
I hope you enjoyed reading this blog post, my daily skincare routine. If you have any questions feel free to comment down below. I know that skincare and hair care go hand in hand. If you're interested in learning about my hair care routine. I wrote a previous blog post sharing My Laser Hair Removal Experience.
Shop The Post:

Digiprove © 2019-2022