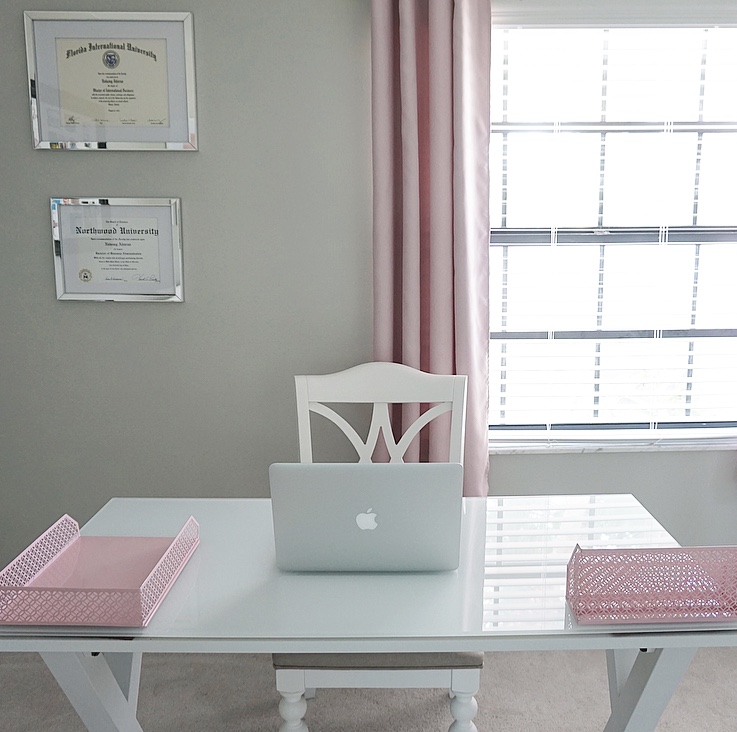 I've been working from home for a little over a year now and I decided that it was time to give you a tour of my  home office. Now, I'm not finished decorating my home office just yet. There are still a few more things that I would like to get. But don't worry, I'll be sure to keep you up to date on my progress as I add things here and there.
A Tour Of My Home Office
When I first started arranging my home office. I knew that I wanted the walls to be gray, have a white desk and hints of light pink throughout the room. So I started decorating with those three things in mind.
Wall Decor
I found two really pretty yet simple framed pictures at Hobby Lobby. One is has a white and pink design on the inside while the other has a white, pink, and black design. I also have two mirrored picture frames that I found at Michaels. One is bigger than the other. I use the small one to display my Bachelors Degree and the bigger one to display my Masters Degree.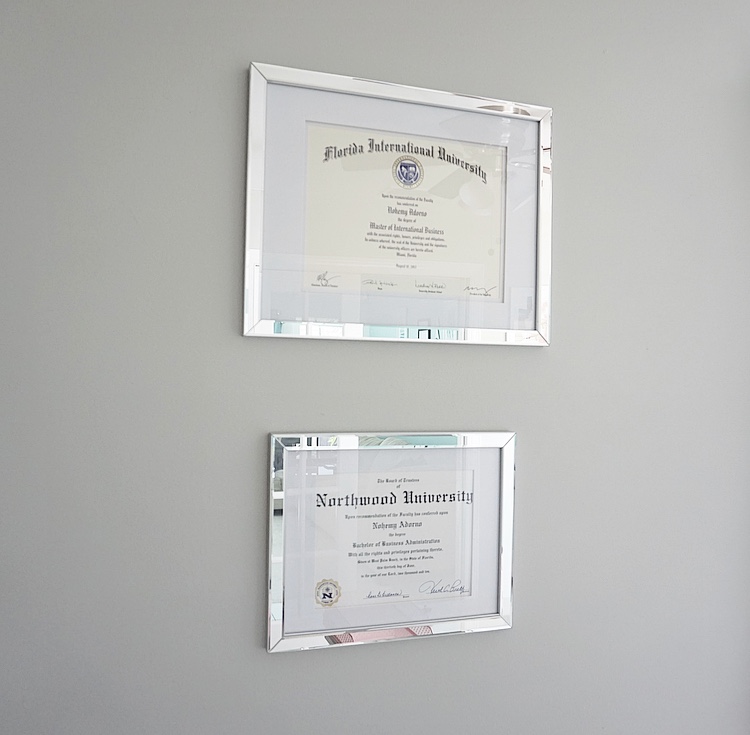 Accent Table
I haven an accent table in the corner of my room next to an extra chair from my dining room set. The accent table was gifted to me from a friend who was moving and didn't want it anymore. It's silver and has two shelves. I currently use it to hold my Camera Bag.
Tripod
I have my Tripod set up in another corner of my office. I like having it set up in the corner because it fills the space so it doesn't look empty and its easily accessible when I film YouTube videos at home. If you want to know more about the equipment that I use, then check out my Equipment Guide. It lists all of the tools and gear that I use for both my YouTube channel and this Blog.
Vision Board
I found the frame of my vision board at Hobby Lobby. Its black with a lot of decorative details along the edge. While at Hobby Lobby, I bought cork board material and requested the framing department to put it on the inside. However, when I brought it home I didn't like the color of the cork board material. I ended up painting it white and it turned out really nice.
Curtains
I found a pair of Light Pink Curtains to match my wall decor and stationary set on amazon. They are simple, cute, and light weight.
Desk
When I first started looking for a desk, all I knew was that I wanted it to be white. With that said, I took my time looking for a desk because I wanted it to be the right size and fit the room. I didn't want it to be too big, or too small. Also I was looking for a specific style that I couldn't put into words.
I ordered my Desk from Amazon. As soon as I saw it, I knew it was the one. I just needed to be sure and once the measurements checked out that was a wrap. It's white with a tempered glass top. The glass top has this really pretty silk screen finish, that shines in the light next to my window.
What I like most about it, is the x frame design of the legs. The frame is made of powder coated steel and it has a single wooden drawer with sliding glides. The desk came with a step by step instruction guide. I was able to assemble it within an hour. It wasn't difficult at all. The instructions were easy to follow and it came with all the pieces.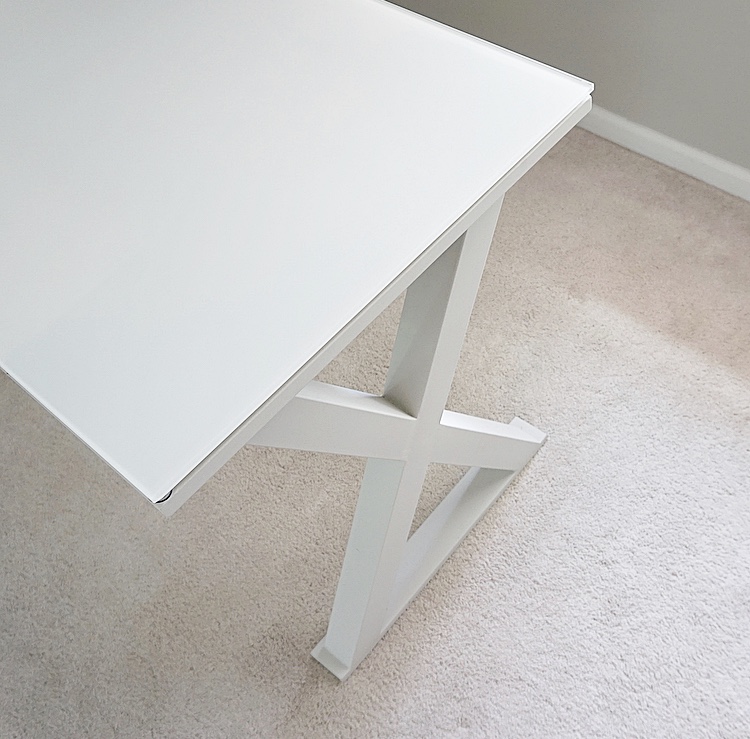 Stationary
I found the cutest Stationary Set on Amazon, it matches my decor and is functional at the same time. The stationery set is light pink and includes a pen cup, mail sorter, letter tray, magazine holder, and a sticky note holder. It basically has all of the desk accessories you would need to keep everything organized.
I don't particularly like having the pen cup on my desk. I usually just place the pens that I'm currently using on top of a notebook and or my planner. With that said, I have the pen cup stored in the closet in my office holding additional pens and pencils.
I use the mail sorter to do exactly that, sort my mail. I usually keep anything that's current or needs tending to in it and recycle everything else.
The letter tray fits perfectly inside the top drawer of my desk. This helps keep my desk storage organized. I use it for important paperwork that I don't necessarily want out in the open.
I have the magazine holder sitting on the floor across from my desk next to an accent chair. Inside it holds a couple of my favorite magazines that I'm not ready to part with yet.
To be honest, I don't use the sticky note holder at all. I noticed that when I used sticky notes, that they would accumulate very fast. So I've taken a break from using them for a while. I'm sure I'll revert to using them again in the future. In the mean time, I have the sticky note holder stored in the closet in my office.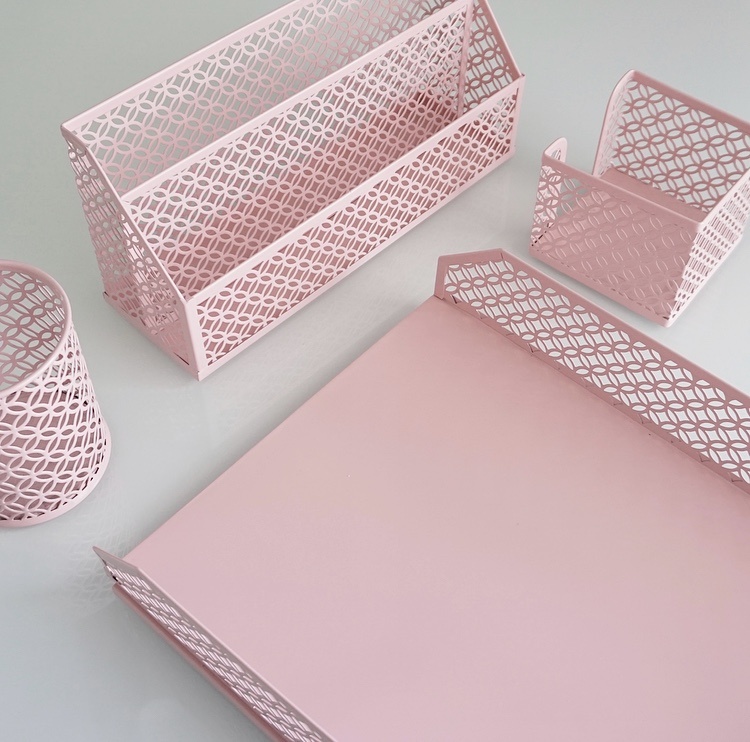 Closet
There is a closet in my office with mirrored siding doors. I love the fact that the doors are mirrored because they make my office look bigger then what it is and they eliminate the need for me to hang a mirror in the room. Inside of this closet is where I store all of my office supplies. Which include notebooks, notepads, pens, pencils, highlighters, scissors, printer, paper, and paper clips.
Disclaimer
Please note that some of the links above may be affiliate links, and at no additional cost to you, I earn a commission if you make a purchase. I only recommend products and companies that I use and the income goes to supporting this blog.
YouTube
I hope you enjoyed getting a tour of my home office. I filmed a home office tour on my YouTube channel to compliment this blog post. You can watch it below.
Don't forget to "Like" this video and to "Subscribe" to my YouTube channel. So you can keep up with my latest videos. I upload new videos every Sunday & Thursday. I hope you enjoyed reading this blog post. If you have any questions feel free to comment below.
Shop The Post:

Digiprove © 2019-2022