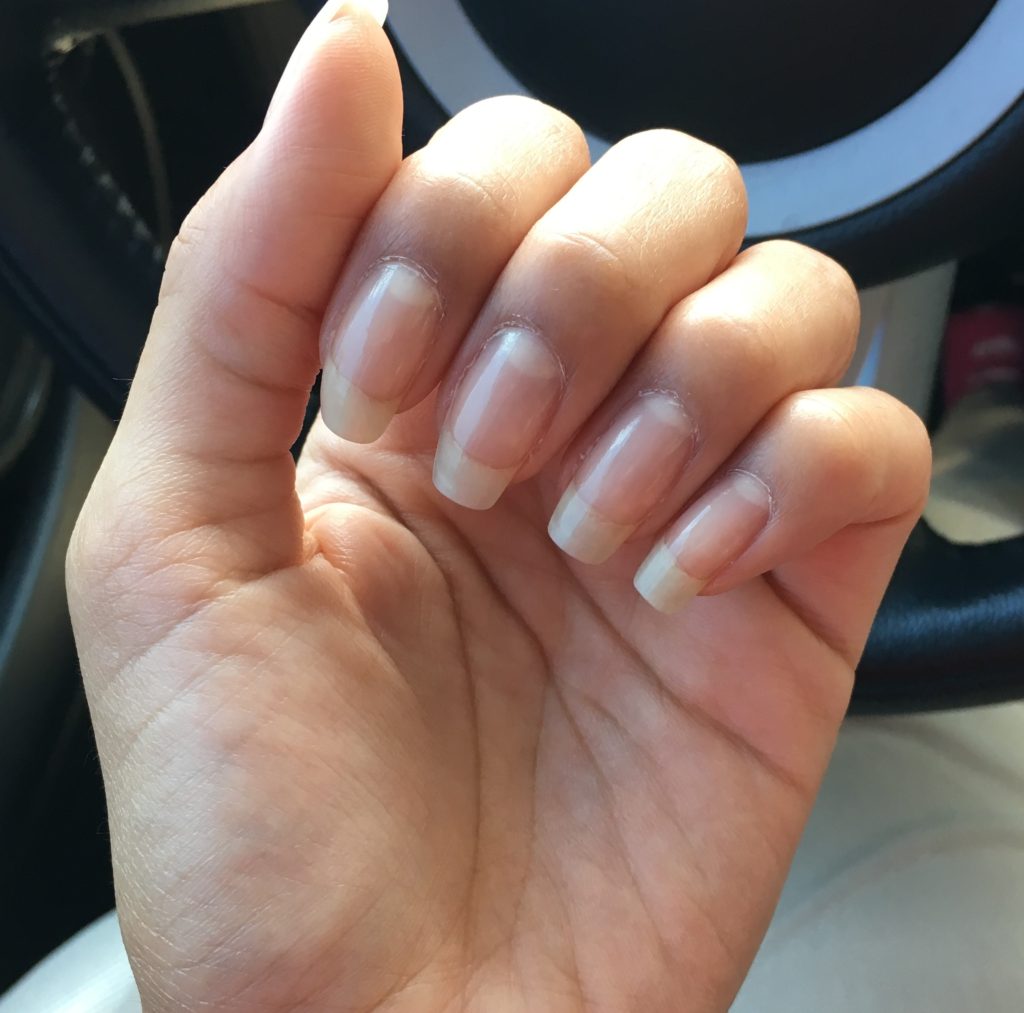 Personally, I love having long natural looking nails. I use to get my nails done for years at the salon. I would get the traditional gel manicure with French tips. After about three weeks go back to the salon for a refill. I do not remember when but at some point I read an article on how not so sanitary it was having fake nails. After a while I started to feel like I was wasting a lot of my time and money. With that said, I began to do my own nails at home once a week.
At first, my nails were very brittle and weak from getting the gel manicure for such a long time. It took about three months for me to grow my nails out. After growing my nails out and maintaining them at a decent length where they did not break, I began to get compliments on my nails.

The routine that I am about to share with you worked great for me except I used a cheap clear top coat. Whenever I was rough with my nails one or two would break. I would end up trimming all of my nails to the same length and let them grow out again until another nail broke. Then the cycle would continue. It was not until I discovered Nailtiques at the drug store that my nails stopped breaking. Previously I could only grow my nails out to a certain length before they began to break. Now with this product I can grow my nails out longer than I have ever been able to before and they do not break AT ALL! LIKE EVER!
This is my nail care routine…
I start with washing my hands and make sure that my nails are clean from any product. I put Sally Hansen's Cuticle Remover on my nail beds, rub it in and let it sit for about a minute. Then I use a tool and push back my cuticles. Next, I use another tool to cut my cuticles. After that, I use a nail file and file my nails into a square tip. Once I have my nails shaped. I put unrefined virgin coconut oil on my hands and rub it around my nails and into my nail beds. After, I let the coconut oil sit for about an hour, I paint my nails. I put two coats of Nailtiques Formula 2 on my nails and I do this routine once a week.
.
.
The Nailtiques Formula 2 is a bit expensive for a small bottle but I promise you if you make the initial investment, you will not regret it. It worked for me and I know that it will work for you. I hope you enjoyed reading this blog post. If you have any questions feel free to comment down below. For more of my routines see my Hair Care Routine and or my Make Up Routine.

Copyright secured by Digiprove © 2016-2018