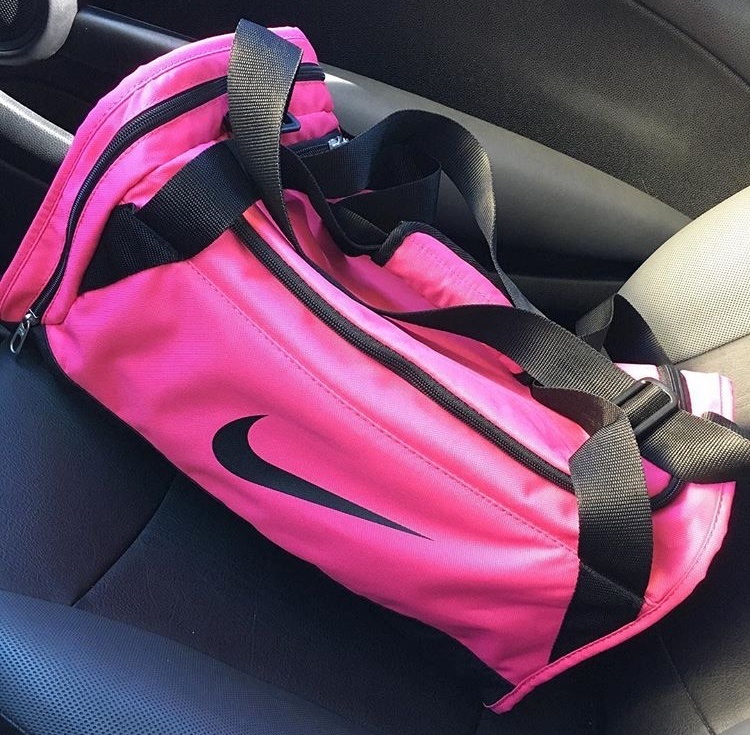 A question that I get often is, What's in my gym bag? I use to only carry a pair of headphones and workout gloves with me when I went to the gym. That was all I needed at the time. However, now that I am more seasoned in the gym. Not to mention, that I'm a Certified Personal Trainer. I carry quite a bit of equipment with me when I go to the gym. Below is a list of items that I carry with me in my gym bag.
What's In My Gym Bag?
Gym Bag: I alternate between two gym bags. Depending on what I am working out any given day. With that said, I have the two gym bags that I use listed below.
I have a bright pink Nike Gym Bag. It has a shoulder strap that you can use to carry it over your shoulder and or you can use the two straps that hang from the sides to hold it. There is a side pocket that is perfect for carrying gym shoes. The side pocket is actually a bag that extends into the main compartment. The center pocket opens up to the main compartment, and there is a small pocket on the inside of the main compartment.
I also have a Black Gym Bag from 1 Up Nutrition. It has a large main compartment that can hold your clothes, workout gear, and personal items. On one side there is a shoe compartment, that is very similar to my Nike gym bag. However, on the other side is a foil aluminum compartment where you can store meals. I thought that was a great added feature. There are also two external zipper pockets.
As a 1 Up Nutrition Ambassador you can use my code "Nohemy20" for 20% OFF your entire order at 1upnutrition.com They also have a variety of supplements that you can choose from for both men and women. If you haven't already, read my Beginners Guide To Supplements blog post.
Workout Gloves: I wear workout gloves to help grip the weights when I weight lift and to avoid getting calluses on the palms my hands. The Workout Gloves that I wear are a size medium. They tend to run small.
Headphones: I use my Apple AirPods to listen to music when I workout. I also use them when I watch YouTube video while doing cardio.
Weightlifting Belt: I use a Weightlifting Belt when I squat heavy on the smith machine.
Jump Rope: I use a Jump Rope to do HIIT cardio.
Weighted Jump Rope: I use a Weighted Jump Rope to increase the intensity of my HIIT cardio workouts.
Knee Pads: When I do floor exercises, that require me to kneel down on the ground. I like to wear Knee Pads in order to avoid bruising. I bruise very easily.
Ab Wheel: I like to use the Ab Wheel to train my abs. This is also one of the exercises, where I would put my knee pads on. Since it requires me to kneel down on the ground.
Tennis Balls: I use Tennis Balls to massage certain areas of my body. I also use tennis balls for hand eye coordination drills.
Hand Wraps: I wear Hand Wraps when I practice boxing combinations.
Boxing Gloves: If I have access to a punching bag. Then I will wear my Boxing Gloves and go a few rounds against the punching bag. Incorporating both boxing combinations and footwork.
Waist Belt: Sometimes, when I'm working out I like to wear a Waist Belt. It wraps around my waist and holds my cell phone. It has a pocket hole to plug your headphones in if you want to listen to music.
Sweet Sweat: When I'm doing cardio, I like to wear Sweat Sweet. Sweet Sweat is a workout enhancer that causes you to sweat more.
Waist Trainer: I bought a Waist Trainer at the Fit Expo. I don't wear it for the purpose of waist training. Instead, I wear it while I do cardio. When I take the waist trainer off after a cardio session, my entire mid section is drenched in sweat.
Resistance Bands: I like to use Resistance Bands when I'm strength training.
Flat Resistance Bands: I like to use Flat Resistance Bands to improve my flexibility and mobility.
Ankle Straps: I use Ankle Straps to do glute kickbacks on the cable machine.
Ankle & Wrist Weights: I use Ankle  Weights & Wrist Weights to increase the intensity of my upper and lower body workouts.
Bar Pad: I use a Bar Pad when I do squats on the smith machine. I also use it on the straight bar for when I do hip thrusts. It prevents the bar from digging into my hips during the movement.
Water Bottle: This is self explanatory. I like to drink half a gallon of water a day. I highly recommend the Simple Modern Water Bottle. It is double walled, vacuum insulated, and stainless steel.
Disclaimer
Please note that some of the links above may be affiliate links, and at no additional cost to you, I earn a commission if you make a purchase. I only recommend products and companies that I use and the income goes to supporting this blog.
Watch On YouTube
I filmed a YouTube video that showcases everything that I carry with me in my gym bag. I have linked it below for you to watch. Don't forget to "Like" this video and to "Subscribe" to my YouTube channel. So you can see the next video that I will be posting. I upload new videos every Sunday and Thursday.
Those are all the items that I carry with me in my gym bag. Depending on what I am working out on any given day. I may switch gym bags and or add or remove some items here and there that I will or won't need. I hope you enjoyed reading this blog post, "what's in my gym bag?". If you have any questions feel free to comment down below.
Shop The Post:

Digiprove © 2016-2022