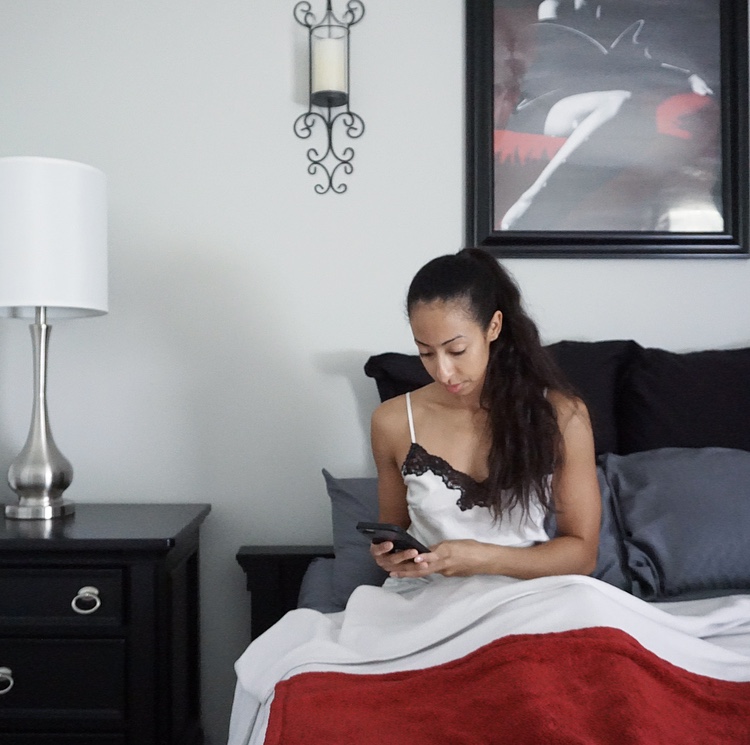 The way we begin our morning sets the tone for the entire day.
Morning Routine
I wanted to update you guys on what my current morning routine looks like.
5:00 AM
I have my alarm set for 5:00 AM. However, I always wake up before my alarm goes off. I start my mornings by turning the lamp on my nightstand on. Then I cuddle with Oliver until my alarm goes off. When I finally muster the energy to get out of bed. I brush my teeth, pull my hair up into a ponytail, and get dressed to go to the gym. Before I leave for the gym, I always make my bed. Personally, I like having my bed made. It's just visually satisfying, every time I walk into my room and see that the bed is made.
6:00 AM
I try to get to the gym by 6:00 AM. On the way there, I like to listen to a motivational podcast on my iPhone. When I get to the gym, I workout for about three hours. That's a long training session, I know. If you're interested in reading more about my workout routine. I will write about it in a future blog post.
9:00 AM
When I get home from the gym. I head straight into the kitchen and make myself a protein shake. I'm obsessed with Premier Protein's Chocolate Whey Protein Powder. I use to drink their RTDs. However, I recently found the whey protein powder. So I've been using the protein powder instead. It's a lot cheaper versus buying the four pack RTDs and it tastes exactly the same.
After, I drink my protein shake. Since I'm already sweaty and gross from the gym. I like to take this time to feed Oliver and clean out his litter box. Next, I take a shower and change into a pair of Soffe shorts and a t-shirt. Then, I go into the kitchen and make myself breakfast. Lately, for breakfast I've been having egg whites mixed with spinach, a bowl of oatmeal, and strawberry greek yogurt. 
10:00 AM
By 10:00 AM, I am ready to get my day started.
Related Posts:
For more of my routines see these other posts,
Evening Routine
Make Up Routine
Hair Care Routine
Nail Care Routine
I filmed my morning routine on my YouTube channel to compliment this blog post. You can watch it below.
Don't forget to "Like" this video and "Subscribe" to my YouTube channel. So you can keep up with my latest videos. I hope you enjoyed reading this blog post. If you have any questions feel free to comment below.

Copyright secured by Digiprove © 2016-2019