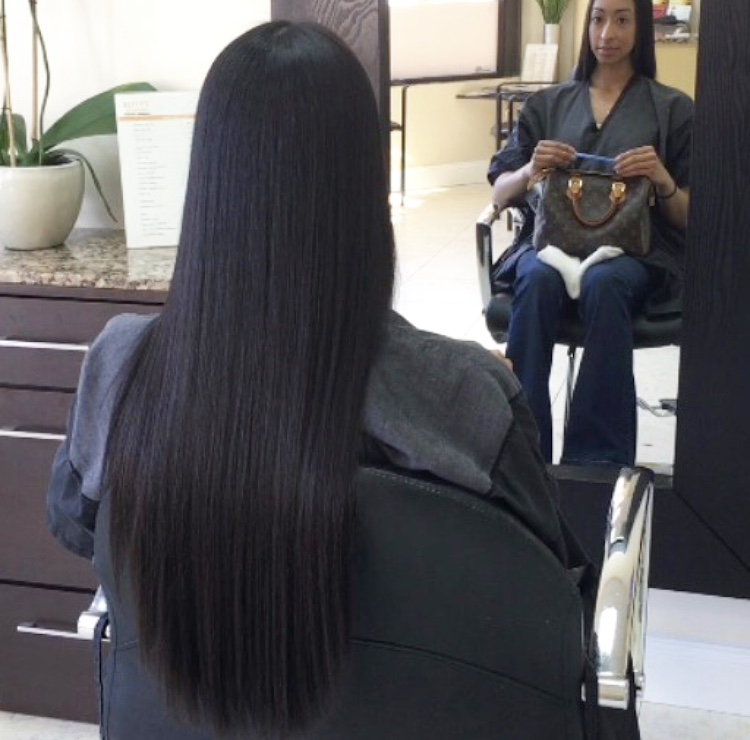 Hair Care Routine
I constantly get compliments on my hair, and I am always asked what products do I use? How do I care for it? How often do I get it cut? So, on and so forth…if you are curious about my hair care routine then keep reading.
Keratin Treatment
Every six months I get a keratin treatment done on my hair. This treatment chemically straightens your hair and washes out over time. Naturally, I have very thick course hair that is curly. With this treatment regardless of the weather or the moisture in the air my hair will stay pin straight. Also, it does not take as long for me to get ready and style my hair. I go more into detail about the Keratin Treatment in this post.
If you are thinking about getting the keratin treatment done on your hair do your research. Don't just take my word for it. Even though I have had a great experience, everyone's hair is different. Consult your hair stylist before embarking on getting this treatment done.
Washes
I wash my hair once a week. Sometimes twice a week depending on how sweaty I get at the gym. I use Hask Keratin Protein Shampoo and Conditioner to wash my hair.
Deep Conditioner
I like to use Coconut Oil in my hair as a deep conditioner. On the day that I am going to wash my hair. I lather my hair in coconut oil and put it in a bun for a few hours. This is great to do if you're out in the sun by the pool or washing your car. Then take a shower and wash my hair.
Styling
As far as styling, after I wash my hair I will use the "Wet Brush" to comb through my hair and let it air dry. Then, I use a Chi Straightener to straighten my hair. Next, I will use a dime size amount of Hask Keratin Protein Smoothing Shine Oil and run it through my hair.
Below is a day in the life video from my YouTube channel. Fast forward to 4.32, there you can see me getting the keratin treatment done on my hair.
If you have any questions feel free to comment below. Don't forget to "Like" this video and to "Subscribe" to my YouTube channel here so you can see the next video that I will be posting. For more of my routines see my Make Up Routine and or my Nail Care Routine.

Copyright secured by Digiprove © 2016-2019