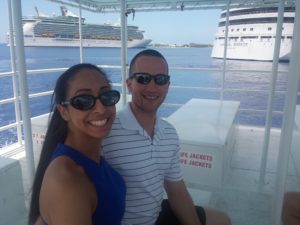 I had never been on a cruise before this trip. Dorian and I went on a carnival cruise with his father Don and his girlfriend Raquel. It was a Carnival Eastern Caribbean Cruise that went to Jamaica, the Cayman Islands, and Mexico.
Carnival Breeze
The ship that we boarded was called the "Carnival Breeze". It was huge and absolutely beautiful inside and out. Some details on the ship below…just to name a few.
Over 10 Restaurants
Tequila bar
Cloud 9 Spa
Waterworks (water park with slides)
Sports Square
Serenity Adults Retreat Area
Red Frog Pub
Playlist Productions (Theatre)
Liquid Nightclub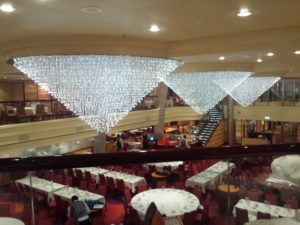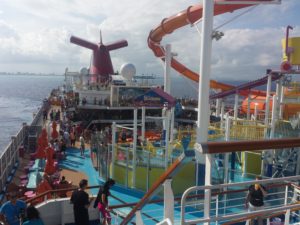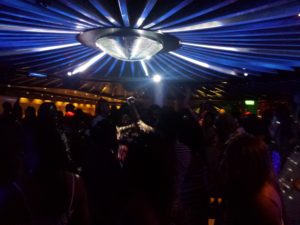 Since it was his dad's birthday recently Dorian set up a birthday request for his Dad. One day, when we arrived back to our rooms, his Dad's room was all decked out in Happy Birthday banners and balloons. It was so cute. Dorian also surprised me and set up an Anniversary request for our room since our anniversary was a few days away after we would be back home from the cruise. They decked out our suite in Happy Anniversary decorations. I was ecstatic.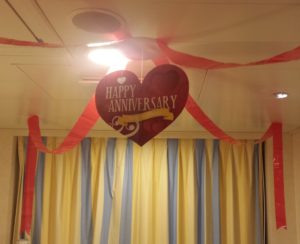 Guys Burger Joint
There was a burger joint that Dorian loved to go to for lunch. It was called "Guys Burger Joint" and they featured signature, hot-off-the-grill burgers designed by celebrity chef Guy Fieri. They served the biggest burger that I have ever seen. They had a buffet-style bar with all of the toppings you could imagine. The fries that they served along side the burgers were amazing, I definitely pigged out on the fries.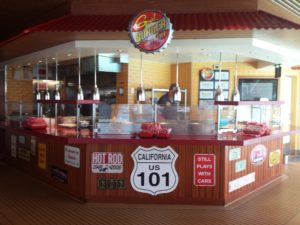 We had dinner at "Blush Restaurant" every night. The restaurant was absolutely beautiful and their service was impeccable. During dinner the waiters would take a break and entertain us with table dances (not those kind of table dances).
One night at dinner we ordered some shots of I don't know what exactly, but it was a mix of a cinnamon cream rum and fireball. It definitely burned the whole way down my throat but was totally worth it, because it hit the spot and came with a cute carnival shot glass that we were able to take home with us as souvenirs.
On our last night the wait staff serenaded us with a really sweet goodbye hymn.
Every night when we would come back to our rooms to settle down for the night the cleaning crew would have cleaned our room and created an animal among the towels waiting for us on our bed. It was the cutest thing and I took pictures of each one. There was a swan, bear, elephant, and an animal that I couldn't figure out what it was. I'll post the picture on here so one of you can tell me what it is in the comments below.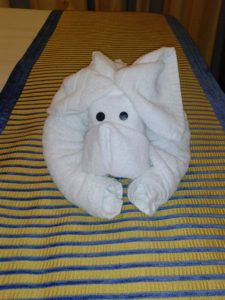 Cloud 9 Spa
Raquel and I opted to get massages while Dorian and his Dad got pedicures. Let me tell you this massage was so relaxing, I almost fell asleep. The massage lasted for about an hour and the masseuse used a dry brush on my body to start. Then she used hot stones, and all sorts of oils. Once my massage was over the masseuse showed me the products that she used and I ended up purchasing a dry brush that I still use to this day. I mention it in my evening routine blog post, check it out here if you haven't already. Overall the massage felt amazing and I left feeling as if I was on Cloud 9. Hence the name if the spa "Cloud 9 Spa".
Game of Thrones Fanatics…
There were performers at this one bar/restaurant on the cruise ship that Dorian and I would see every now and then as we were on the boat. The main singer was this woman with an amazing voice and you could tell she had an accent from somewhere I couldn't pinpoint where. Her voice reminded me of the red headed wildling that John Snow was involved with.
One day as we were eating lunch she walked by our table and Dorian and I engaged her in conversation by complimenting her and the band. I told her that she sounded like the red headed wildling from Game of Thrones and she laughed she said that wasn't the first time she was told that. She asked us how far in the series were we and we told her we were caught up on all the episodes at the time. She paused for a moment and then said "you don't know anything John Snow". Ahhh!!! I got chills she sounded identical to the red headed wildling and it was so cool that she played along and said that phrase for us. I was debating on mentioning it in the blog post but I said the heck with it someone will find that entertaining and or appreciate it.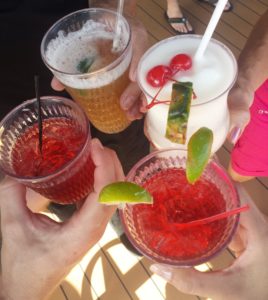 Jamaica
In Jamaica after exploring the port we went on an excursion to climb the Dunnes River. We had so much fun. I might have slipped once and dangled off of Dorians arm until I got my balance back. Overall, it was a really fun and amazing experience.
Our guides that helped us up the river were yelling Jamaican terms out at us and having us repeat them like "yeah man" they were so animated that it was contagious, you couldn't help but follow along. They showed us the deep parts of the river where we could swim and or fall backwards into peoples arms. Our guides also took photos and video which we were able to buy after the excursion. The technology that they used was a bit outdated so I am going to try and post a photo, however I wont be able to post the video it is rather long. If you plan on doing the Dunes river excursion I highly recommend you wear water shoes.
Before we went back to the boat Dorian really wanted to get some authentic Jerk Chicken. So we asked our Taxi to take us to get some Jerk Chicken. We stopped at this place called the "Ultimate Jerk Center" needless to say based on the name Dorian was happy.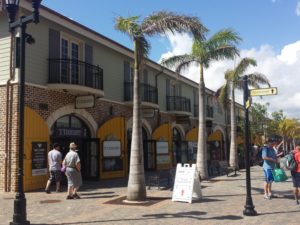 Cayman Islands
Dorian and I were exhausted from the Jamaica stop and from partying at the club on the boat the night before so we decided to take it easy and enjoy the port in the Cayman Islands. The immigration office was right next to where we were docked and I was able to get a stamp on my passport.
The Cayman Islands is known for having a blue iguana and we were able to spot one among the palm trees. Also, in one of the stores I found a cute ornament showcasing Santa with the blue iguana. If you haven't already read my souvenirs blog post you can check it out here.
While we were walking around the port Dorian and I spotted a police officer with a K-9. Dorian chatted him up while I was in the nearby shop. Apparently the officer was having the K-9 sniff for bombs. Dorian and I went back to the boat to have lunch with his Dad and Raquel and then we ventured back to the port where we had a drink at Margaritaville.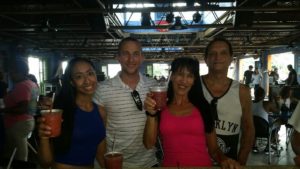 Cozumel, Mexico
I loved the port of Cozumel!!! It had so many cute shoppes, people all around dressed up that you could takes pictures with, and things set up throughout the port where you could take pictures.
While we were shopping around the plaza in Mexico I took a bunch of pictures one of which of what I thought was a statue right outside one of a stores. The statue was of a man on a platform dressed in army fatigues colored in black, as I was taking a picture of the statue it moved and began waving at me. I jumped at the surprise, it was a real person. I will post a picture below.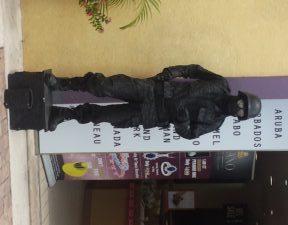 After Raquel and I were done shopping we went to Fat Tuesday's and Dorian got this huge frozen drink called an "Attitube Adjustment". As you proceed to drink it, it has a gage on the side that keeps track of how intoxicated you are. Starting from "No Problema" to ending at "Dain Bramage". Needless to say Dorian really enjoyed that drink. In the middle of Fat Tuesday's there is a platform with a pole. You can only guess that each of us took a turn dancing on the pole. There is video, however I am not going to share it with you lol.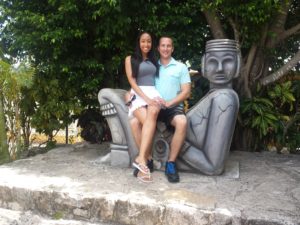 During the rest of the trip we enjoyed the scenery, amenities, and entertainment on the boat. If you have not been on a cruise before I would highly recommend it. Again, this was my first cruise trip and I had a great experience.

Copyright secured by Digiprove © 2016-2018